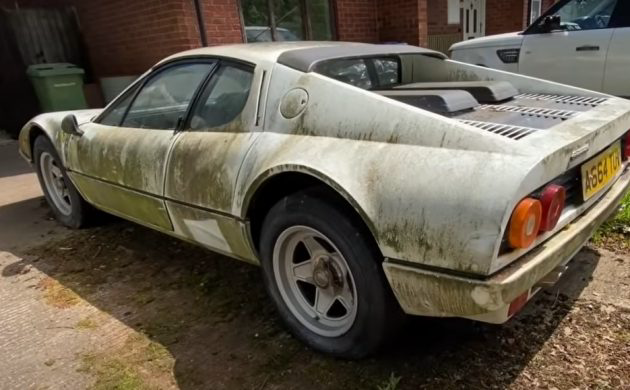 There are some cars that don't necessarily surprise us anymore when they turn up as a rotter in someone's driveway; a Buick Grand National, for instance, is an eminently collectible car but it seems to end up in project-grade form more often than you'd expect. A Mustang of any generation has a good chance of ending up a forgotten specimen. But a Ferrari 512 BBi Berlinetta Boxer? That's just unheard of, given the rarity and value of this limited production Flat-12 supercar. A YouTube personality who has gained some notoriety for rescuing a dilapidated Testarossa was granted permission by an elusive owner to check out the 512, and you can watch the full video here on YouTube. Thanks to Barn Finds reader Jamie G. for the find.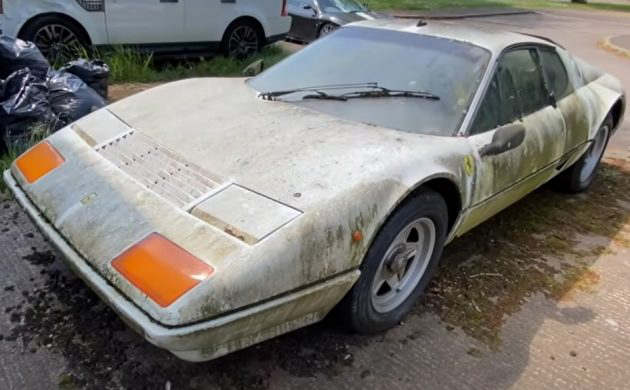 The 512 BBi is a rare car in and of itself, but this one is made more so by being a right-hand drive example (of which just 200 were made) and one of just 42 to wear the BBi moniker. The video description goes one step further, claiming this is the only car to wear white paint. I can't attest to the accuracy of those numbers, but given how few have popped up for sale in white over the years, I have to believe it's a rare color. Of course, you'll have to wash all the moss off to be sure of its condition, and the video host does expose rust in places, such as the panel behind the taillights. Overall, however, it's not nearly as rusty as I'd expect for the duration that it's been standing.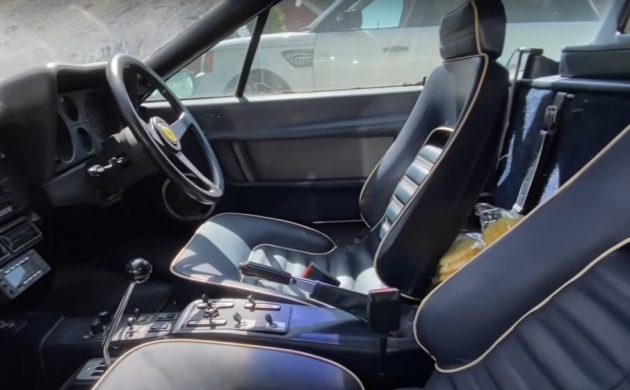 The interior is in far better condition than I'd expect, featuring blue leather with white piping. The seats don't even look that dry, despite the car being parked outside for the last 15 years. The video features a picture of the car in happier days, when it was apparently in near-pristine condition like most vintage Ferraris are. The history on the car is murky, other than having one belonged to a Saudi price and now seemingly in the second owner's hands who has no interest in selling the car on. The clutch pedal is frozen solid, and the brakes are likely seized as well. All the switchgear still works inside, and looks largely original aside from some period aftermarket stereo equipment.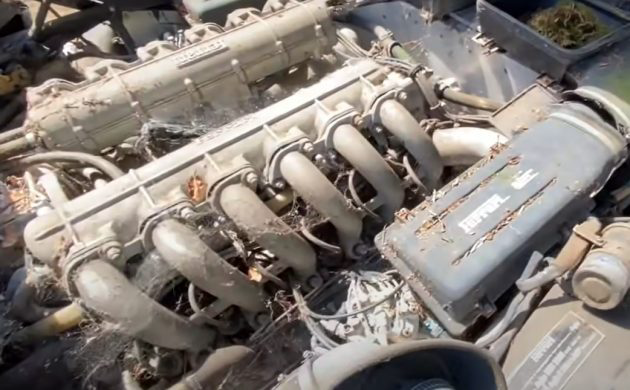 The dusty, spider-webbed covered flat twelve reminds me why I choose to drag very simple vehicles out of junkyards, as despite their condition, they are relatively straightforward to diagnose. The level of reconditioning that is needed will require very deep bank accounts to fix, and you can't help but wonder if the owner at one time had the sort of scratch that allowed them to own a car like this, but not enough to maintain it. The video host claims he tried valiantly to buy it, but that the seller wouldn't budge; I have a feeling the right amount of cash would loosen the death-grip that is keeping the car in this dilapidated state, but sometimes simply believing you'll drive it again someday is enough to reject the offer, no matter how high.