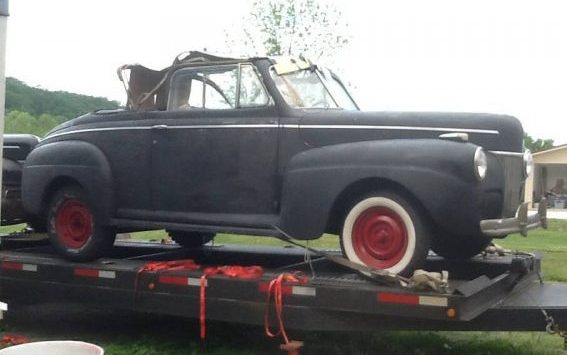 "You never know what the future has in store for you."  That phrase best describes the mostly new Fords of 1941.  Ford was on a roll in the early 1940s.  The new 1939 Fords were a great improvement over previous models as far as safety and styling were concerned, and the styling of the 1940s models was a bases loaded home run.  The 1941 model change brought a car that was wider, stronger, and much more modern in every way.  It was the styling that was the miss.  Fords of this model year have always been regarded as an acquired taste style wise, but little did anyone know that looming war clouds would soon overtake the company and the country.  With a change of front end styling, this model would soldier on until the 1948 model year.  This 1941 Ford convertible, found in Maynardville, Tennessee, is being sold on Craigslist for $10,500.  While the styling is unique on these prewar Fords, it seems to be a good way to get a droptop into your garage.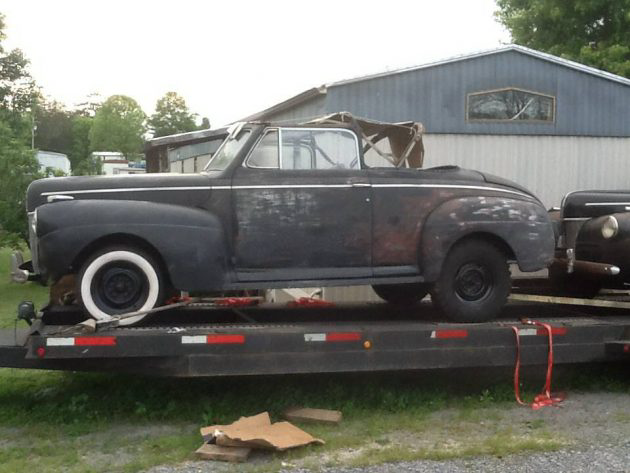 While this particular 1941 Ford looks rough at first glance, it has a lot going for it.  First off, it is in one piece.  Restoring a car is a difficult job, and a lot of people don't make it past the disassembly stage.  Parts get lost, you forget how to put it back together, etc…  Next, all the chrome seems to be there and it is still on the car.  Taking chrome off requires a delicate touch and a lot of patience.  It is easy to bend or dent, and straightening it is difficult and time consuming.  It is also good to see that the top bows are assembled and in good shape.  The wooden bow that rides between the canvas and the metal top bow at the rear of the top seems to be rotten, and I cannot see if the header that lies between the top and the upper part of the windshield frame is there.  These are replaceable, but expensive because they are hand made.  Not a deal breaker, but a warning to prepare your checkbook for an attack.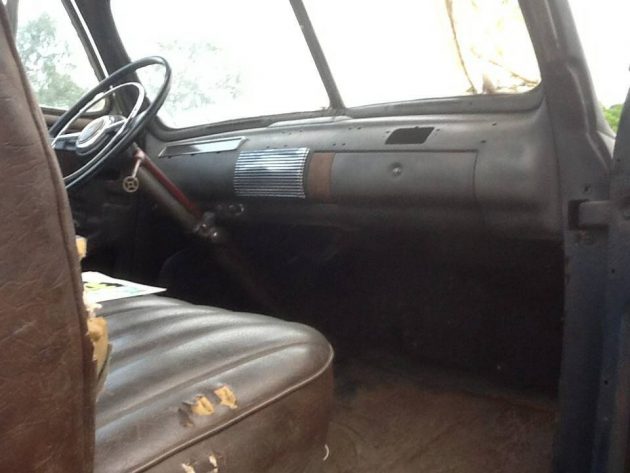 Inside, we see that the dash itself is in pretty good shape.  Some dash trim has been removed, and I would like to see what the owner still has and the condition of these pieces.  He does mention that the car is missing the plastic trim for the dash, which must mean the long horizontal piece that spanned the dash.  These cars did have a lot of plastic in the dash for the time, but it wasn't like the plastic you see in cars today.  Plastic back then was called bakelite, and it became very brittle as age and sunlight destroyed these pieces over time.  You can get reproductions though, and a restored 1941 dash is a handsome piece.  The owner also said that he has a clock for the car, but no mention of having a very desirable radio is mentioned.
Rust damage in the cockpit seems to be limited to this area just forward of the driver's seat.  While it does appear that the rust has eaten through the pan, this could be patched fairly easily.  Of course, other damage could be hidden by the seat, but if this is it, then there isn't likely to be damage elsewhere.  For a convertible, this is not bad at all.  Obviously, when a top starts leaking, there is nothing to stop the water from entering and pooling up.  The lack of damage here leads me to believe that the car was at least partially under cover for much of its life.  People seem to forget that these were just plain old used cars for many years, and were treated accordingly.  Search Craigslist for convertibles to see how 10+ year old drop tops are treated for proof of this theory.  It will make you cry like you were just forced to watch one of those ASPCA commercials.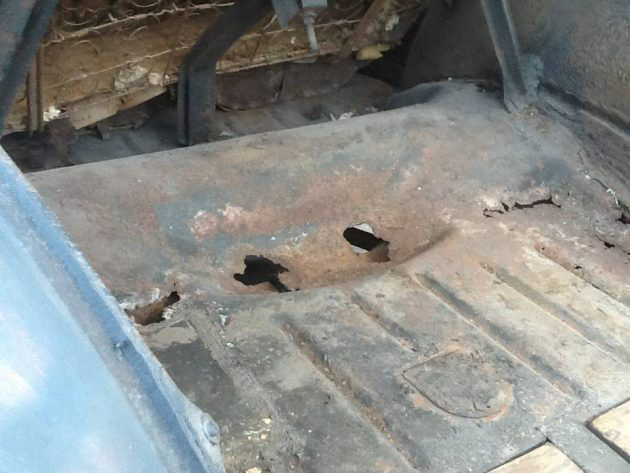 There is damage in the trunk, and it is a lot more severe.  While the owner thinks this can be repaired without replacing the trunk pan, I think it would be easier and cheaper to just cut this one out and weld in a new one.  New pans can be had for $145, and that more than covers the labor if you tried to repair what is in the car now.  The holes you see are obvious, but you would also have to consider how thin the metal is around these holes.  A lot of cars rusted from the bottom up, but my guess is that this one suffered from that and form water accumulating in the trunk after the trunk lid seal rotted away.  Cars didn't really receive much rustproofing back then, and a car like this wouldn't have received the gentle treatment a restored example would now.  My philosophy is that you should repair the car to the best of your ability and with the best materials you have at your disposal.  Therefore, replace the metal since the parts are available.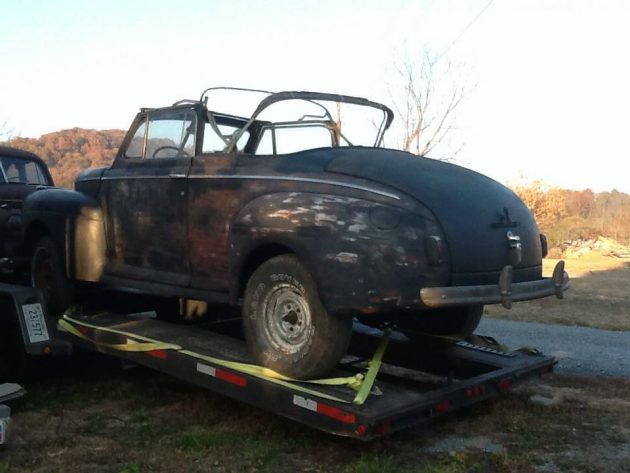 As convertibles go, this one is in pretty good shape.  I am aware that the whole car needs restoration, but it is a good candidate for a top down restoration.  The body is in good shape, its a convertible, and it appears to be all there.  The owner says that the flathead V-8 engine runs, but he has to feed it with a can of gasoline because the gas tank is shot.  New gas tanks are available too, as are reproductions of nearly every part on this car.  Early Fords are some of the most well supported automobiles by the aftermarket, and the Early Ford V-8 Club of America provides members access to experts for each model year to consult with during your restoration.  While the front end styling is an acquired taste, it is not too bad.  The big draw to a car like this is how good they are as drivers.  The engines have adequate horsepower, the ride is soft, the handling is pretty good, and they can be driven daily if need be.  They are cars you can enjoy and afford.  Isn't that what the hobby is all about?