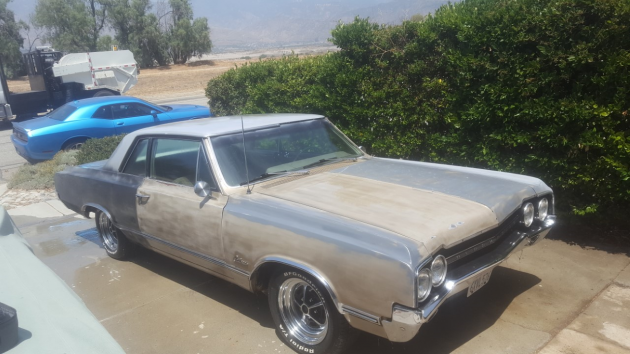 Back when different General Motors brands were easily discernible from one another, Oldsmobile frequently had designs that were quite different from their counterparts. Although from a distance this car is easily identifiable as a GM product, it would be hard to mistake this for a Chevrolet. Though the different brands shared many similarities, the F-85 was a car of its own. In 1965, the Oldsmobile F-85 received a facelift, putting the GM A-body closer to the muscle car era than ever before. This particular F-85 Cutlass is for sale here on eBay in California with bidding at $202.50 and reserve not met.
This 1965 F-85 features a 330 cubic inch Oldsmobile "Rocket" V8. During this period of time, different GM divisions still had their own engines and weren't all generalized to the same kinds. Though dusty, the engine and engine bay both look mostly intact and in good, restorable condition. The seller states "Car runs and drives good," and for the right price that could make this project all the more simple for someone. Though the air cleaner is missing in this picture, it sounds like the seller has most of the parts for this vehicle, so presumably one is included with the sale. A good cleaning would go a long way in this engine bay, and if it runs well it could be left alone while the new owner focuses on the body and interior.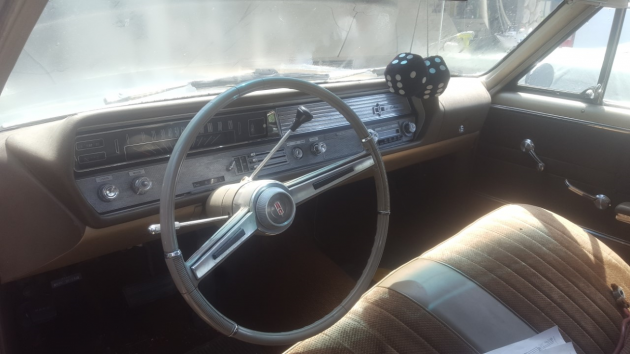 Though there are only a couple of pictures, the interior looks to be in good, driver quality condition and would likely require minimal work to make it look new. It is probably in good enough condition to be used for a while unless the person restoring this car wanted to make it a perfect, show-quality vehicle. The dash looks to be intact and in good shape, and the only damages are seat wear and some minor cracking in the steering wheel. There are certainly worse cars out there to be found! This could be an easy vehicle to clean up and get going as a nice driver.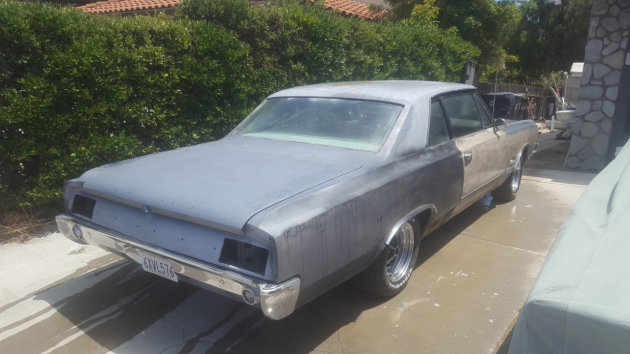 The seller states that they have the chrome trim missing from the tail panel, and hopefully they have the taillights too! The bumper both look serviceable, and the car has had new tires and Magnum wheels installed. The seller also has the chrome side trim that is missing. According to the ad, "Body is straight and almost ready for paint," which means with a little time and a little money this car could be ready to hit the road next summer! Would you restore it all the way? Or leave the interior and engine functional and focus on the body work and paint?