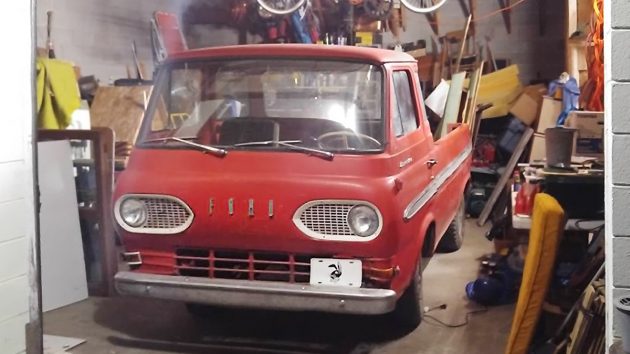 I've always liked these things. Look at that, who wouldn't like to own this? Come on! That wraparound rear side window, dang. And the legs-as-airbag.. er.. This is a 1965 Ford Econoline Pickup and it's listed here on craigslist with a nice price of $3,500. A show of hands of those of you who have spent much more than that on much less vehicle? I thought so; me, too. This one is located in Saint Helen, Michigan. Thanks to Clarke B for tracking down this Econoline!
I'm not sure if this truck was found in the garage or if the seller just stores it there in-between grocery or flea market runs. They say that they would take a trade for "antiques, "small" enclosed trailer or other items you may not need or want plus cash", and by looking at the inside of the garage, they're collectors. This truck looks great for the price, in my opinion, but the seller says that it's a project truck. Hopefully that doesn't entail a lot of mechanical work so the next owner can fix it up slowly as they enjoy driving it around town. Jamie showed us a real nice looking '65 Econoline Pickup last May and it seems like the one for sale here could look like that one and you'd have a little money left over from your $10,000 stash.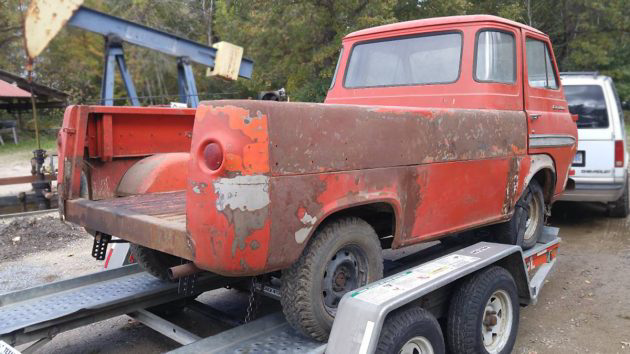 I could be wrong, but anyone with an oil well on their property probably doesn't really need the money, so there may be some haggling room here. I don't know what's going on there, I didn't know that Michigan has oil wells, I need to get out more. You can see that there will be bodywork to do on this truck, but, and I could just be an eternal Pollyanna, I think the body looks pretty good on this one, especially considering some of the others that I've seen for similar money. The first-generation Econoline was made for 1961-1967 model years in pickup and van configurations. The van outsold the pickup by a wide margin.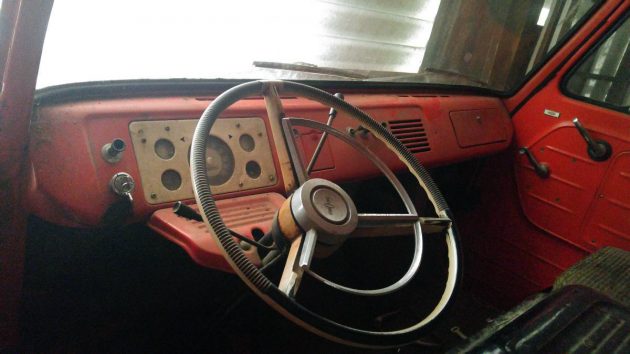 This is the only interior photo but what is shown looks pretty good. The seat needs help and I'm guessing that since there are no other photos (even though they're free on Craigslist!), things aren't as tidy looking as they show in this one photo. Of course, there are no engine photos, but you probably already guessed that. This pickup should have Ford's 170 cubic-inch inline-six with around 100 hp, but it could possibly have Ford's 240 inline-six. I'm betting on the 170. Any thoughts on the engine in this one? Whichever engine is in this truck, it "runs and YARD drives" according to the seller so it'll have to be gone through thoroughly. Have any of you owned a forward-control pickup like this Econoline?