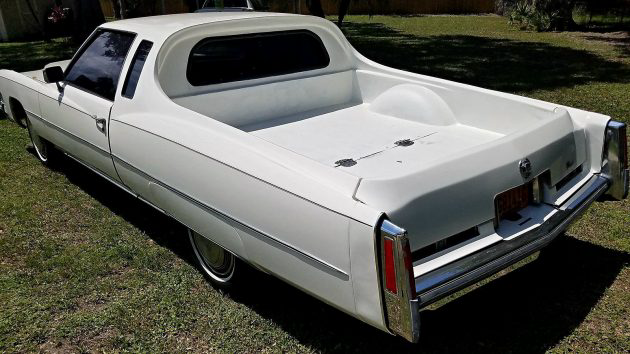 Although a bit strange in the looks department, this Cadillac "Flower car" was purchased off of ebay several years ago and then lovingly restored to its current condition. Originally from California, this Eldorado has always been a rust free example, and was previously used for parades decked out with all sorts of horns and other various makers of noise. In ready to drive condition, this Caddy pickup is currently bid to $787.77 with the reserve not met. Check out this neat conversion here on ebay out of Edgewater, Florida.
Thankfully the current seller is well versed in American iron, and performed a great deal of work on this massive 500 cubic inch V8. Currently in great health, the engine had the top end and oil pan pulled to remove sludge.  New gaskets, lifters, timing chains, water pump, fuel pump and oil pump were added. Also a few minor modifications were thrown in, with a later style GM electronic ignition, and a set of electric fans. Although that is all a mouth full, the seller did not stop there when it came to maintenance. All of the front suspension has been gone over with a fine tooth comb, and many of the suspension parts were replaced. The only downside is the factory air shock leveling system is dead, but new air shocks have been installed with a custom line that you can add air to or relieve air from by the license plate to level the suspension manually. Despite all of this work, the engine bay almost appears untouched which I appreciate, as some mechanics can get a bit hap hazard with routing hoses and wires as the factory did when new. Kudos to the seller for his work!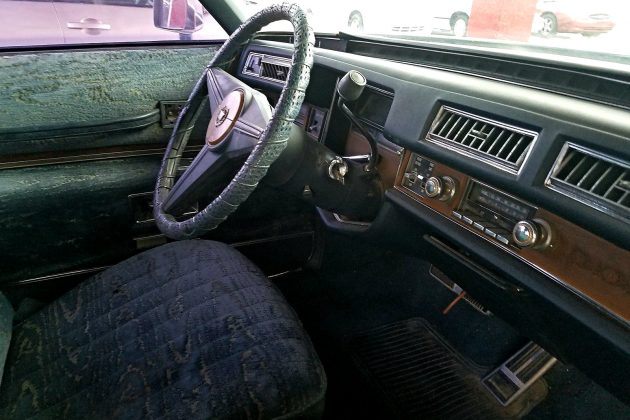 The only area that appears to have been left untouched is the interior as the seller mentions the "interior needs updating." Although the fabric on the door panels is faded and worn, overall the interior looks to be in nice shape. The dash looks excellent, with no cracking or any dry/discolored areas. There is a steering wheel wrap installed, but the steering wheel looks to be in nice condition. The carpet still looks springy and plush, so perhaps all this Caddy needs is the seats and door panels reupholstered to have a truly great look.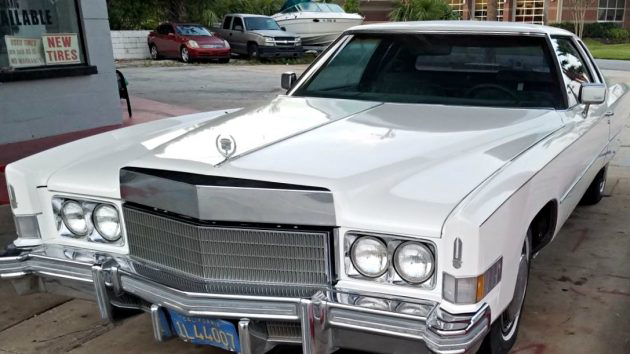 After all of the extensive mechanical work, the seller also fixed a few things with the body that really transformed this car. When purchased, there were horns on the roof, as well as truck style running lights. He promptly removed those, and took the car to a couple of friends. His first friend repaired the fiberglass pickup bed, and also remolded the fiberglass bed to the steel body of the Caddy. Friend number 2 performed some minor body work and repainted this beauty. The results are stunning, really showing a quality build. Thankfully the seller had the talent and appreciation to transform this forgotten oddball into a beautiful oddball. With a "useful" pick up bed, what would you use this Cadillac for?