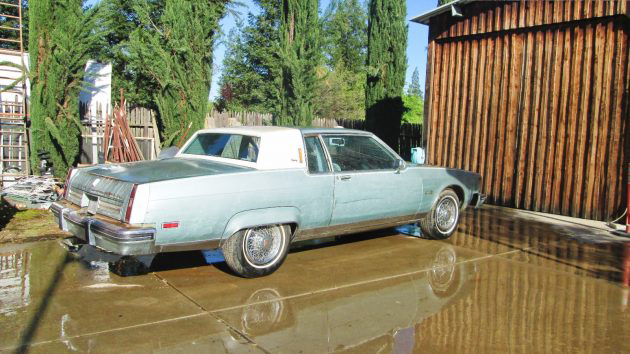 When fuel prices skyrocketed in the 1970s, fuel efficient became a major concern for many drivers. Between all the new emission requirements and competition from small foreign cars, American manufacturers had to work hard to come up with ways of selling cars. Today, we have direct port injection all kinds of tech wizardry to make cars more efficient and cleaner while still being powerful. Even into the '80s, it was tricky to get decent mileage out of a big car. Oldsmobile had an interesting idea, they decided to throw a diesel in their luxurious 98. It didn't turn out as great as they had hoped, but it did save owners a little money on fuel! After being in his barn for the past 8 years, reader Gary K has decided to part ways with his diesel 98 Regency and is asking just $1,000 for it. It is currently located in Grants Fresno, California.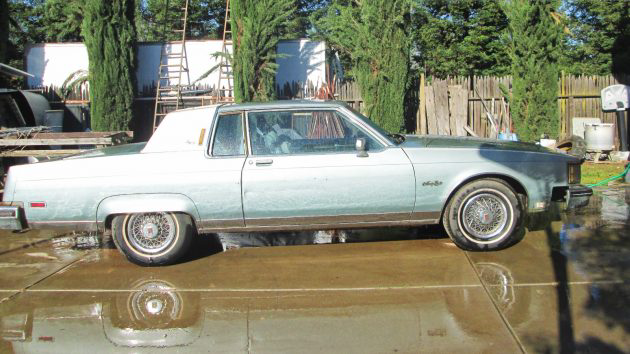 The diesel first became available in '79 and was also offered in Cadillacs the same year. While they built and sold a large number of LF9 diesel engines to be used in passenger cars, they weren't particularly popular. With horsepower topping out at 120 and torque at 220 pounds, most owners found them to be a bit sluggish. They also proved to be less reliable than most owners had come to expect from an Oldsmobile. That being said, if they are well maintained, they can accumulate quite a few miles.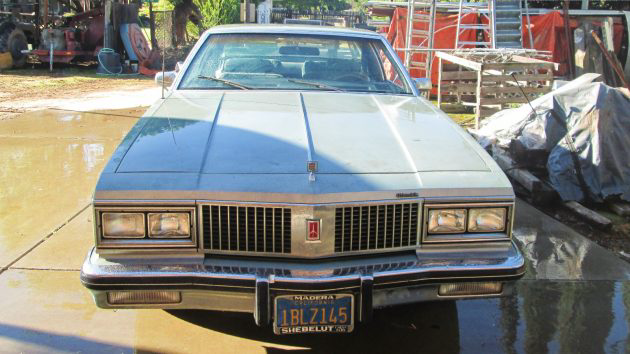 Here is what Gary has to say about his Olds. From Gary – This 1982 Olds 98 Regency 2 door diesel is loaded with options. It could be restored, turned into a driver or used as a great parts car. The body is straight, with slight surface rust. The paint is shot. The glass is fair, but driver side window doesn't work.
The diesel engine runs well and no modifications have been made to the car. It drives nice, stops nice, the air conditioner puts out cold air, transmission is good, tires are good but old. The car does need a battery (not included). I have a loaner installed for test drives, but does not go with the car! Also, there is a new spare in the trunk.
The driver's side seat cover is shot, others are fine. The headliner is snagged and dash cover is shot. However, the radio, lights and air conditioning all work well! The car would need all checked out before truly being road worthy! It is currently on California non-op, as it has been in my barn/shop for the past 8 years. Has some fluid leaks, not sure where & what. Go through it and you'd be ready to put it back on the road.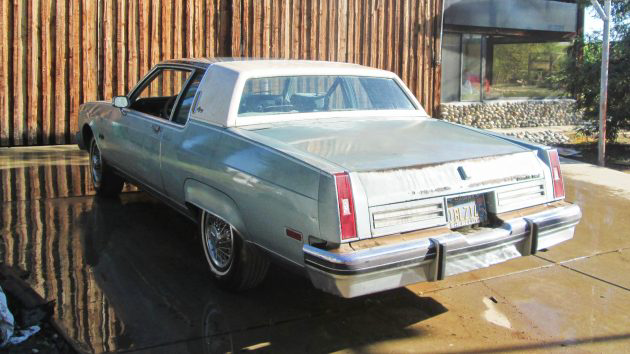 I know this isn't a terribly desirable car nor is it in perfect shape, but for the money, this seems like a killer buy if you want something different to drive. There aren't a ton of options for improving the performance of the 350 cui V8 diesel, although turbocharging might be a possibility. Personally, I'd just clean this Olds up and drive the heck out of it, especially if the A/C really is blowing cold! Special thanks to Gary for listing with us. If you have a barn find that needs to go quick, please consider listing it with us!