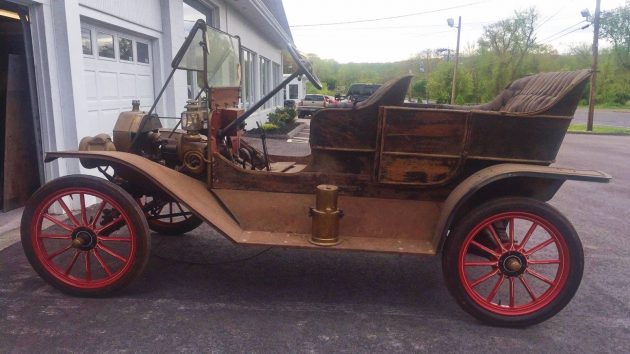 This Model T is listed here on eBay and has already been bid up over $23,000 and the reserve has not been met. It's surprising to see any Model T bid up this high but it is a survivor of sorts and a first-year production car, although not one of the earliest. Production actually began in 1908 and the first  750 cars had only two pedals (low and high gear and brake) and two levers (rear wheel brakes, reverse and neutral). The body is in original condition but the motor and chassis were rebuilt in the 1990s. It is being offered by F40 Motorsports and will appear in a future episode of "Chasing Classic Cars". The brass cylinder on the running board is an acetylene generator for the headlights.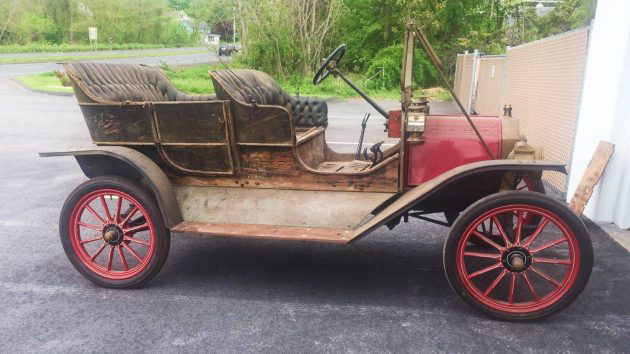 Red was available only on touring cars, although green was also available on the touring cars, as well as other models. It wasn't until 1913 and mass production that all Model Ts were painted black.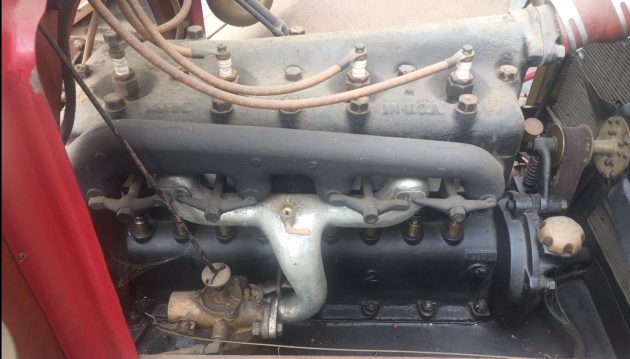 Here's the engine, an early version that changed little over time. The first few hundred cars had water pumps, but they were eliminated on later cars. In keeping the engines as simple as possible, they relied on thermal convection to circulate water through the cooling system. If you could find a road smooth enough, this 20 HP engine could get you up to 40 MPH on gasoline, ethanol, or even kerosene. A gallon of fuel might even get you as far as 25 miles on a smooth level road.
The transverse leaf spring suspension remained unchanged on the model T although the radiator shell changed over the years. You often see a version of the script that rises to the right but that is not authentic. This Model T is unique enough that the value is impossible to guess. The seller has a value in mind, but it's hard to imagine an eBay shopper willing to pay that much. Perhaps a live auction with some wealthy collectors in the audience might be more successful. We have a 1908 Model T at the museum that's one of the very first Model Ts built. It's said to be a 6 figure car, but it's restored and a very low serial number car. It will be interesting to see if this car makes reserve and sells.