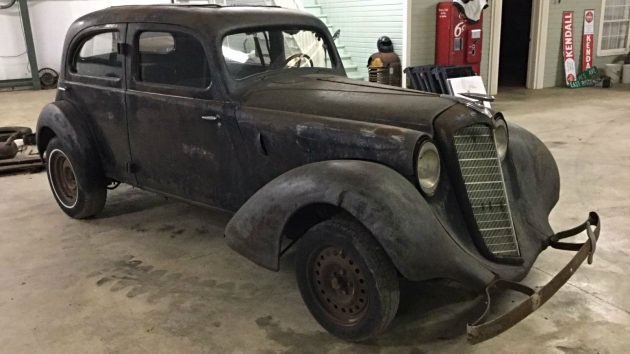 The mid 1930's were a swinging good time with the art deco movement making paces, and streamline designs coming to the automobile. Although not quite streamlined, this 1935 Hupmobile Model D has a face like no other. Appearing somewhat menacing, as if built for an evil doer of the era, this classic has weathered the storm of time fairly well. Described as "98% complete" this one seems complete enough to be restored to its former glory. Half way through the auction and still hanging at the opening bid of $6,250, this Hupmobile is just waiting for you to scoop it up at the opening bid price. Find it here on ebay out of Ringgold, Georgia.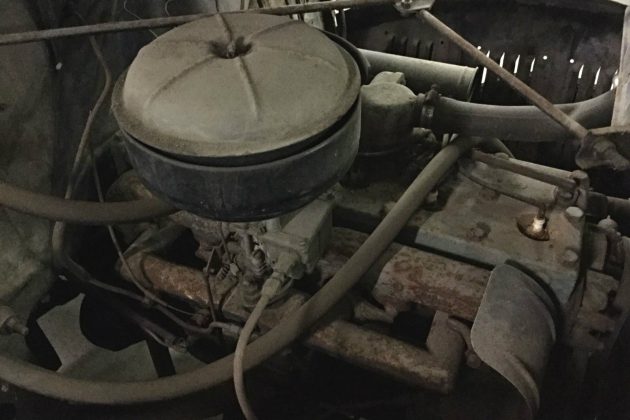 Beneath the long sleek engine covers hibernates a heart that likely hasn't pumped in decades. Although possibly having been dormant for many years, this Hupmobile looks to have lived a semi-pampered life after retiring from a daily use. The 245 cubic inch inline 6 offered a whopping 91 horsepower back in 1935. Currently in unknown condition, the engine ran many years ago, and the car was actually driven to where it was stored. Dry indoor storage should have been fair enough to the engine where with some time and patience, it could likely be revived. Looking over the engines exterior condition, and the engine bay itself, again, this Hupmobile looks to have benefitted greatly from living indoors, as there is little rust.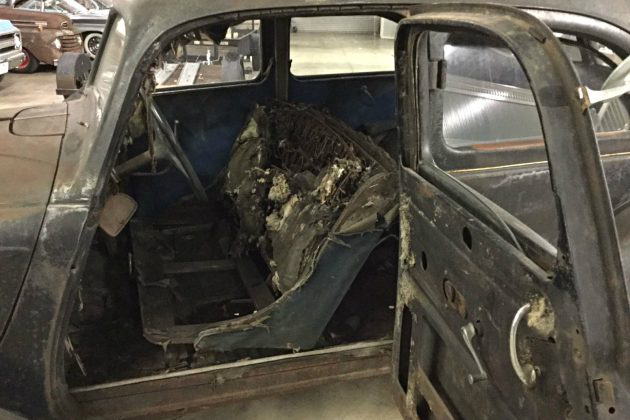 With suicide doors in the front, and typical doors in the back, this Hup is cool. The interior at first glance may look a little chaotic, but upon a closer examination of the pictures, there is still hope for this car. There is no visible rust, but the wood sections of the floors are gone, and need to be replaced. The front bench is missing its seat bottom, although perhaps the seller may have these missing items? The dash and gauge cluster are nice enough to use, as is the steering wheel. Although many of the door panels are present, the driver side one is missing. It appears this Hup's original color scheme was a black exterior with a blue interior.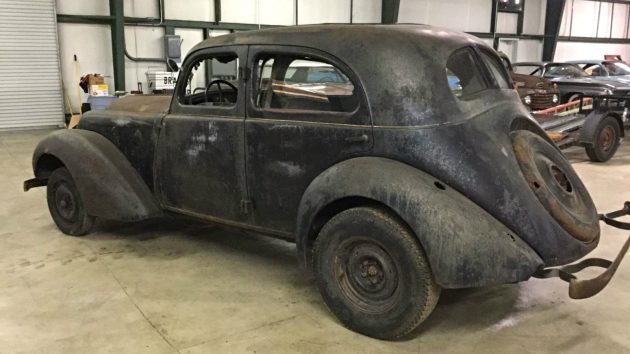 Covered in a matte black finish, the body of this Hupmobile is very nice, considering many other cars of this age have become rust mounds. There is no visible rot in this car, and there are only a few spots where surface rust is visible. There is light surface rust on top of the hood and radiator housing, as well as on the roof and on the spare tire cover. The only significant rust that can be seen are in the running boards, which is to be expected. The running boards have some thin spots, as well as some holes, but they seem manageable. You may have noticed there are 4 different size wheels and tires on this car, but the seller has the original steel wheels, and they have been blasted and powder coated. I would love to see everything that the seller has for this Hupmobile as any missing part for this car will be difficult to find. With some minor blemishes, and a mostly complete exterior, this Humobile almost seems too good not to restore, but the seller mentions the words "hot rod." What would you do with this rare and unique faced Hupmobile?