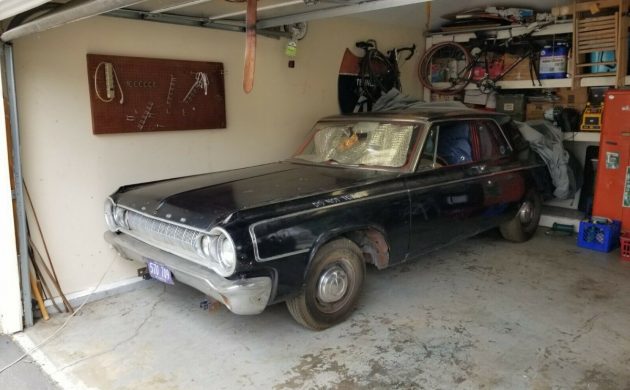 Hiding in this garage is an unassuming-looking vehicle that has to rate as one of the genuinely great muscle cars. This is a 1964 Dodge 330 Max Wedge, and it appears to be original and unmolested. These cars could best be described as animals because they rolled off the production with a single intent. That was to provide their owners with a winning combination at the drag strip. A new home is beckoning for this Dodge, so the owner has listed it for sale here on eBay. It is located in Van Nuys, California, and while bidding has reached $55,555, the reserve hasn't been met.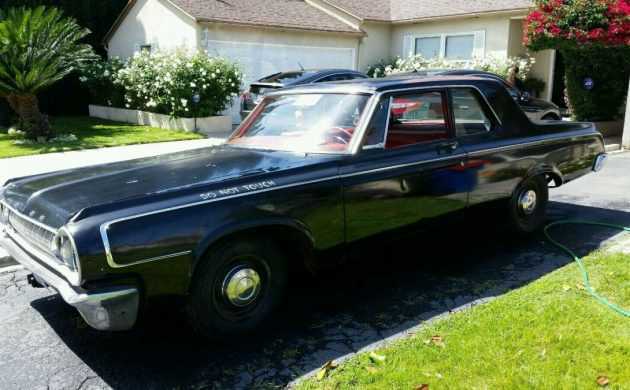 The 1960s could easily be described as one of the greatest eras of American motoring. Emission regulations and safety were taking a back seat to the desires of many manufacturers to achieve motorsport success. Dodge was not immune from this form of fever, and the 330 Max Wedge would rate as one of the first muscle cars. They were not the most comfortable or practical vehicles on the street, but point them at a drag strip, and the story changed dramatically. Besides blessing the cars with prodigious power, Dodge tried to shave as much weight as possible from the 330. That helps to explain the "do not touch" signage on this car's front fenders. This 330 is a special lightweight version that the company produced that features an aluminum hood, front fenders, bumper brackets, and door hinges. This creative engineering removed considerable weight, and with every pound counting when considering a ¼-mile ET, they were a wise move. All of these features appear to be intact, and all are in good condition. The original Black paint shows its age, and it is debatable whether the buyer will treat the car to a cosmetic refresh. By the time the hammer falls on this one, it is not likely to be a cheap investment. I would struggle to choose between a repaint or retaining the car as an original survivor.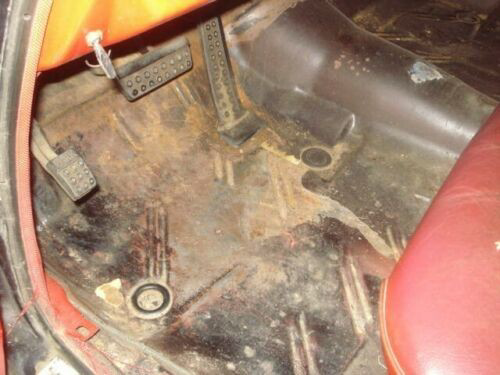 One problem that the buyer won't have to consider is rust. This photo of the front floor appears to be indicative of the car's structural state. There is no penetrating rust visible anywhere. The vehicle's history is pretty vague, but we know it was delivered to a dealership in Chicago, Illinois. From there, the trail goes cold for us, but it has eventually found its way to sunny California. While the story is vague in the listing, judging by some of the images included in the listing, I suspect that the owner might have a substantial amount of background information that he can supply to potential buyers.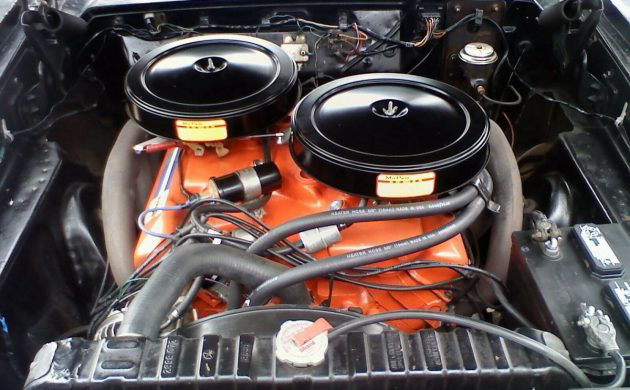 Apart from the lightweight body panels, buyers will need to lift the hood to determine why this unassuming vehicle is a true muscle car. Dodge was serious about motorsport success, and it shows dramatically here. The entry-level Dodge 330 was offered with a 225ci slant-six engine that produced a respectable 145hp. If your aim in life was to wander to the shops or on a weekend family outing, it served that purpose well. It was reliable, it was economical, and it cost its owner $2,245.  However, some buyers wanted more…a lot more! They could order a range of V8s, but there was a further option available for those seeking hard-core performance. If the buyer ticked the correct box on the Order Form and was prepared to hand over an additional $682 ( which was a fair chunk of change in 1964), they could drive away in a 426 Max Wedge. This 426ci V8 was a motor that was designed to provide outright performance, and no consideration was given to comfort and refinement. Based on the "RB" V8, these motors featured upgrades to the block, enlarged oil galleries, solid lifters, an aggressive camshaft grind, and forged pistons that gave the V8, in this case, a 12.5:1 compression ratio. Sitting atop this monster is a pair of Carter carburetors on a cross-ram intake. The owners of these cars could look at the horsepower figure of the slant-six and break into gales of laughter. They may have stretched the bank balance to buy their new toy, but they did own a car with a conservative 425hp at its disposal. Buyers in 1964 had a choice of transmissions, and the original owner chose to equip this car with the A727 automatic. There's no point in having all of that power at your disposal if you can't get it to the road. To that end, the Max Wedge also brought with it an 8¾" Sure Grip rear end. Was it fast? Yep! Dodge claimed an official ¼-mile figure of 13.2 seconds, but owners had no problems breaking into the 12-second bracket without making any changes off the showroom floor. The owner doesn't provide any information on how the 330 runs or drives or whether it is actually a numbers-matching vehicle. However, the engine bay presents well, so there is cause to be optimistic. One interesting quirk with this car is the battery location. These cars usually had the battery relocated to the trunk for improved weight distribution. This 330 has that feature, but there is also one in the engine bay. I'm not sure what the story is there, but it is a question that might be worth asking.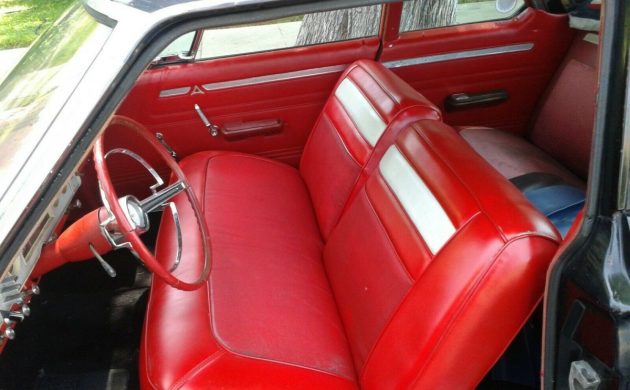 The interior of the 330 is tidy for a survivor of this age, and it remains upholstered in its original combination of red vinyl and cloth. It is not perfect because some of the upholstery appears to be discolored. I think that the rear seat cover might be stained, so that may require the attention of a specialist to return it to its best. There is some slight wear on the driver's seat and some cracks on the wheel, but if the buyer wants to retain this classic's status as an original survivor, nothing would need to be changed. Because Dodge designed the 330 Max Wedge as a pure performance package, little consideration was given to creature comforts. The owner holds a Galen's Registry Report for the car, and it makes interesting reading. When you look at its drivetrain configuration, as well as its paint and trim combination, this is 1-of-2 cars that combined all of those features with a heater. It is also worth noting that the heater is the only luxury item inside this classic. If you want music on the move, you need to listen to the sweet song produced by that fantastic V8.
This 1964 Dodge 330 is an unassuming vehicle that hides its light under a bushel. It looks meek and mild, but it is an animal of a car. It is also a significant piece of American muscle car history, and I am glad that it has managed to remain unmolested over the last 57-years. This isn't a pristine car, but it is a survivor that carries that badge with pride. The bidding to this point has been subdued, but I suspect that this might change pretty soon. If past results are any indication, I wouldn't be surprised if this classic found its way into six-figure territory before the auction ended. What do you think?