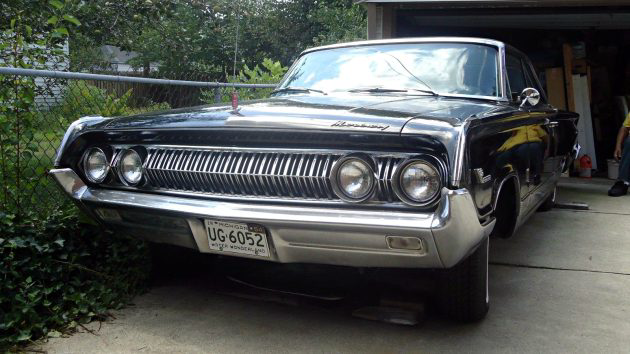 Four Speed classics are the cars that many of us dream about. Whether it is a 4 speed wagon, or a 4 speed muscle car, classic manual transmission cars always share a high level of desirability. That holds true with this 1964 Mercury Marauder Park Lane. Packing a V8 and a 4 speed, this relatively solid and clean original is a driver with a wealth of parts included in the sale. With 2 bids and less than two days remaining, this Marauder is currently bid up to $8,250. Take a look at it here on ebay out of Canton, Michigan.
Packing 390 cubes that backs up to a T-10 four speed certainly makes this Mercury a pleasure to drive. Recent plugs and points have been installed, and the seller claims that the 390 runs great, and the car overall is very drivable. The under hood appearance is nice enough, as there is still a great deal of paint present, and the engine bay practically looks untouched.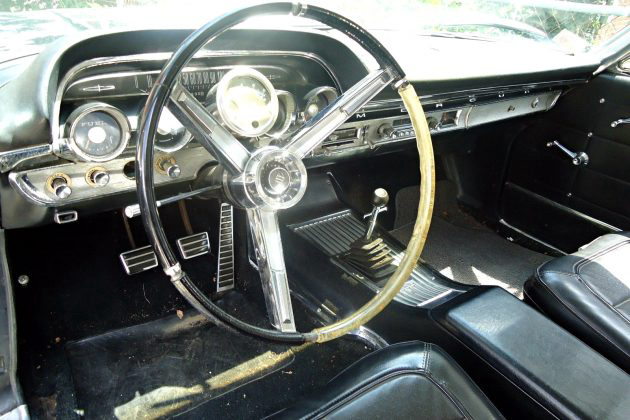 Shivers may start to run up your spine upon seeing the four speed shift lever mounted so pleasantly in the center console. If that doesn't excite you, then perhaps the lovely condition of the interior will. As a whole, the interior appears to be in very nice original condition showing only minor signs of aging. This is a bucket seat car, and there is also a cool period correct "SunTack" tachometer to aid in keeping an eye on engine speeds. Despite its beauty, there are a few age spots to point out. The seller is including an extra interior carpet, meaning to me that there may be some excessive wear to the current carpet. Also the driver seat is ripped, but again this will be easily hidden with you in the car rowing gears. Last but not least, the steering wheel looks to have shrunk some from heat, time, or both. Thankfully the wheel isn't cracked up from sun exposure, and overall is in nice enough condition for a driver.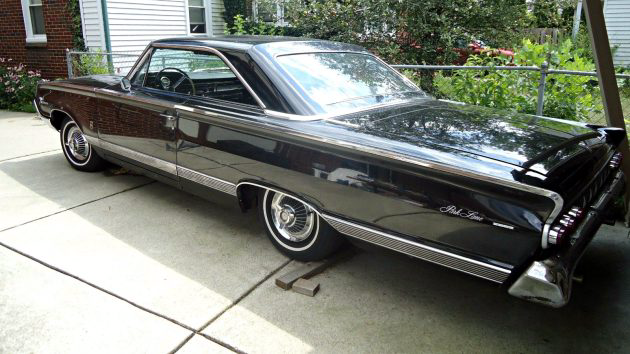 The sale ad is a bit misleading, as this Mercury shows very nicely in the pictures. Pictures are worth a thousand words, but also some verbal information can be valuable as well. Despite its great looks, the seller claims this Merc "needs a complete restoration." While the car looks more like a preservation type of driver, the seller also mentions that many extra body panels are included with the car to fix all of the rust. Rust could certainly be a factor for this car, but it would seem the rust is hiding rather well. It is not immediately apparent from the photos that there is any rust on the exterior, other than a small area on the driver side rocker. Granted, I am not saying that rust isn't a possibility, but this Michigan native looks to have missed many cold harsh winters by living in a garage. On the positive, the seller does throw out the idea of preserving the car and enjoying it as is, seeming like a reasonable outcome for this four speed classic. Would you preserve or restore this Marauder?