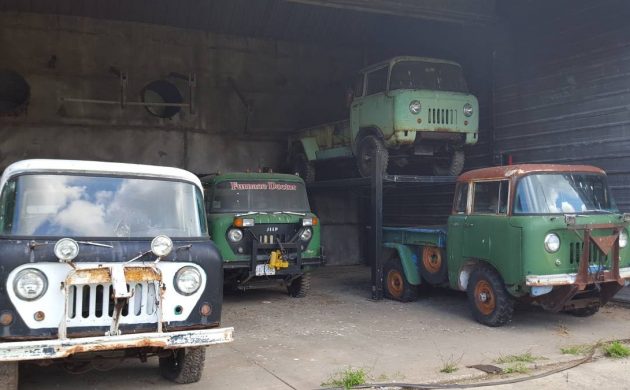 From 1956 to 1965 Willys Motors produced various models of the Jeep Forward Control truck in what turned out to be a modestly successful attempt to expand the company's presence within the utility vehicle market.  The FC was never quite the big seller Willys hoped for, largely due to its unusual design and strange, space insect appearance.  To me these trucks look an awfully lot like Japanese mini-trucks widely produced and distributed nowadays from the likes of Daihatsu, Suzuki, and Mitsubishi among others.  Did the design and appearance of the FC directly influence mini-trucks later developed in Asia?  This collection of at least a half-dozen FC's is available from the same seller via three separate Craigslist ads here, again here, and once again here in Upstate, New York – just a stone's throw from Oneonta.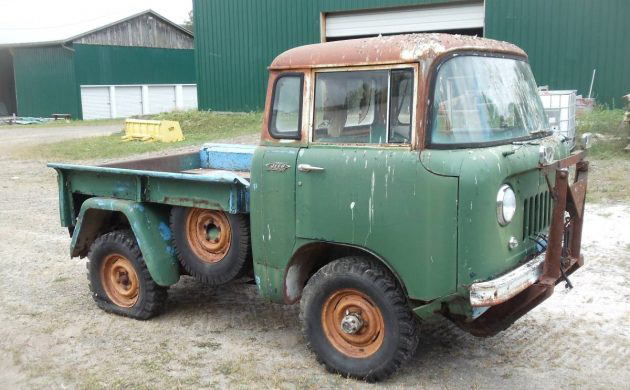 At $4,500 OBO, the "green and blue" FC-150 in this photo seems to be the nicest one in the lot and the one the seller values the highest.  It's tough to sort through the hastily written Craigslist ad, but from what I gather the seller is offering a total of four more-or-less complete 150's, one 170, and a 170 DRW – along with extra motors and parts.  It's hard to tell which if any of these trucks are running and there are no decent photos provided of any of the engines or interiors.  Ol' green and blue looks to be all there and still wears its Jeep badge behind the passenger door.  Check out the clever design of the spare tire carrier.  I can't decide if this truck would look better after going through a full restoration, or should it be proudly preserved in its vintage state (minus the pigeon-dropping patina)?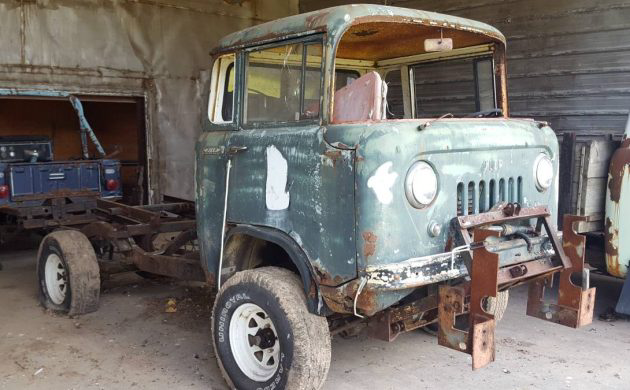 The above photo shows the one FC-170 available in the collection and it's being offered at $3,500.  It's looking pretty rough without a windshield, a somewhat gutted interior, and no box.  The seller claims to have a dump mechanism for it, however, it's not clear if that's included in the price.  In each of the ads, the seller lists 1960 as the model year, but I am curious to know if that is accurate for all the trucks or if he simply didn't take the time to list specific information about each one.   Amazingly the FC-150 came with a 78-inch cargo box – on a vehicle that only measured 147.5 inches in total length!  FC-170 models were bigger, offering a wider wheelbase and a longer 108-inch bed.  Willys mounted its famous four-cylinder F-head Hurricane motor under the cab of the 150, the same 72 horsepower motor that powered the CJ-3B.  Speaking of which, could that be an old blue "High Hood" parked behind the 170?  As for the FC-170, it was powered by a Willys Hurricane 6, which produced 105 horsepower.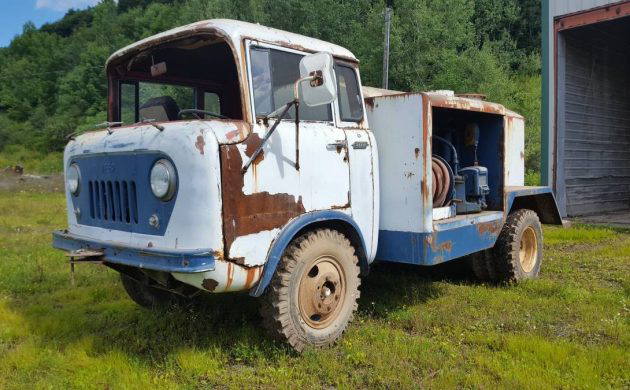 Willys also offered a dual-rear-wheel version of the FC-170 dubbed the DRW.  The seller is offering this DRW tanker for $4,000, claiming it looks to be complete and that he has a windshield for it.  He is one of those Craigslist seller's whose CAPS lock button on his keyboard is strangely stuck on, and he goes on to explain in the ad that the DRW is "NOT RUNNING BUT TOLD IT RAN."  Willys intended their FC trucks for work and as such, any survivors that haven't been restored are typically in fairly rough condition, as with these examples.  However this seller has amassed a nice collection and for someone looking for parts to keep their FC restoration project moving forward, he might be able to help.  For someone wishing to start a new project from the ground up there might be some decent bones here to choose from.  Willy's aficionados are a talented and resourceful group – at least a couple of these trucks might just be back-up and running in no time!