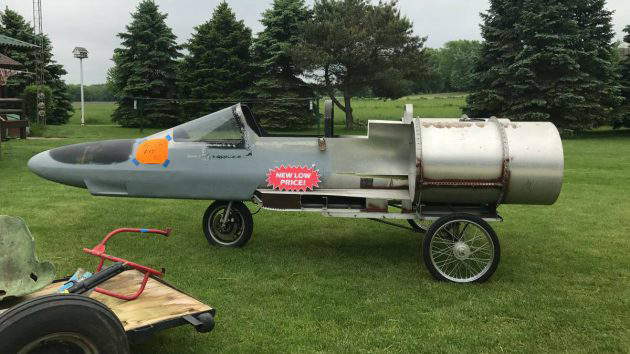 Top Gun fans, we have your vehicle! I have to thank Barn Finds reader Pat L. for giving me the laugh of my night by sending in this "Air Car" based on a jet airplane fuselage. The seller feels it's not worth a lot considering the asking price here on craigslist is only $1,480. This twin-engined wonder is located in Woodstock, Illinois, where it's been cleared for takeoff to somewhere else–perhaps your driveway?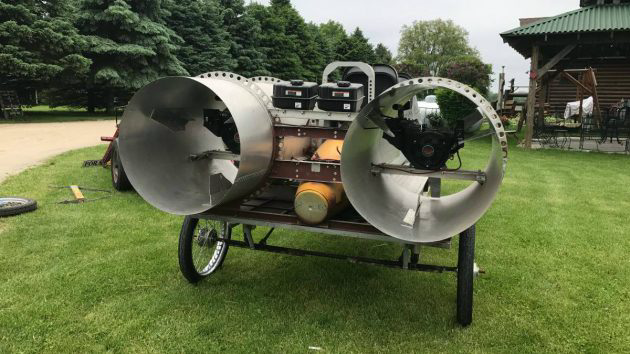 Although it's powered by two turbofan…ok, non-turbo fan engines, we're told it has difficulty moving on grass or gravel. I'm guessing top speed will be a little less than the F7U Cutlass (not your father's Oldsmobile, unless he flew in the Navy), which according to this article was called the "Gutlass Cutlass" because it would only top out at 680 miles per hour. I hope it's more reliable than the original airplane version, though, as that same article says roughly 1/4 of all Cutlass airplanes built crashed.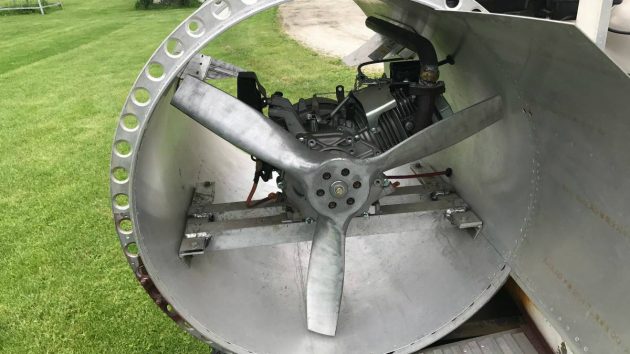 The power plants are 14 horsepower, 420 cc engines with fixed pitch propellers. The propellers look like artwork, to be honest–they are beautiful. However, I'm thinking a little more thought should have gone into thrust versus weight, even if the whole machine is made out of aluminum as stated.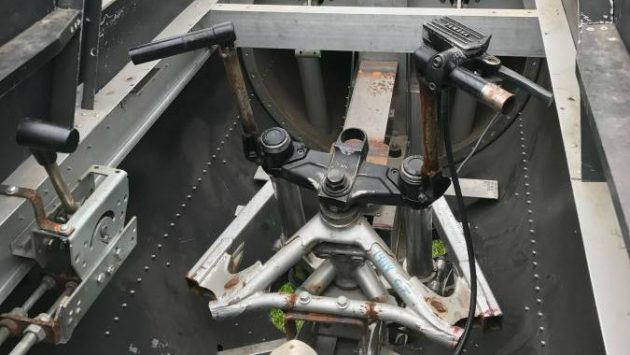 Inside the cockpit, there's some 1985 Yamaha motorcycle fork parts mated to custom controls. I think I'd want to pad those cut off edges of the motorcycle frame before I tried driving (riding? flying?) this unusual beast.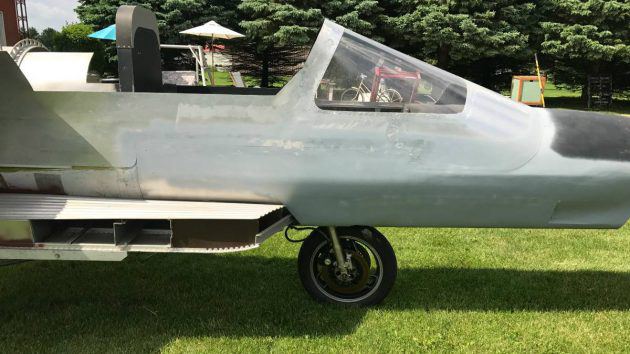 Since the Cutlass apparently had some poor landing gear in the front, I guess it's good that they decided to use the motorcycle front end. Either way, it looks more substantial than the rear wheels, which could be from a moped or lawn cart.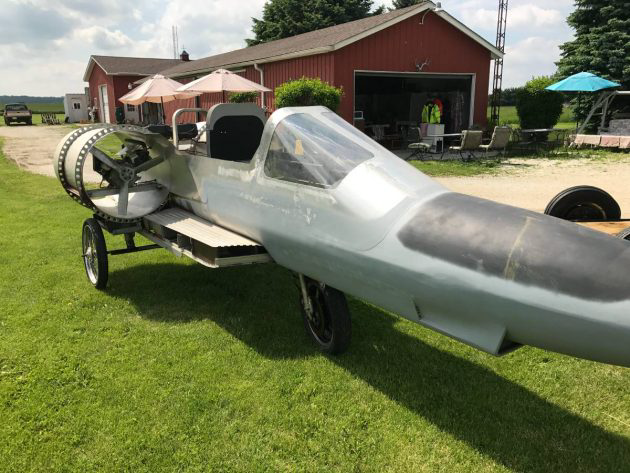 Surprisingly (or maybe not), this unusual vehicle is being sold on the 1985 Yamaha motorcycle title. So, as usual, I'm going to ask you what you would do with this rather unique air car. And please save us the "stick a small block in it" answers–I'm serious. Personally, I'd be looking for some small V-twin engines with some more horsepower and adding some rear brakes. Perhaps some more rugged rear wheels?