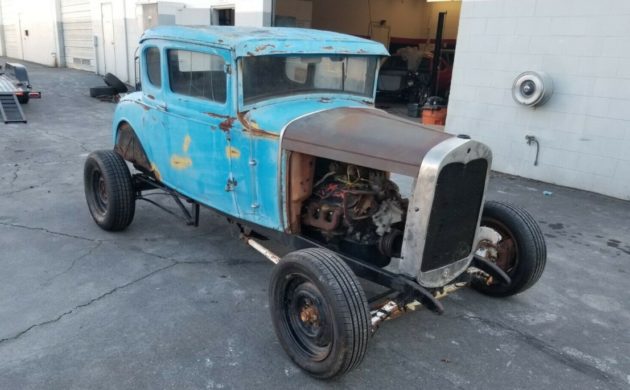 By the 1960s, millions of Ford coupes littered the nation's junk-yards, back yards, and barnyards. Folks made them into sandboxes and chicken coops, tractors, saw mills, and other contraptions. Stuffing a later model V8 in the lightweight bodies or souping up the Flathead V8 kept generations of young motorheads occupied. Stripping the fenders and bumpers off made them even faster. This 1930 Ford coupe in Sacramento, California comes to market here on eBay with enough begun to envision a finished project, and enough work remaining to call it your own. The seller mentions the 1973 film American Graffiti, and it's interesting to compare and contrast that film's now-iconic '32 Ford five-window coupe  to this '30. Speaking of 30, more than 30 bids have driven the market value of this hot rod beyond $5000. Note the forward-canted radiator shroud for that early speed look — the illusion of motion even at rest.
John Milner's '32 coupe in American Graffiti ran a 283 cid Chevrolet V8 with a fancy quartet of Rochester two-barrel carburetors. A 289 cid Ford V8 powers this Model A, and it looks like a $50 special yoked from a nondescript late '60s Dadmobile. A stock single two-barrel throws gas down the holes. Though not running, the small block turns by hand, and the seller says the radiator has been rebuilt at some point, presumably with the capacity to cool the 289.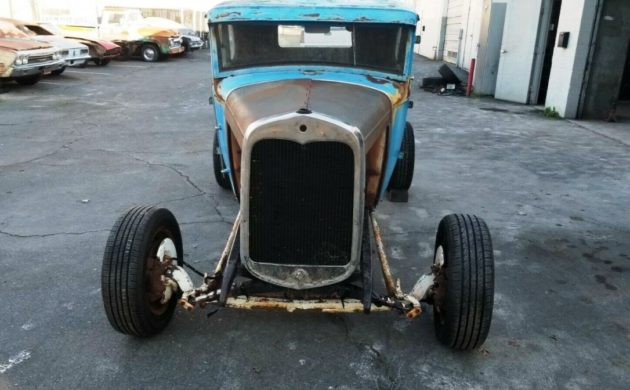 The front wheels gained "juice" (hydraulic) brakes, with discs even! A power steering rack eases the task of turning fatter modern wheels and tires, or at least it will once the car gains a steering wheel and shaft. Old-timers say the the police used to pull you over and measure the height of your windshield with a vertical dollar bill. Any shorter and you got the ticket.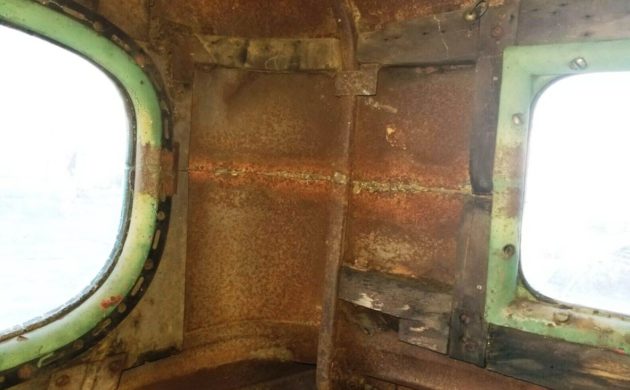 Compared to the three-inch chop on the American Grafitti hot rod, this one is more subtle. Fitting glass in the chopped window openings tests the fabricator's skills, and this one seems to pass. Note the mixture of wood and metal still common in the '30s before manufacturers went "all steel."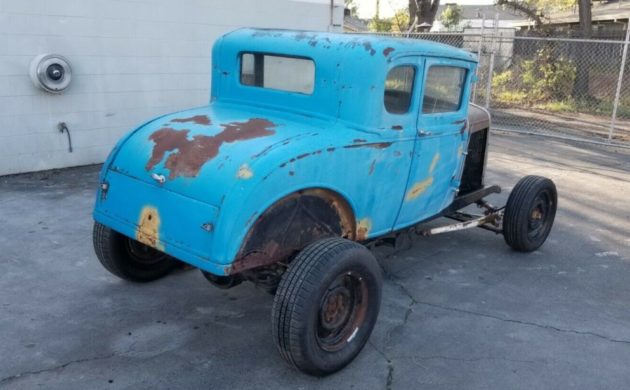 Milner's '32 wore bobbed rear fenders where this Ford's are gone. The listing shows detached front and rear fenders, running boards, and a drive shaft, all presumably part of the sale. The four-link rear suspension features a Ford 9″ rear axle assembly of considerable width. Don't rely on trial-and-error to test the back yard engineering.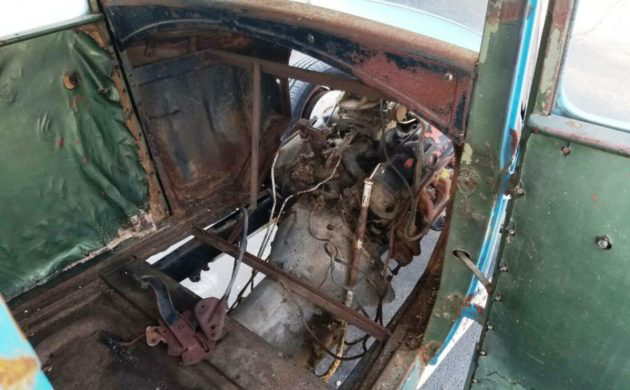 From this angle we realize this hot rod was never finished. The (probably three speed) automatic may disappoint purists, but it's typical of budget builds that placed a high priority on utilizing parts on hand. Moving the engine rearward helps with weight distribution and ease of maintenance, but also calls for a proportionally customized firewall. Luckily the few brackets here can be modified or relocated however you want. It's tough to see this Ford becoming a high-dollar show car, but I like the idea of a late-'60s build using only parts available in those days. Personally I'd find a manual transmission, but the rust and mismatched paint could stay… for a while. How would you finish this old-school hot rod?
Have something to sell? List it here on Barn Finds!