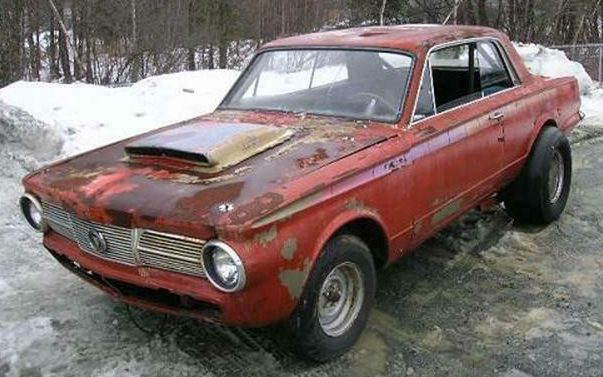 Calling on Road Kill, I think I found your next project. This is definitely a car not seen often, in any form, anymore, 1964 Plymouth Valiant, two-door hardtop. As to the actual model, it appears to be a V-200 but it's hard to tell with its race car transformation that appears to have happened long ago. There may be some history involved, let's find out. Located in Enfield, New Hampshire, this Plymouth is available here on eBay for a classified price of $3,900; there is a "make an offer" option too.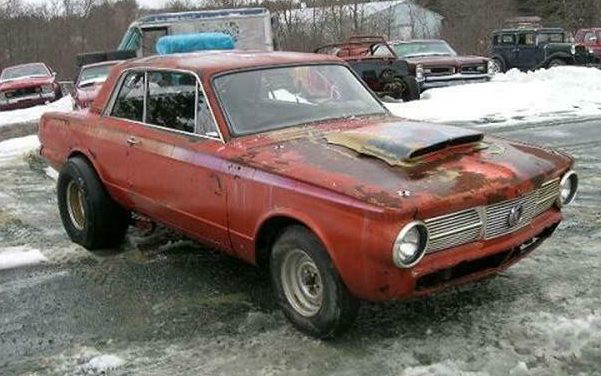 Plymouth's valiant was a compact market entry, designed to compete against the likes of the Dodge Dart, Ford Falcon, Chevrolet Corvair, and later, the Chevy II. Body styles included two-door hardtops and sedans, four-door sedans, a station wagon, and a convertible. Two notable things occurred to the Valiant in '64, the spawning of the Barracuda sports version, introduced about a week before the new Ford Mustang, and the option of a 273 CI V8 engine, joining up with the existing six-cylinder powerplants. It was a good year, indeed, for the Plymouth Valiant with about 227K copies produced.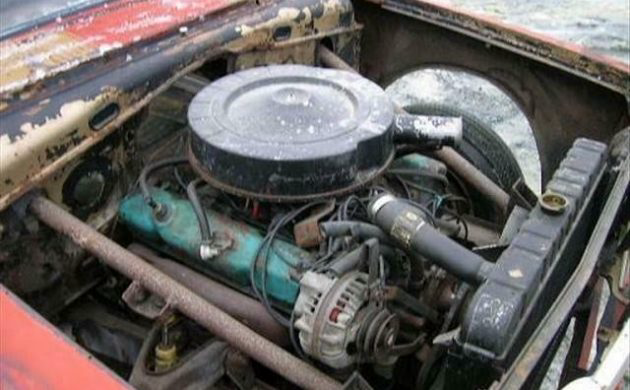 But why consider only a 273 CI engine when a Valiant can swallow a Hemi into its maw? At least that's what the seller states was under the hood in this former hot rod's race car days. Nowadays, a 383 CI "B" block Mopar engine calls this Valiant home. It is of undisclosed origin and is not stated as running or non-running but the image presents a non-operative motor. While the interior shot reveals this as a three-pedal car, it now houses an automatic transmission. Based on the slicks, there is an assumption that this Plymouth would have to have a substantial differential under its backside but there's no reference.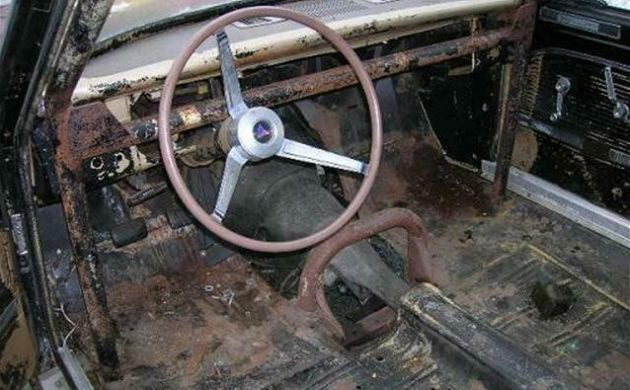 The interior of this Valiant, while gutted, is a study in race car internals. The dash is still in place but the instrument panel is gone and a horizontal piece of the tubular roll cage passes in front of the dash, connecting to either side of the cage's vertical posts. The floor has been cut away to allow room for the transmission to be positioned further back into the passenger compartment probably as a result of the engine swap. There is also what appears to be a safety hoop crossing over the top of the transmission. The roll cage actually looks more like a roll bar in terms of solidity and doesn't present an image of strength. Curiously, the door cards are still in place, components that seem likely to been tossed early on. As is, the interior is not useable.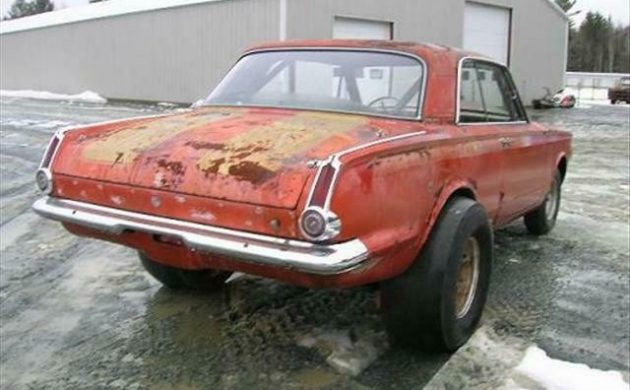 Outside is racecar rough. The body does not appear to have been cut but the rear wheel houses would have to have been tubbed to accommodate slicks of this size. Surface rust is everywhere but the body is not showing evidence of failing due to deterioration. Interestingly, most of the trim is still in place, though the front bumper has been removed. The hood is in possession of what looks like a Mopar factory scoop, perhaps from a Challenger, but it appears to be glued on and has the likelihood of blowing off. A thorough blasting and repainting would do this Valiant a world of good appearance-wise.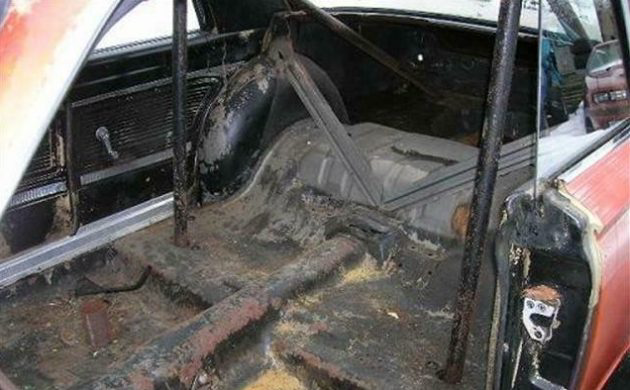 Well, I was hoping for some race car history but none was provided. Being this vintage Valiant and considering its current condition, returning this Plymouth to some semblance of its original condition is probably out of the question. It could be amped back up as a race car or unmodified slightly to present as a vintage street-racer. This car's future direction seems a bit limited in scope but there are options; what would be your recommendation?