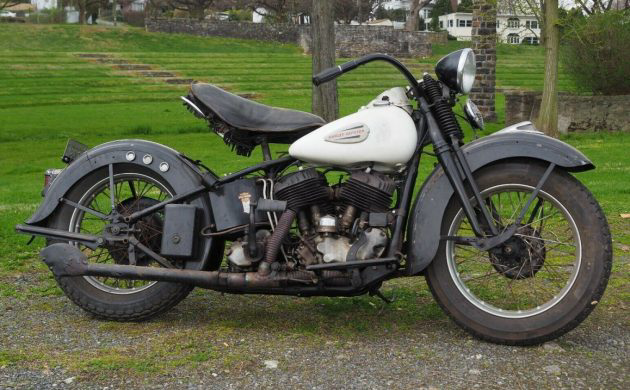 If originality is your thing, this 1938 Harley-Davidson UH may be the motorcycle for you. The seller indicates that this example, stored since 1977, is 99% OEM. It really resembles a prop from an old movie with its perfectly aged bearing. Located in Allentown, Pennsylvania, this Harley-Davidson is available, here on eBay for a current bid of $18,800, reserve not yet met.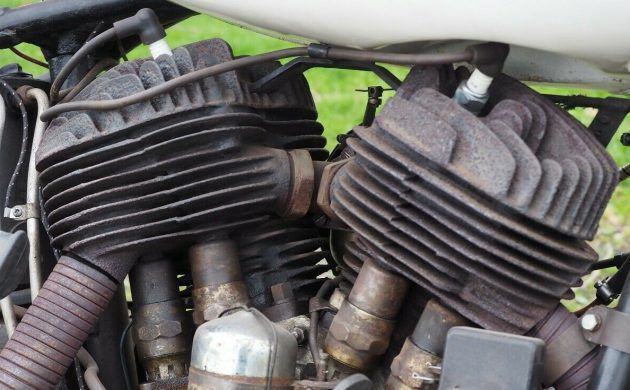 The Harley-Davidson UH was introduced in 1937 and offered through 1941, racking up a total of 698 copies. It featured a twin-cylinder, 1,300 CC, flathead engine. The seller states that this bike's engine runs great and doesn't smoke; he further adds that he doesn't think it has ever been apart. The four-speed Linert gearbox, which is left hand shifted, in coordination with a foot-operated clutch, has an "R" stamped on the transmission lid which the seller assumes is for "reverse". He mentions that it doesn't engage in "R" and the reason, derived from research, indicates that only the three-wheelers, known as the Tri Glide Ultra and the Freewheeler had actual reverse gear capability. That would be logical as UH's were frequently used in police service, a place where three-wheelers were common too, and the marked transmission lid was probably shared between the standard UH and the aforementioned three-wheelers.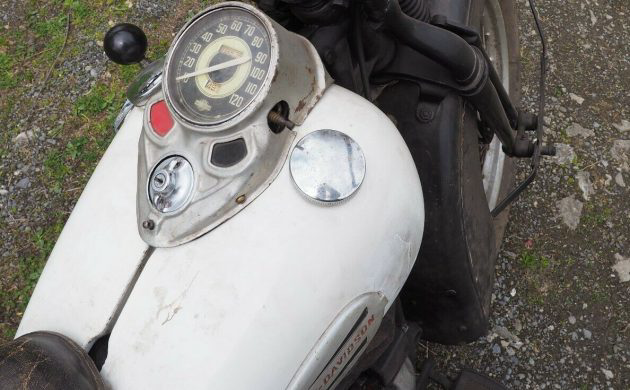 The seller offers no specific reasoning for why he thinks this is a former police bike other than the fact that the UH model frequently found itself in such service. One aberration noted is that the right-side fuel tank is identified as a '40 version but the left side is considered correct for a '37 to '39 model. Additional enhancements include new wiring, a rebuilt generator, and a new battery.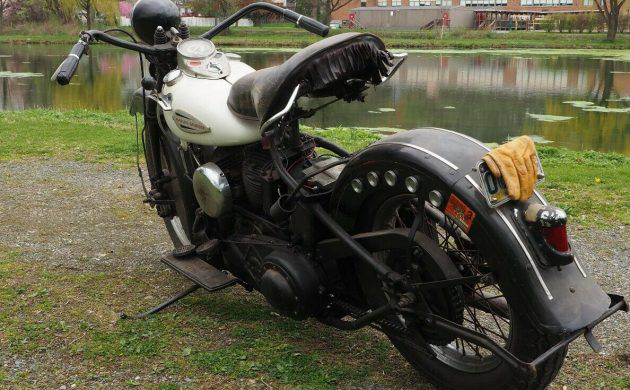 This Harley has a typically aged look about it but considering its 82 years of age, it's holding up quite well. The finish is a bit worn and rather flat but there is little to no evidence of surface rust or bent components. Even the leather seat doesn't show the wear one would normally assume for a motorcycle of this age. Of note, this Harley is equipped with a rear stand in addition to its kickstand that is in use throughout the accompanying images. Here's a quick lesson in how the rear stand is engaged.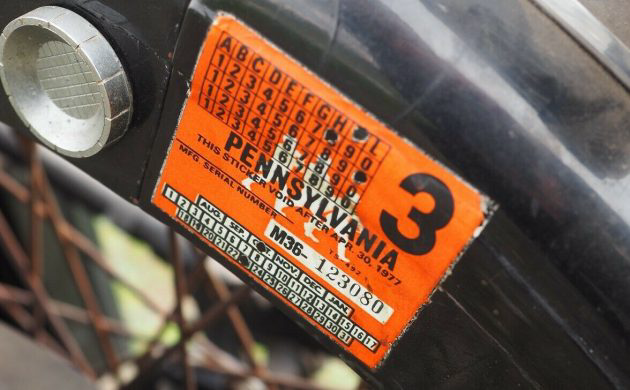 Assuming that this bike has been sitting since '77, it still had to be somewhere and in some sort of use for the twenty-nine years that preceded the commencement of its long slumber. To think that it has existed for that length of time with no obvious modifications, changes, damage, etc. is rather remarkable. This bike could go a couple of different ways; one, due to its originality, shown as a static display; two, restore it to like-new condition or three, preserve it, ride it and enjoy it as is. Option three would be my choice, how about you?