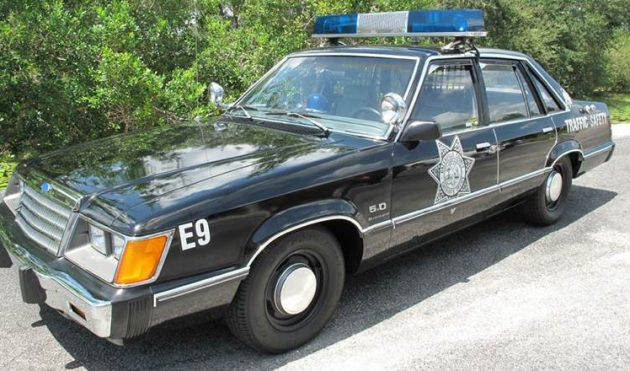 When it comes to police cars in this country, we've gotten downright boring. Now I know, the Dodge Charger and lightly-disguised Chevy (Holden) Impala are bright spots, but c'mon – we used to slap light bars and decals on Camaros and Mustangs. That Charger may have a Hemi, but it's lacking the cool factor of specimens like this 1984 Ford LTD 5.0 police car here on eBay, where it's listed with a reserve and bidding is active. It's located in Sarasota, Florida.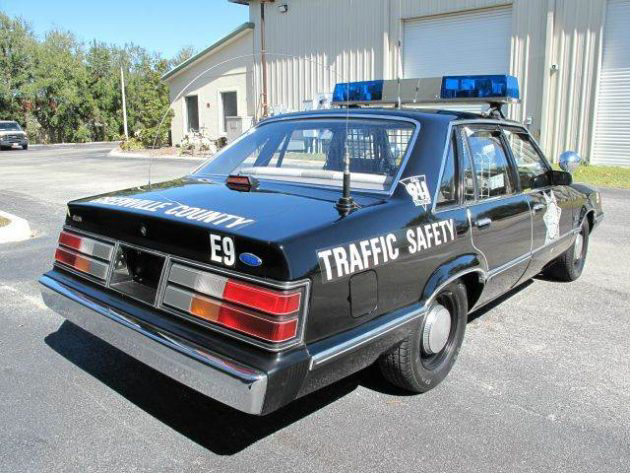 Originally delivered to the Greenville County, South Carolina sheriff's department, this LTD was loaded up with just about every iconic piece of police regalia you can think of: dog dish hubcaps, huge roof-mount lightbar, strobe lights on the dash, CB antennas wherever they could stick them, gigantic spotlight on the sideview mirror, and of course, a big, honkin' V8 under the hood. Specifically, this LTD is what some have lovingly referred to as the "four door Mustang" because Ford dropped the venerable Mustang mill into its otherwise boring family sedan. They are few and far between today, and even fewer that wear original police decor.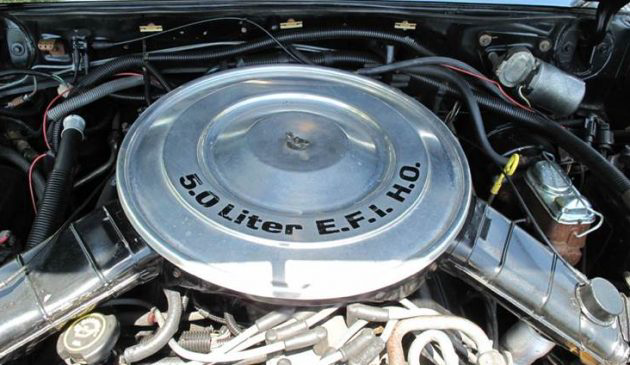 This police-spec LTD benefitted both from the additional horsepower as well an enhanced suspension package. Coming from an era when performance was second or third down the list after fuel efficiency and cost cutting, the fact that this LTD could still hustle to 123 m.p.h. is downright impressive. When the engineers at GM were trying to eek out another measly mile per gallon on former halo cars like the Camaro, the skunkworks behind the cop package sedans seemingly didn't get the memo that they were supposed to find ways to crossbreed an Escort with a Fairmont.
Of course, the other bonus with the cop package LTD is the presence of seemingly all of the original radio equipment. Street Thunder – what an awesome name! It's missing a knob, but I'm sure you can find a replacement. With an old K40 CB radio just waiting for installation in something I own, I can only imagine the fun you'd have testing out all of this vintage communications equipment on the first drive home. The seller calls this LTD a restored example, but it also seems it survived in largely original shape, as it's said to have been spared a life of hard use while on duty. Personally, I think this example is worth a fair price both for the notoriety and the relative scarcity of 5.0 LTDs. What do you think it's worth?