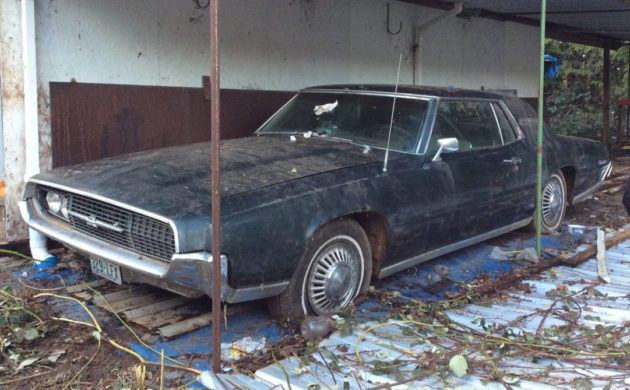 Well probably not free for you or me, but here's the second lucky duck of the day who found a classic car on the property when buying their house. It's listed here on craigslist in Portland, Oregon. Thank you, Roger, for tipping us off to this one!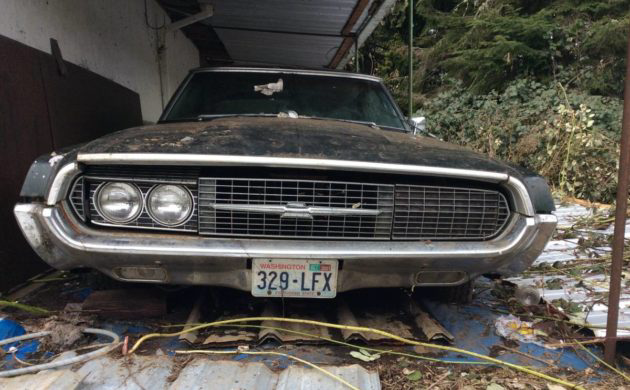 The ever-popular Thunderbird debuted in 1955, and by 1966, the new Ford Mustang was crowding the 'Bird in the sporty coupe market. Being substantially less expensive, the Mustang had the upper hand. Ford's response was to take the T-Bird upmarket, and the all-new 1967 was a larger, more luxurious car built like a Lincoln. For the first time, the grille had hidden headlights, the convertible was no more, and a sedan was available. Personally I think the sedan is the coolest of the 5th generation T-Birds because it looks more balanced and besides the Lincoln Continental, its the only other American car of its day to feature suicide doors. And suicide doors are badass! Despite that incredibly super obvious fact, the four-door model would be discontinued after 1971.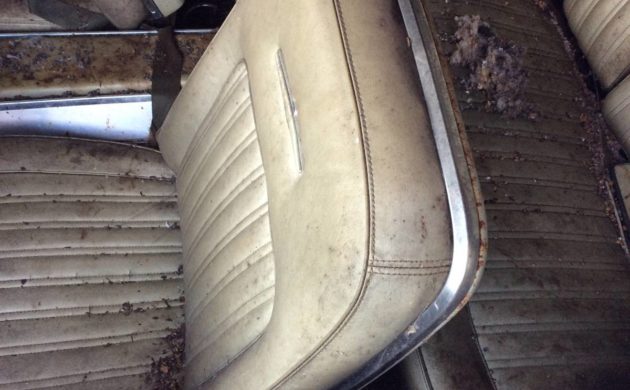 The seller calls it a barn find, although it's really more of a carport. They don't know much about the car other than it was last registered in 2001. So here's what we can tell from the pictures. It's the more popular coupe model, packing either a 390 or 428 V8 engine with a three-speed Cruise-O-Matic transmission because this is a personal luxury car and shifting is for the common people. Inside, the light-colored seats are filthy, but look intact. They might freshen up with a good steam cleaning. Some rodents appear to have feasted on the headliner and there are chunks of it in the back seat. The cabin is probably going to smell strongly of mildew and varmint unless you know a great detail guy.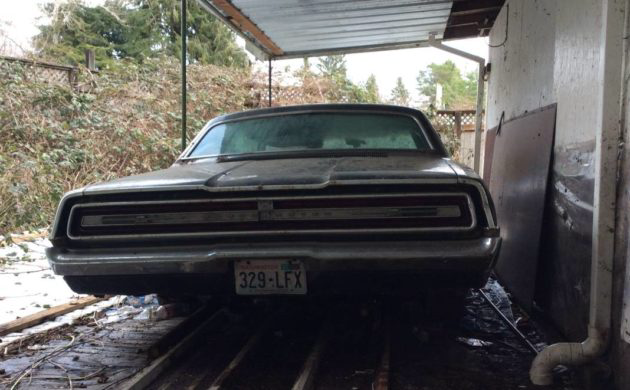 The exterior appears straight and in good shape minus a few rust holes around the rear window.  The paint might even be presentable—a good wash and polish will do wonders. I do wonder how a car that's sat for so long can have such fresh-looking mud on the tires. And if you get it running, you can experience the all-time coolest 1960's car feature—sequential tail lights.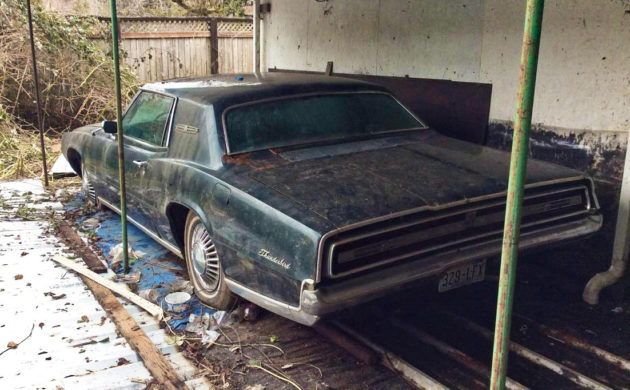 The seller says this is a "once in a lifetime find"—probably for them, as while 1967 T-Birds are unusual, you do see them around. They are looking to trade it for a truck or cargo van, which is probably more reasonable than their placeholder asking price of $11,111. Sadly for the new homeowners, in this condition, I'm guessing its worth about 10% of that figure. What do you say, would you bring this 'Bird in for a landing?