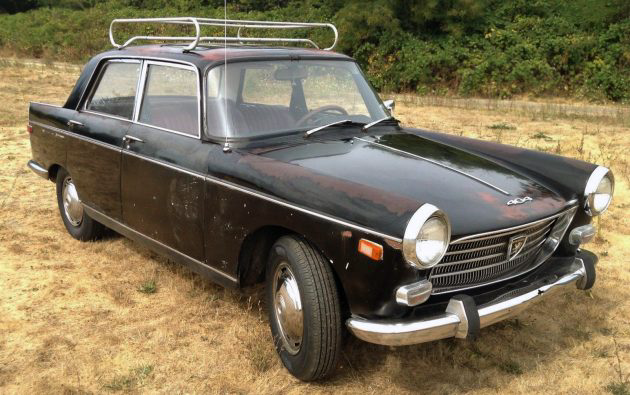 How's this for French patina? French folks sure know their coffee, but do their cars have patina? Maybe that's just an American car/truck thing. This 1969 Peugeot 404 Sedan looks like it's about as straight of an example as you'll find and it sure looks great in this well-worn paint, in my opinion. It adds a bit of old world (or, olde world, as they say in the strip mall world) charm. It's listed on eBay in beautiful Portland, Oregon, a city that knows a thing or two about quirky vehicles, patina, and French press coffee.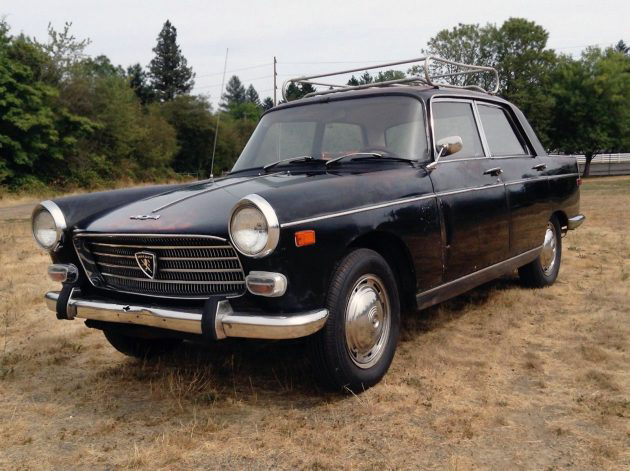 This one has some crazy crazed spots in the paint that are begging to be wet-sanded and clear-coated. Or, with such an elegant car, a full, nice respray in black would be fantastic. The owner "just installed new battery and four new steel belted radial tires" so that's one less thing for the next owner to think about. This is one crisp critter, and in beautiful black, no less. The Peugeot 404 was made from 1960 to 1975 and it's quite a formal design with more than a little Mercedes-Benz going on in the overall form, especially the rear portion.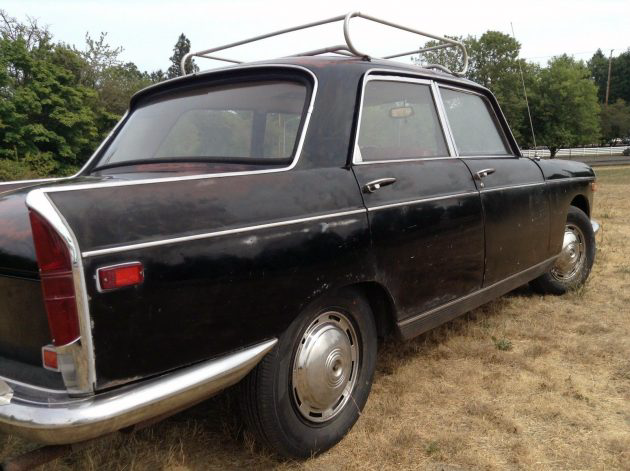 See what I mean? At first glance, other than the tail lights, some folks may have thought that this was an early-60s Mercedes-Benz from the rear 3/4 angle. It's an elegant car and this one is all original, or at least it hasn't been restored or painted or otherwise messed with. 2.9-million of them were made so they couldn't have been quite as horrible as many people think French cars are. In case you aren't one of those people and haven't noticed, a lot of folks like to poke fun at French vehicles.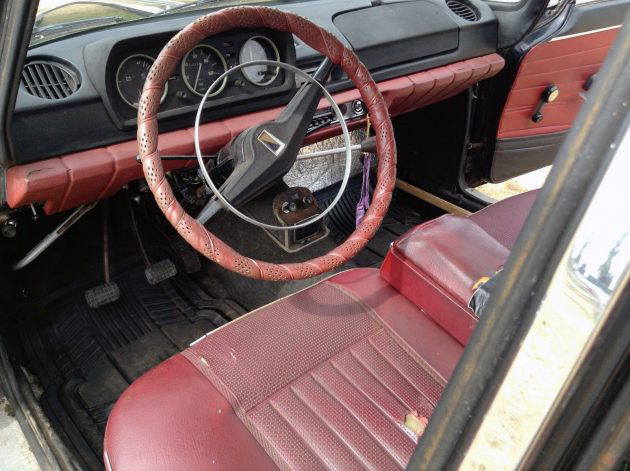 An unusual, black car with a red interior? Yes, please. And, is that a third pedal!? Yes, pretty please! The interior looks fairly decent but it could use some help. The dash looks good other than a crack-and-a-half and the back seat looks like new. The rare factory sunroof works and the seller says that "all gauges work. All lights, EXCEPT brake light, work. The brake light problem is in the floor mounted switch." The brakes, in general, need help as the "power brake booster has a fluid leak and pressure leak. The car can be driven as a non-power brake vehicle but the brake pressure fades and the fluid level needs to be monitored. I do not and I would not recommend driving it far or fast until the brakes are fixed. But I do drive it as is, with that knowledge."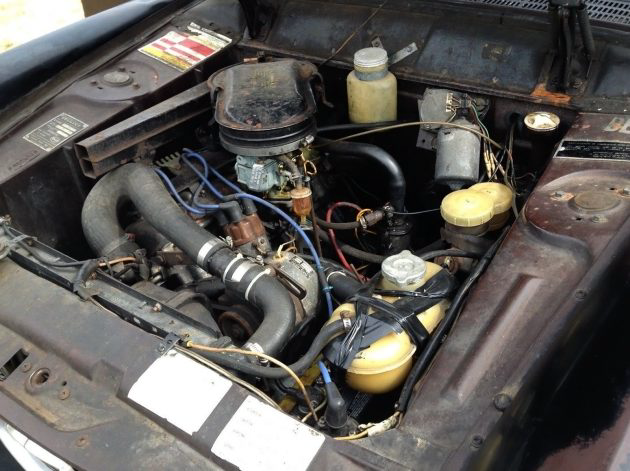 The seller says that the "clutch and transmission are butter-Smooth. The only other car that I have ever owned with such a smooth balanced transmission was my 1974 Alfa." Cool. This is Peugeot's 1.6L inline-four with 80 hp for North American cars. With the four-speed manual transmission it's good for a 0-60 time of between 14 and 15 seconds, or about twice what your Chevy Volt will do. For anyone with some basic skills and who likes unusual vehicles, this could really be a fun car to own.