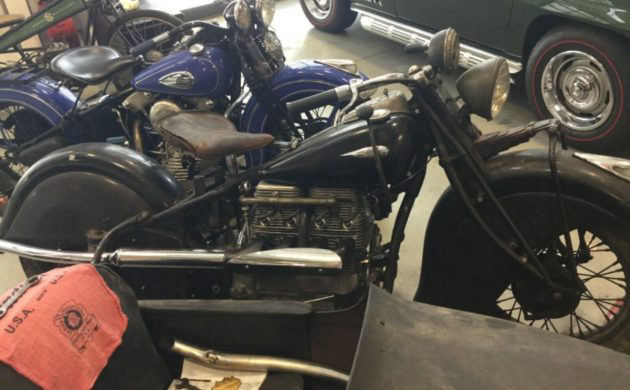 If anyone ever had any doubts about the desirability of vintage motorcycles, a few of the classic Harley-Davidsons that we have featured in recent times here at Barn Finds should provide a graphic insight into this desirability. However, if you remain unconvinced, this 1940 Indian 440 might tip the scales for you. Since it was listed for sale here on eBay, it has received an impressive 33 bids. That pales into insignificance when you realize that this action has pushed the price along to a jaw-dropping $66,900. The Indian is located in Meredith, New Hampshire, and now that the reserve has been met, a new home is just around the corner for this beauty.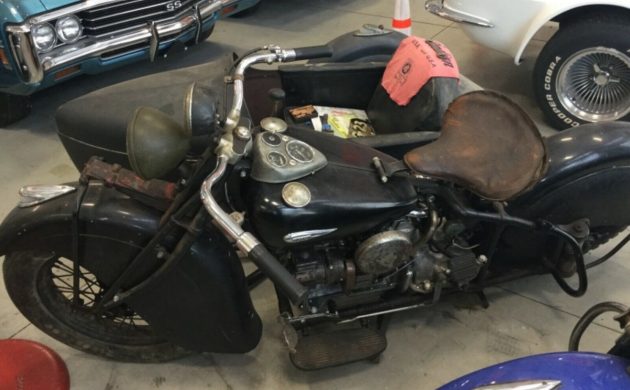 The Indian has never undergone any form of cosmetic restoration, which means that it carries its 81-years worth of wear-and-tear with style and dignity. The paint shows all of the deterioration that you might expect, and the same is true of the chrome. The leather on the seat is looking hard, and I would probably be inclined to condition this to see if it could be improved. However, unless a buyer is looking at returning the Indian to a pristine state, that would be all that I would touch. There's no doubt that this classic would attract plenty of attention fully restored, but it is equally certain that it would garner just as much attention and respect if it were retained as an original survivor. One of the standout features of the 440 is its elegant styling. This is dramatically demonstrated by the fenders, which are a thing of beauty. The partial skirting encloses the wheels and provides improved aerodynamic efficiency in an era when such technological thinking was rare in the world of motorcycle design. This is one of those moments where form and function work together to create something unique. However, this feature came at a cost, adding an incredible 36lbs to the overall weight of the 440. That pushed the overall weight beyond 600lbs, which meant that the Indian was a long way from being considered a lightweight.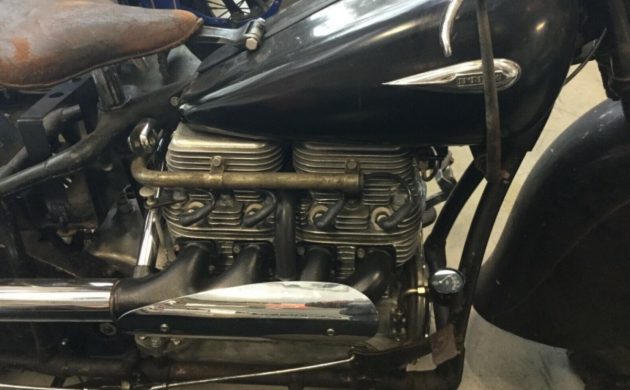 If a motorcycle is going to carry a high overall weight, it will need an engine that is up to the task. Where Harley used a V-twin for their offerings, the Indian used an inline 4-cylinder unit with a capacity of 77ci. Referred to as an F-head engine, it features overhead inlet valves and side exhaust valves. The engine design was inherited when Indian purchased the Ace Motor Corporation in 1927. The design remained unchanged until 1936. Indian reversed the valve configuration in that year, extracting more power. However, this came at a cost because not only was the maintenance of this new engine more expensive and time-consuming, but it placed the exhaust system directly against the rider's inner thigh. Many owners suffered painful burns as a result, so the company reverted to its original configuration for 1938. The news is positive for potential buyers because this powerplant has recently received a comprehensive professional rebuild. It now runs perfectly, with the Indian ready to hit the road the moment the buyer hands over their cash.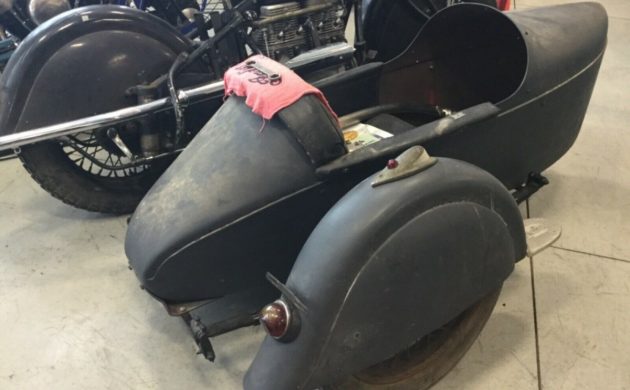 There is a sidecar currently attached to the Indian, but this isn't included in the sale. However, the owner appears willing to negotiate this as a separate sale to the winning bidder. Given how perfectly it matches the styling and condition of the 440, this would be an offer that I would be sorely tempted to consider.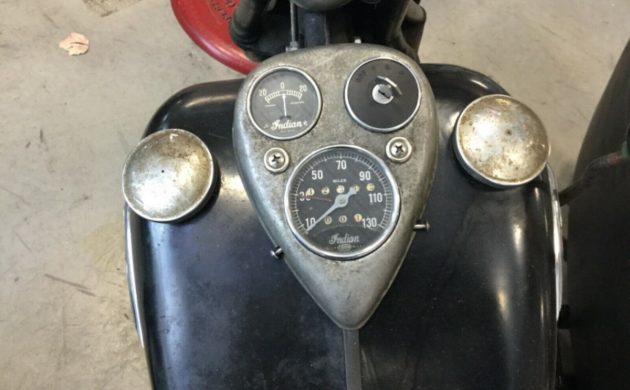 The 1940 Indian 440 was not a cheap motorcycle when it was new, but it was one that stood out from the crowd. In an era when it was possible to park a new Chevrolet car in your driveway for around $700, the Indian 440 cost an incredible $1,000. That would help to explain why the company sold fewer than 10,000 examples during its 15-year production run. Spotting one today is a rare treat, and having the opportunity to park one in your garage is even rarer. That would help explain the bidding action to this point, so it will be interesting to see the final sale price. It will also be interesting to see if we have any readers who might be keen to join the bidding party.