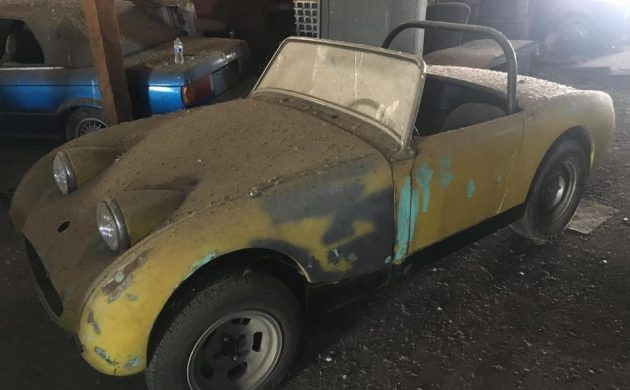 Back in 1958, the Austin-Healey Sprite was rolled out as a small, low-budget, British-made roadster. It earned the nickname "frogeye" in the UK for its headlights positioned on top of the hood, inboard of the front wings. In the U.S., it was more commonly called the "bugeye." This 1960 edition has likely spent a lot of years in the barn, but no longer has any drivetrain. Located in Napa, California, the little car is available here on Facebook Marketplace for $3,500 (does that include a bottle of Napa Valley wine?).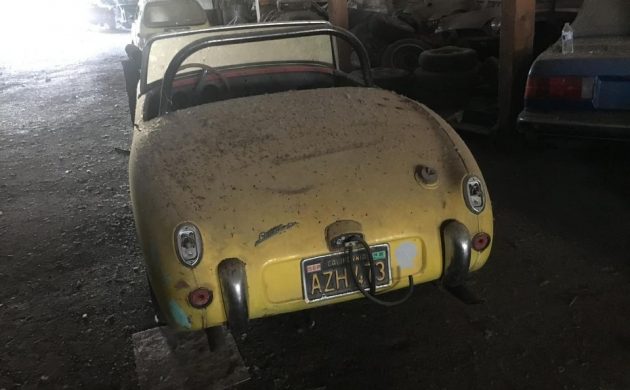 British Motor Corp. put together the Sprite using as many parts as they could from other products. For example, the 948cc engine that was good for 43 hp was a tuned version borrowed from the Austin-A series. The Sprite would become the first volume-production sports car to use unit construction (aka unibody), so the car's sheet metal body panels (excluding the hood) would take many of the structural stresses. The entire front sheet-metal assortment – hood and wings – was a one-piece unit that hinged from the back. It swung up to allow the mechanic access to the engine, but it could also be removed in its entirety if more serious work were needed. These little cars were popular in export markets, especially the U.S., where a good many of the nearly 50,000 Sprites found their way here.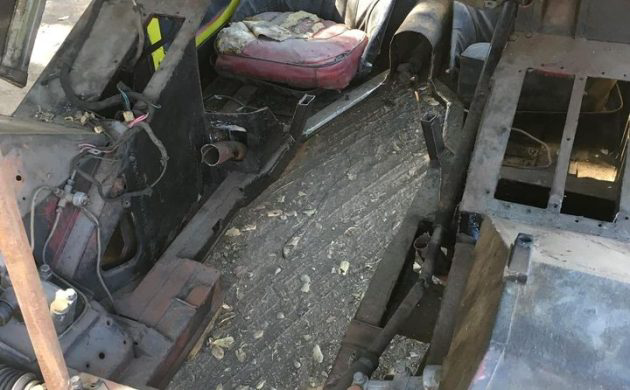 This poor Sprite is said to only have 10,000 miles on it. If that's correct, then it's spent an awfully long time trapped in the dark where it resides. The body is painted yellow (with traces of blue underneath), and the interior is black in color. It has a roll bar behind the seats, which gives it a dune buggy kind of look. There is some rust which may be mostly in the passenger compartment. Sadly, the small car's motor and 4-speed manual transmission have parted company with the automobile. So, this Sprite is strictly a roller at the moment. The title has likely been lost over the years, so the buyer will have to settle for a bill of sale.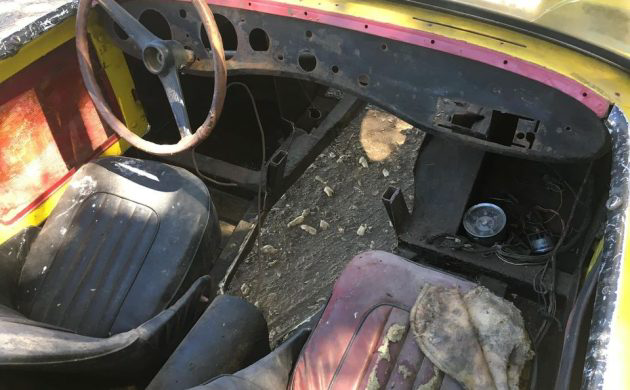 Depending how you look at it, these Austin-Healy's weren't fast off the line, but could eventually reach more than 80 mph (0 to 60 would take you 20 seconds). But there were great on gas, even if it was only 25 cents a gallon back then. If you took the time and money to bring this car back to show condition, it might top $30,000, according to Hagerty. But would it better serve as a donor for another "Spritely" project?