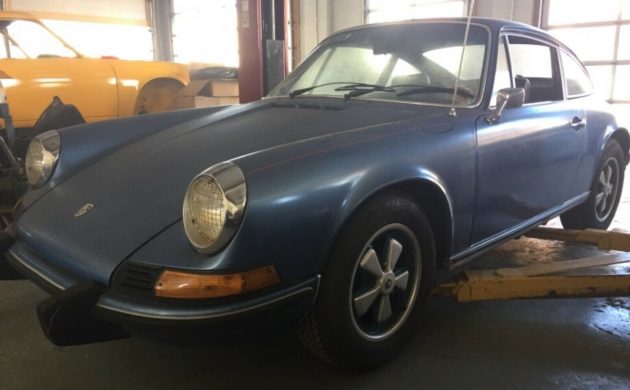 This 1973 Porsche 911T is a nicely aged survivor that could be used as-is or taken to the next level with a proper restoration. The seller describes it as having some replacement components that are improvements over what would likely be found if the car was still one hundred percent factory, including a replacement front suspension pan. The Gemini Blue paint coats all original sheetmetal, and there's just one respray in the 911's past in the correct colors. Fuchs wheels are always nice to see, and they appear to be free of any significant cosmetic flaws in the photos. Find this desirable long hood 911 here on eBay where bidding is approaching $34,000 with no reserve.
The red pinstripe is an interesting look, and may indicate this 911 spent some time as part of a used car dealer's inventory – I feel like that's a must-do by wholesalers of a certain age (at least, several of the 1980s models I've owned over the years had pinstripes added post-factory.) The shut lines are said to be nice and tight, and the 911 certainly looks straight and true going down the sides. The desirability of long hood 911s has only escalated over the last decade, and while prices have normalized a bit, it's hard to find a non-rusty example for less than $30,000. The seller notes that the brakes were recently done and a new clutch and pressure plate installed.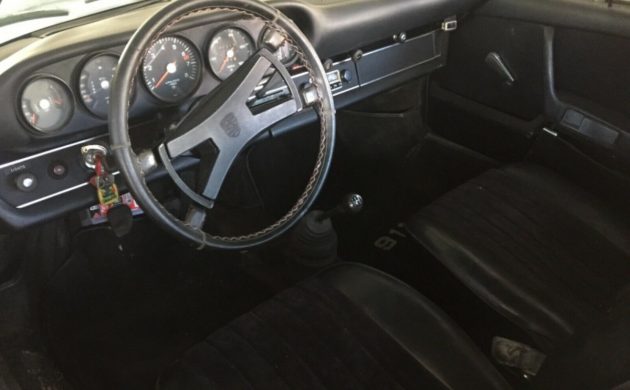 The interior is described as being in "…decent, original shape," and the most attractive feature is the factory replacement dash. This wasn't done recently, but it's a desirable fix given most factory dashes are sporting some serious cracks by this point in driver-quality cars. It was also replaced at a time when you could still call your local dealer up and ask for a fresh dash assembly. The steering wheel looks to be in very nice shape as well, with what looks like a re-wrap at some point; the seller also believes the seats were previously reupholstered, so overall, some restoration efforts have taken place inside the 911.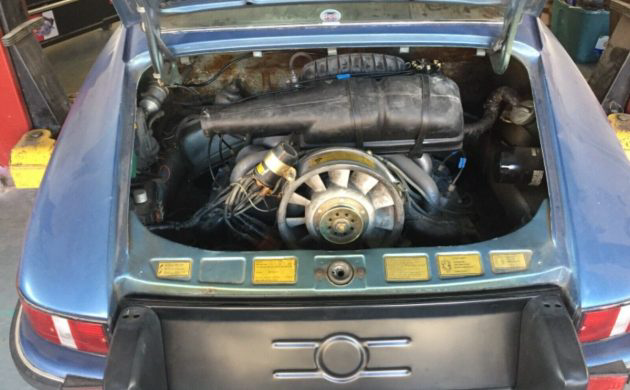 The fuel injected 2.7 liter CIS engine is paired to a 915 5-speed manual gearbox, and is said to run quite well. The seller even claims you can drive this 911 home, which is a bold claim for any vintage sports car, but especially so for an air-cooled 911 with no significant service history. Of course, the seller notes that the rubber fuel lines were replaced at the same time as the clutch and brake jobs, so perhaps this is a case of a car that had very few needs to begin with and is now buttoned up even further with the recent work. With no reserve, it's anyone's car to lose in terms of the final offer price, which I suspect will clear $40,000 with ease.