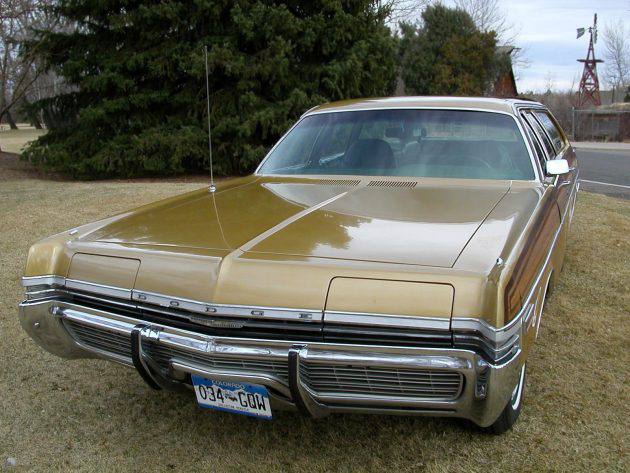 This princely car is a 1972 Dodge Monaco Wagon, what a unique, stately, beautiful design – at least in my opinion. This full-sized wagon is listed on eBay with a current bid price of over $6,000 and the reserve isn't met! And, there are still five days left on the auction! Wow, wagons are hot! This hot wagon is in Denver, Colorado.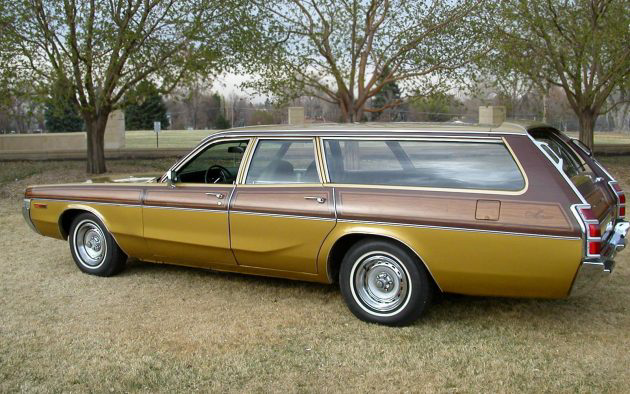 The Principality of Monaco is famous not for just being located in the gorgeous French Riviera, but for being host and home to all sorts of royalty, either actual royalty or celebrity-type "royalty". What better name for a top-of-the-line car model! This is a second-generation Dodge Monaco and 1972 was the first year that the hidden headlights appeared, or the first year that the headlights didn't appear.. or, well, you know what I mean. It really gives this car even more uniqueness. Can you think of another wagon with hidden headlights?
This wagon is long, very long; almost 19-feet long. So long that there are only a couple of photos showing the entire length in a single photo, which is a bit disappointing for such a nice car. Most of the photos are close-ups and snippets or details. Those are great to show the quality and details but more overall photos are always better than fewer of them. Speaking of detail photos, there are no interior photos other than two close-up shots, which baffles me to no end. Thankfully, those two photos show an immaculate interior, but who knows what the rest of the interior looks like. I've learned to never assume that everything is perfect just because some other areas of a car look perfect. I did not expect to see a dark green interior on a gold car, whoa!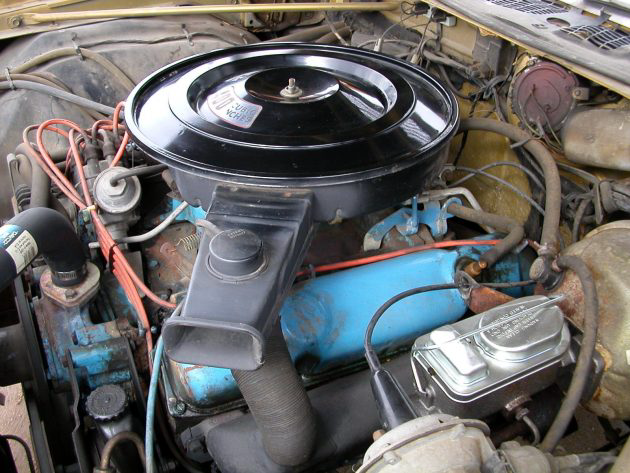 The seller mentions that they had some rust repaired and had the portion below the woodgrain repainted, so maybe why it looks so good. The engine also looks good, fairly clean and that new master cylinder looks real good to me, it means one less thing for the next owner to do. This is Dodge's 400 cubic-inch V8 with 190 hp and 310 ft-lb of torque. This car weighs almost 4,700 pounds (!) so less than 200 hp is somewhat disappointing, but it would definitely move this car enough to keep up with modern traffic. It looks like it's had the famous "quick-wipe" detail, I'd want to really clean and detail this engine. The seller says that it has "old car drips" from sitting, I'd want to fix those leaks, but that's just me. Have any of you owned a Dodge Monaco of this vintage? I really like the look of the hidden headlights on these cars.