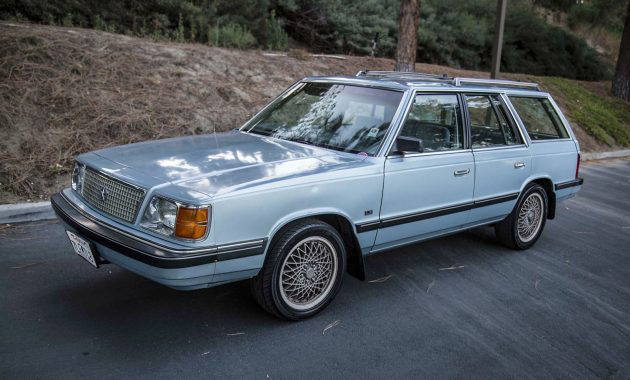 "If you can find a better car, buy it", said Lee Iacocca in the 1980s when he was peddling Chrysler's savior vehicles – the versatile K-car. Or, better yet, build it! This 1987 Plymouth Reliant Wagon has a little surprise hidden under that hood: a 1988 LeBaron Intercooled GTS drivetrain with 175 hp! I know what you're thinking, big deal, my Kia has that much power. Yeah, but your Kia ain't no '87 Reliant wagon! Wait, is a good or a bad thing? In any case, this sweet little sleeper is listed on eBay with a current bid of just over $1,000, but the reserve isn't met. It has been less than a year since it was listed on eBay and supposedly sold for $6,100 last August, weird. Maybe it was a non-payer or something? It's located in Santa Monica, California, the same place it was during the last auction, and it's listed by the same seller.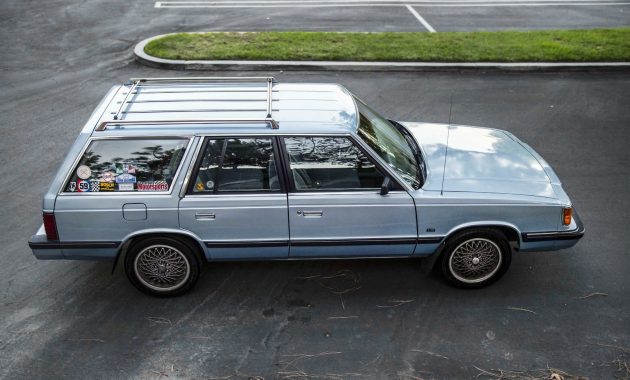 Since it's the same car and the same seller, and it's been less than a year since the previous auction, I have used a couple of photos from the previous eBay listing. The current auction only shows four photos and the seller mentions to get in touch for additional photos. This is one good looking K-car! And who among us has ever said that before, at least publicly? Actually, I've always liked the boxy simplicity of the Plymouth Reliant and Dodge Aries, I thought that they were incredibly tight and sleek designs. Crisp and clean, simple, useful, and on the verge of being elegant, at least by 1980s standards. My mid-80s Chrysler LeBaron convertible was basically a K-car with chrome, I loved that thing.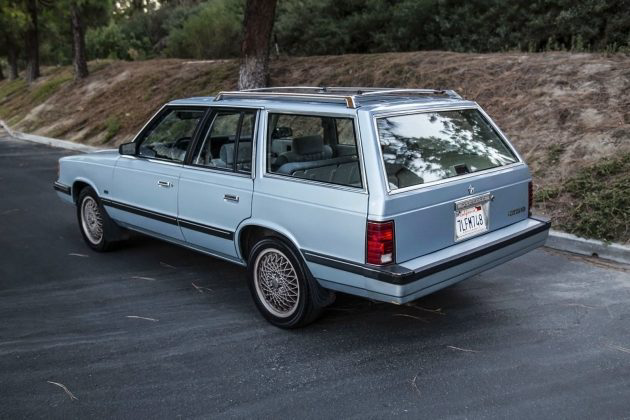 This car appears to be in fantastic condition. It's now thirty years old and it looks better than a lot of newer cars do as far as being rust and dent-free. There is a ding visible on the left front fender, but other than that I don't see too many issues with the body on this car. The Reliant and Aries sold over a million copies in their nine-year span, from 1981 to 1989. Just think what occurred during those relatively short nine years: Chrysler came back from the brink of extinction, we had two presidents from the same party in a row, which hasn't happened in quite a while, the space shuttle program became almost commonplace and then the Challenger tragedy happened, the Berlin wall came tumbling down! And, last but not least, I grew my first mustache! Ok, back to this hot little number.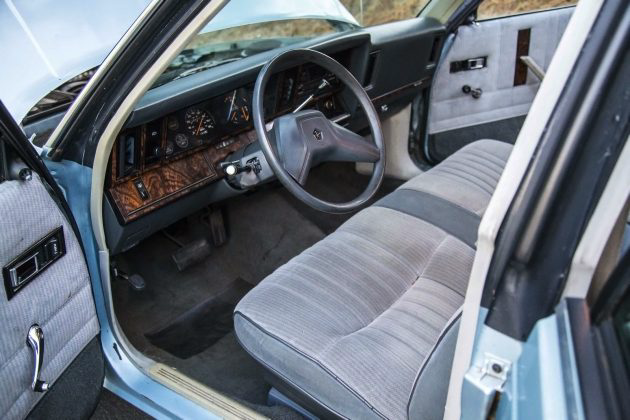 The interior is also crisp and clean, and it looks close to being flawless. The back seat has more than enough room for most folks this side of Manute Bol, and other than some stains on the carpet, the interior looks great. This car isn't just a stock Reliant wagon with a more powerful engine stuffed in it, it's been modified all around. It has front and rear sway bars, "a re-cored copper-frame radiator, 11.5″ drilled slotted rotors all around, fresh fuel tank, lower control arm polyurethane bushings, stiffer front springs, new Montroe [sic] front struts, rear koni shocks, custom mandrilled exhaust (and then custom-fitted to this car) with cat section", among other things. This is a nicely-modified car that has to drive and handle light years better than a stock Reliant wagon does.
This isn't the usual 2.2L or 2.5L, or even Mitsubishi's 2.6L, my personal favorite. Nope, this is a 2.2L inline-four, intercooled turbo engine from a Chrysler GTS, and the seller says that it's pumping out 175 hp. If that doesn't seem like a lot, it is, at least compared to the original 100 or so horsepower that this car would have had from the factory. That former selling price of $6,100 seems like a steal for all of the work that has been done to this car, and given it's nice overall condition. Have any of you almost doubled the factory horsepower in one of your custom builds? If so, what was it and do you have any photos to share?