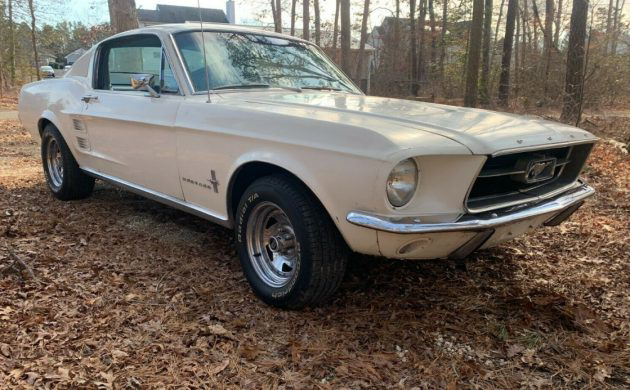 After more than 10-years spent in a hay barn, this 1967 Mustang Fastback has emerged and been coaxed back to life. It doesn't seem that it has suffered unduly from the experience, and returning it to active duty shouldn't be a difficult task. The car looks to be structurally sound and could serve quite nicely as a daily driver or for relaxed weekend cruising. Located in Manahawkin, New Jersey, you will find the Mustang listed for sale here on eBay. Bidding has reached $32,800 off the back of some frantic activity. The reserve is met, so this barn find is set to go to a new home.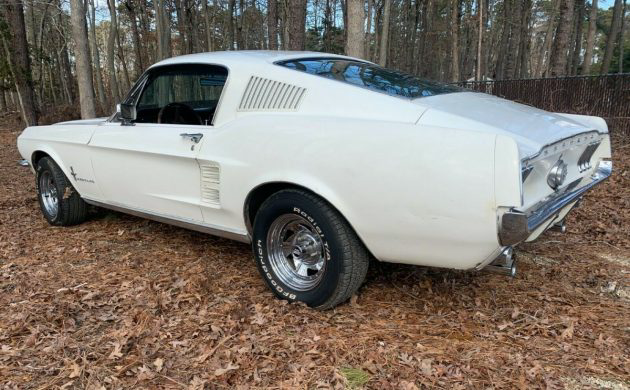 The Wimbledon White Mustang presents quite well, with no signs of any significant rust issues in the panels. It looks like there might be some beginning to develop in the rear quarter panel on the driver's side, but it seems like it could be caught early without raising a sweat. The body is straight with no signs of any dings or dents. Taking a look through the comprehensive set of photos of the Mustang's underside reveals what appears to be some previous rust repairs in the floors. There is also some surface corrosion present, so I'd be inclined to treat this before it gets a foot-hold. Otherwise, it does appear to be structurally sound. The trim and chrome are in good condition, while there are no issues with the tinted glass. The car has been fitted with a set of aftermarket wheels, but as you will see, these are in keeping with a classic that is not 100% original.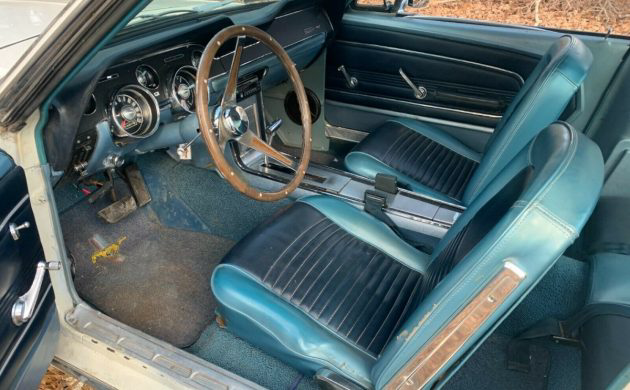 The Mustang's interior isn't perfect, but it would be fine for a driver-quality car. There is some wear on the outer edge of the driver's seat, and the foam looks like it might be beginning to collapse in the same area. The cover doesn't need to be replaced immediately, but I would probably look at doing something with the foam for comfort. That is a matter of preference because the buyer might find it perfectly acceptable as-is. The rest of the trim looks fine, as does the carpet. My only criticism of the interior is the fact that someone has fitted a radio/cassette player. This in itself isn't a problem, but they have cut the kick panels and the rear divider to install speakers. The fronts look okay, but the rears look a bit tacky when you open the trunk. Unless the buyer is looking at performing a faithful restoration, their best course of action will probably be to install a box over the back of them to afford some protection to the speakers and anything that they might be carrying in the trunk.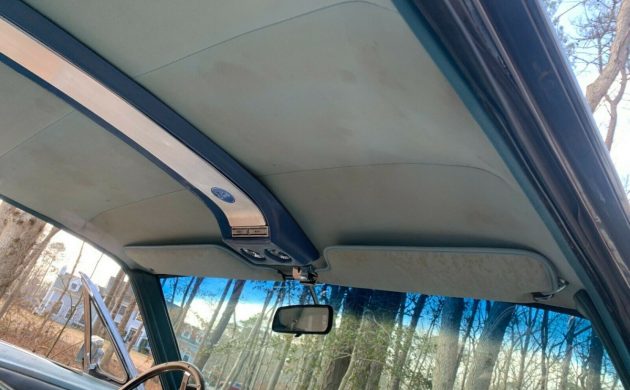 There are a couple of excellent interior features with this Mustang, and apart from a floor console, there is also a roof one for good measure. Both are in good condition for their age, but when you look at these two interior shots, they reveal that what this interior needs more than anything else is a deep clean. That should chew up a couple of weekends, but the results should be worth the effort. I will admit that I had some feelings of trepidation when I discovered that the Mustang had been found in a hay barn. These are usually pretty dry, which might explain the lack of rust problems with this vehicle. Hay is also an excellent harbor for rodents, and it is something of a bonus that the Fastback appears to have been spared any rodent infestation or damage. You can be lucky some of the time because I have seen cars like this emerge with significant damage inflicted by Mickey Mouse and friends.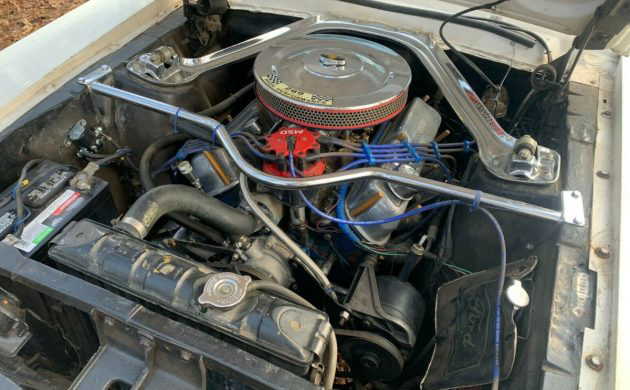 It isn't clear whether the Fastback is a numbers-matching car, but the VIN indicates that it was born with a C-Code 289ci V8 under the hood. This would have been producing 200hp. Those ponies would find their way to the Traction-Lok rear end via a 3-speed automatic transmission. Performance would have been quite acceptable in 1967, with a trip down the ¼ mile taking 16.7 seconds. However, this V8 looks like it has received a number of performance upgrades in the past. I suspect that the original carburetor and intake have been swapped for better items. There is also an MSD ignition, headers, and a dual exhaust. Those are the visible changes, which makes me wonder whether there have been internal changes that we can't see. The upshot is that this is a motor that should offer the buyer some fairly substantial performance gains. The suspension has also come in for attention, with CalTracs traction bars and a rear sway bar. That should give the Mustang a more sure-footed stance on the road and also allow it to put its power to the ground more effectively. The seller has managed to coax the Ford back to life, and it now runs and drives. The brakes are soft, so I would attend to this issue and treat the vehicle to a thorough inspection and service before I pointed it at the open road.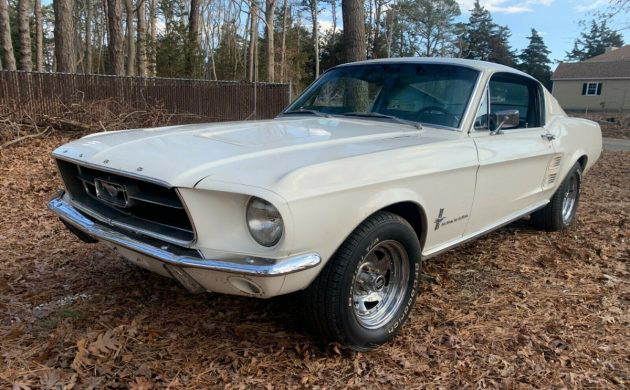 This 1967 Mustang Fastback isn't perfect, and it certainly isn't 100% original. However, it does look like a good project vehicle that could be returned to the road with minimal effort. The starting point for me would be to give it a complete detail because it would be easy to inspect every square inch of the car without dirt and other matter obscuring the buyer's view. If someone is looking for a classic that is a tidy driver for weekend trips, this could be a viable option. If the engine is numbers-matching, there is also the possibility that it could be restored to its original state quite easily. Regardless of which option the buyer chooses, it is pretty easy to see why the bidding has been so strong. The market has tended to show its strongest performance with unmodified Mustangs, so it will be interesting to see what this one ultimately sells for.