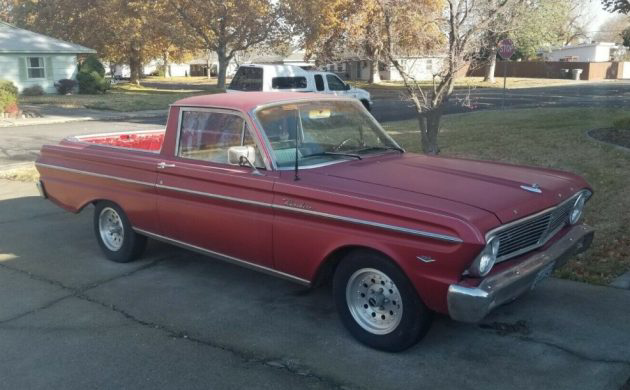 For the 2nd Generation of the Ranchero, Ford chose to base the car on the Falcon platform. Not only did this result in a vehicle that was significantly smaller than its predecessor, but it was an astounding 20% cheaper in base form. Even if a buyer chose to equip their Ranchero with a V8, it still came in some 15% cheaper than a 1st Generation example. The original owner decided to do that with this Ranchero, and the engine bay still houses a healthy V8. It is a tidy survivor, and it appears to have no immediate needs beyond a new home. It is located in Richland, Washington, and the owner has listed the Ford for sale here on eBay. Bidding currently sits at $3,000, but the reserve hasn't been met. For those who want to avoid the auction scene, the owner has set a BIN of $5,600. A big thank you has to go to Barn Finder Larry D for spotting the Ranchero for us.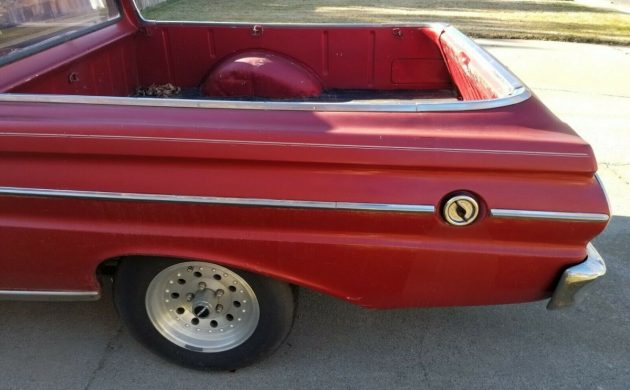 I'm not sure whether the Rangoon Red paint that the Ranchero wears is original or whether the vehicle has undergone a color change at some point. The paint presents reasonably well, but I think that a refresh would make a significant difference. The panels look pretty straight, although the owner does admit that there is some prior accident damage on the driver's door that has been repaired. He believes that these repairs were performed to a high standard, so they might not present any future problems. The rest of the panels are straight, with no significant dings or dents. The other thing that this body lacks is any significant rust issues. We can see some light bubbling around the wheel well, but this hasn't advanced beyond the point of no return. I believe that any rust could be addressed with small patches. The owner indicates that these are the only spots that should concern the buyer. A couple of small badges are missing, but most of the exterior trim looks to be in good condition. I can't spot any problems with the glass, and while the wheels aren't original, their style does seem to suit the Ranchero. If the buyer is seeking complete originality, the correct wheels should be easy to locate.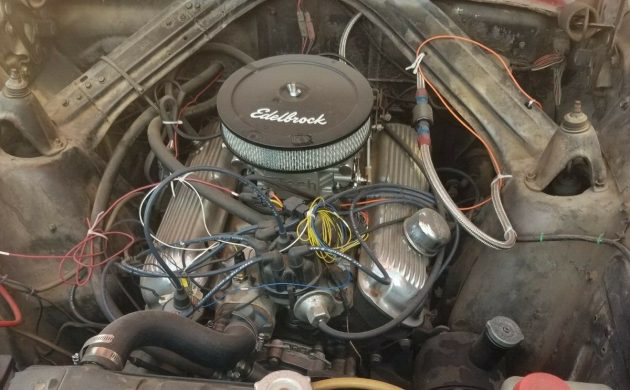 Potential buyers in 1965 could choose to equip their shiny new Ranchero with either a 6-cylinder or a V8 engine. If they went down the V8 path, they received the same C-Code 289ci engine that was available in the legendary Mustang. That is what we find here, while the vehicle is also equipped with a C4 automatic transmission and power steering. With 200hp and 282 ft/lbs of torque on tap, the Ranchero made light work of hauling a full 800lb payload. It also made the vehicle a lively performer. A V8-equipped Falcon sedan could whip its way through the ¼ mile in around 16.6 seconds. The Ranchero was a considerably lighter car and could shave a full ½-a-second off that figure. It isn't clear whether this Ranchero is numbers-matching, but it definitely started life with a 289 under the hood. This engine has received a few upgrades, including an Edelbrock intake and Performer camshaft, Crane electronic ignition, and FiTech injection. That means that the driver probably has considerably more than 200hp available under their right foot. The original intake is included in the sale, but I would be surprised if the buyer decided to refit that item. From a mechanical standpoint, this Ford appears to need nothing. The owner says that it runs and drives well and is ready to hit the road with its new owner.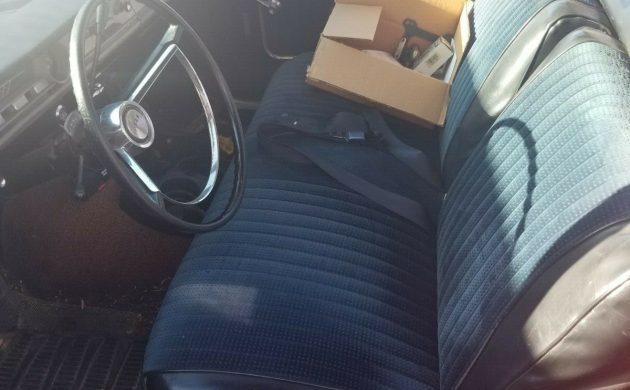 The Ranchero's interior is tidy and serviceable, but it could stand to have a bit of time and money spent on it. The seat wears a newer cover in cloth and vinyl, and this doesn't look to be in bad shape. The carpet is tired and worn, while the dash pad is cracked. Replacement carpet sets are available for around $180, while a dash pad will lighten the wallet by a further $220. Those two items would make a massive difference to the interior's presentation, and any other work would appear to be only minor details. That makes this an area of the car that the buyer could tackle in their workshop or garage.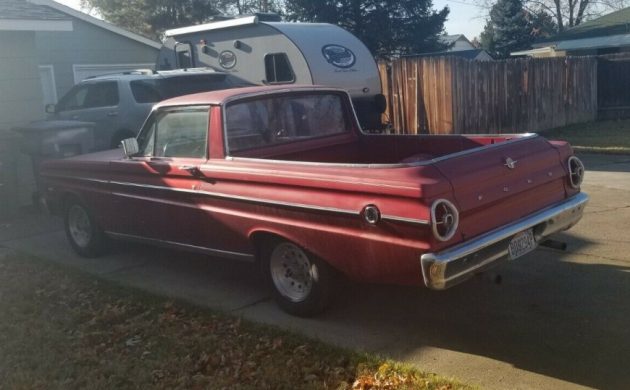 For the 1965 model year, Ford sold 19,263 examples of the Falcon Ranchero. With the C-Code 289 under the hood, they provided their owners with respectable performance levels at an affordable price. This one would have cost its original owner $2,095 when it was new, but they command a more impressive figure than that today. Values took a significant hit around 2-years-ago, dropping by 10% in a matter of months. They have begun to claw back some of that lost ground, but it has been a slow process. It still isn't unusual to see them commanding $15,000, although a spotless 289-equipped car can sometimes top $20,000. When you look at what this one has to offer for the BIN price, it seems like it is a classic that could stand some closer inspection. You never know, but you might like what you see enough to hand over your cash.