In its prime, this 1968 Dodge Charger would have been a tough and potent vehicle. As you can see, those days are now well behind it, but it is a vehicle that has enough positive attributes to make it worth considering as a restoration project. It certainly isn't one to be tackled lightly, but if it was restored to its original specifications, it would be a classic that would definitely stand out in any crowd. It is located in Walnut Cove, North Carolina, and is listed for sale here on eBay. Bidding has reached $6,005, and the reserve has been met.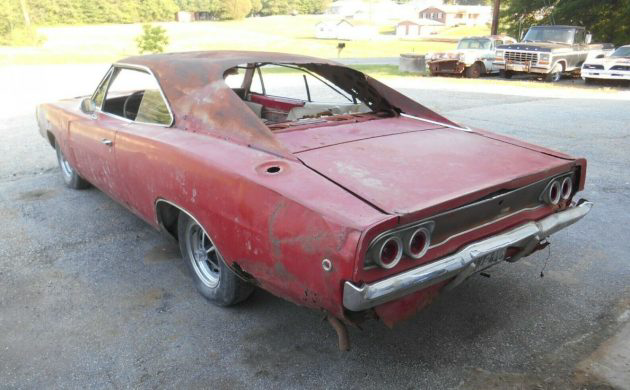 There is no doubt that the Red Charger is a pretty sad looking sight today. The body wears a number of dings and dents, along with evidence of some previous repair work. However, that is but the tip of the iceberg, because the next owner is going to be faced with the prospect of some very major rust repairs before the vehicle could be considered to be roadworthy once again. Basically, everything rear of the firewall is going to require attention, including the floors, trunk pan, rear quarter panels, the top, and the rear frame rails. Forward of the firewall is generally quite solid, although there is rot under the battery tray, and the torsion bar mounts in the front cross-member are also rotted out. As I said, this is going to be a major restoration project and is one that can't be tackled lightly if the car is going to be structurally sound and safe once it is returned to active duty.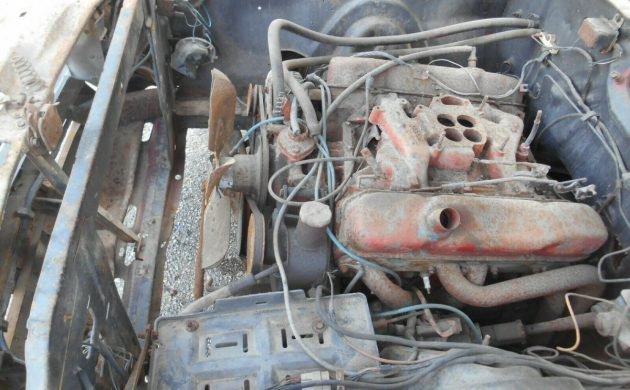 The Charger is a numbers-matching car, but as you can see, it currently isn't in a running state. What we find hiding under the skin is the original 383ci V8, which would have produced 330hp when the car was new. It also features the original 3-speed TorqueFlite transmission, along with power steering. This combination would have allowed the Charger to cover the ¼ mile in a neat 15 seconds, but those days are a distant memory. It isn't all bad news, because the original 383 is said to turn freely, making it a prime candidate for a refresh as part of the restoration process. There are a lot of ancillary items such as the radiator and carburetor missing, while the engine does wear a set of headers in place of the original exhaust manifold. That means that some hunting for date-correct parts will be on the agenda if this car is going to be returned to its original specifications.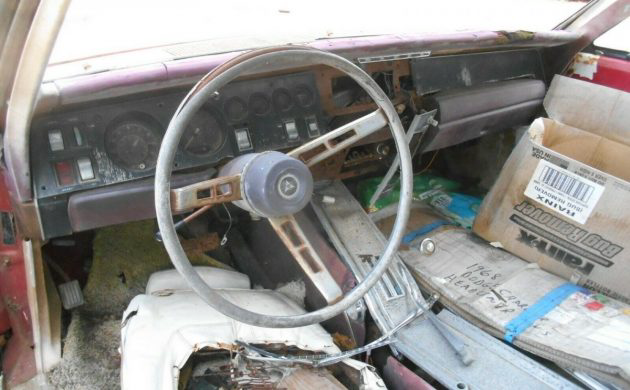 I would have loved to have seen the interior of the Charger when it was new because it really would have been quite something. It featured white upholstery and bucket seats, while the red dash, red console, and red carpet would have provided a startling contrast. As you can see, the next owner will be starting from scratch, because there isn't one single aspect of the interior that doesn't either require restoration, or replacement. It looks like there is a new headliner still in the box included in the sale, but judging by the state of the box. I suspect that it has been pretty wet at some point. If this is the case, then it might not be fit for purpose. Still, in the bigger scheme of things, the $100 for another headliner is small change when you consider just what the restoration is likely to cost overall.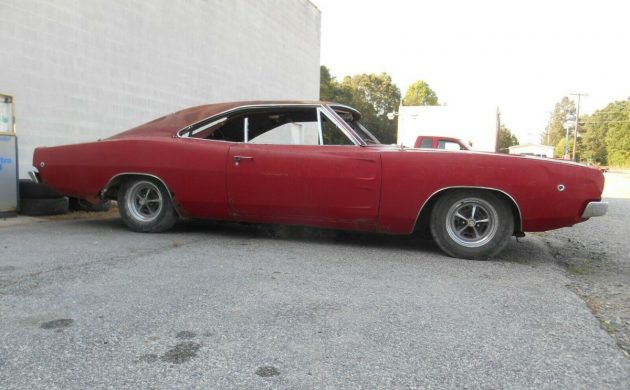 We've seen some pretty sick and sorry Charger project cars over the years here at Barn Finds, and while this one is going to need a lot of work, it is by no means the worst that we have ever seen. The Charger is a car that remains extraordinarily popular today, and even recent events haven't had a negative impact on values. There is no reason why it shouldn't be able to command a value well north of $40,000 once restored, although higher figures are certainly possible if all of the detail work is completed correctly. If it sells for somewhere around its current bid price, then that would tend to make it a viable proposition. It's just going to require a person with a stout heart and a healthy wallet for that to happen.