As the 1970s came to a close, the focus for American shifted from muscle to luxury. The few muscle cars that remained relied more on appearance and handling, rather than horsepower, which was a huge point of emphasis only a few years before. One of those muscle cars was this 1977 Oldsmobile 442, which is unusually clean and probably the nicest one I've ever seen from that era. Find it here on craigslist in Lenoir, North Carolina, with an asking price of $15,000. Special thanks to Rocco B. for the tip!
After 1971, Oldsmobile's 442 was relegated to option status, and after 1972, horsepower and overall performance steadily declined. The four-speed manual transmission was dropped after 1973 (a five speed manual with overdrive was available from 1975 to 1977, but only with the 260 V8) and the big-block 455 was discontinued after 1976. For 1976, the 4-4-2 gained a new aerodynamic sloped nose (designed for NASCAR) with split grilles and new quad rectangular headlights, as well as revised lower sheetmetal with fewer creases than the 1973–75 models. This 1977 model features the final-year Colonnade body style and is one of 11,649 built. Originally ordered new at Rooster Bush Oldsmobile in Lenoir, North Carolina, the seller is the car's second owner and says that the car has "always been located in Caldwell or Burke County". The red exterior with gray lower side stripes look good, though the car has been repainted once. Overall, the car appears to be in great condition, and the seller has always kept the car in the garage. Though I prefer the 1970-1972 442s, this car looks cool and I would definitely love to have it in my garage.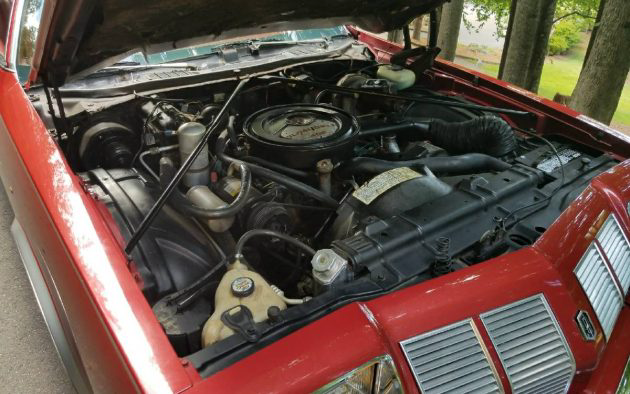 After losing its big-block 455 in 1976, the small-block 403 became the top engine in the 442. Rated at 185 horsepower and 320 lb-ft of torque, a stock 403 is no barn-burner, but can easily be built up (since this car has low mileage, it might be best to leave it stock though). This car is backed by an automatic transmission (most likely a TH-350) and is a decent powertrain. Though the motor head in me would build up the 403 or swap in a 455, it's probably best to leave it alone.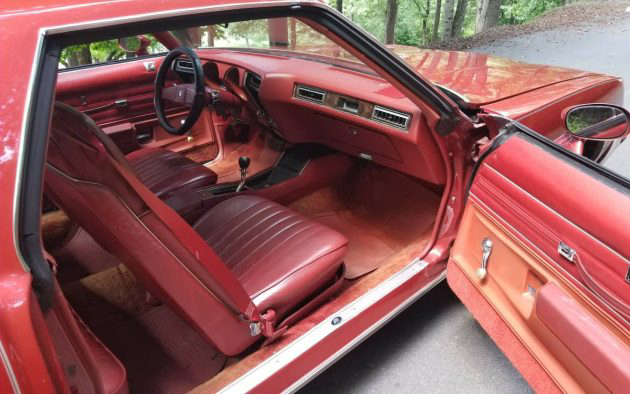 I hope you're a fan of red, because there's a good deal of it here. This 442's interior appears to be in overall good condition, though I wish it had those swanky swivel-bucket seats. The carpet has a little bit of fading, but I'm really just nitpicking minor details. I would make sure the steering wheel is in good condition ditch the steering wheel wrap. Overall, this car is very cool in an unusual manner, and though the price may seem high, I very rarely see post-1973 442s out on the road. This car would be a great sight at a cruise night on a Friday summer or early fall night. What are your thoughts on this Colonnade 442?