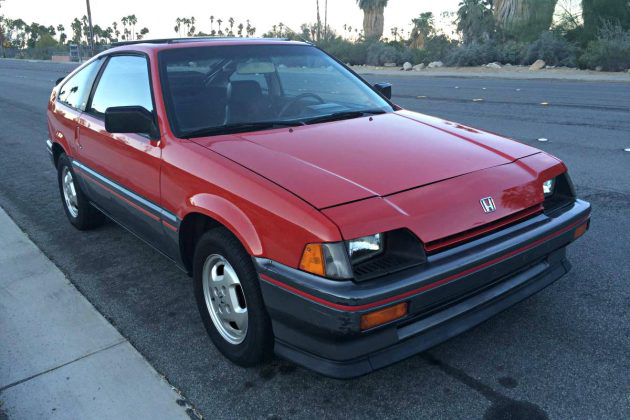 When the CRX came out in 1984 it was a cool and unique car that was peppy and offered great fuel mileage. Although the CRX was already a great car, Honda had an ace up their sleeve, the 1985 Honda CRX SI. 1985 was the first year for the "Sports Injection" name, but the '85 CRX SI is rather special as there were a few parts that appeared only for 1985. This red car is a very clean example, and appears to have been very well maintained in its lifetime. With prices on the rise for nice condition "torsion bar Hondas," this one year only CRX is offered for $3,550. Check it out here on craigslist out of Deerfield, Illinois.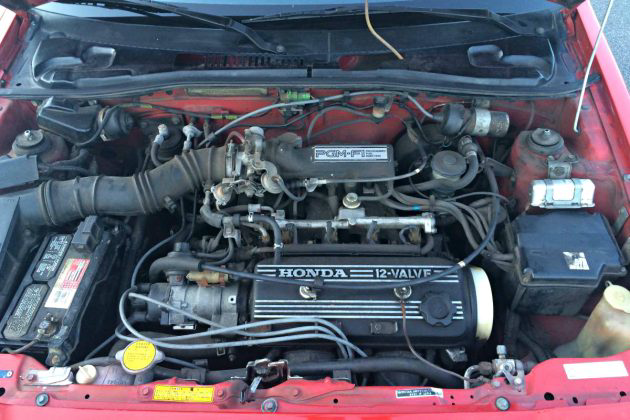 The small but nimble 1.5L EW3 engine is a pure joy to operate, with its fair torque band and willingness to rev to redline. Although showing some minor dirt and dust in the bay, overall the engine appears quite tidy. The wrinkle black paint is clean on the 1985 only valve cover and on the upper intake manifold. The air conditioning system has been rebuilt, and a great deal of maintenance has been performed on this car making it even harder to say "no" to.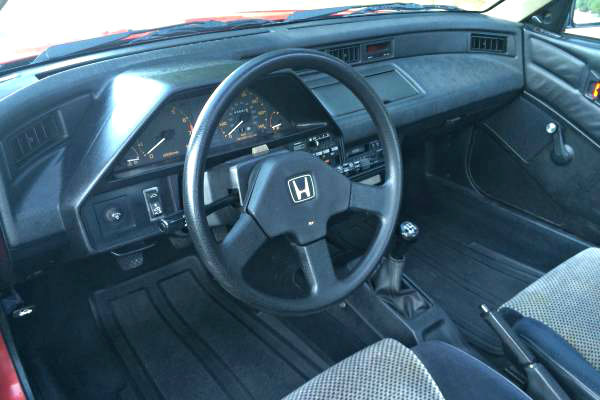 Inside is an interior that has an array of plastic like any 1980's car, but this interior is driver minded with its close to reach cabin controls, with plenty of leg and cargo room. Typically the seats in these cars have faded to a light navy blue color, and the material is usually matted and worn. Thankfully this car has spent a great deal of time indoors as these seats are in like new condition. Another cool 1985 Si only part is the gauge cluster. The speedometer goes to an ambitious 140 MPH. One great thing to point out about this car is that the carpet and the plastic trims items are in excellent condition. Usually the sun has taken its toll on the plastics fading them to a chalky white, and the carpet will usually be bleached out.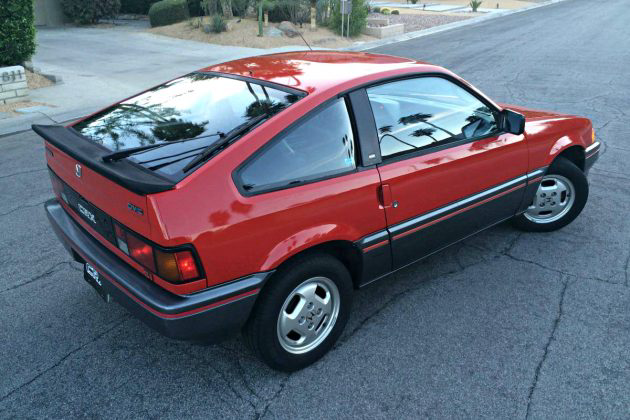 In my opinion the 1985 CRX SI is the ultimate CRX SI as it has many unique features and was also the lightest factory built CRX SI received in America. One very neat and one year only item to point out is the foam rubber like spoiler on this car. Again the sun usually eats them up, and replacing one is virtually impossible. This one appears nice with only minor over spray from a repaint in this cars past. Also the light weight 13" alloy wheels were specific for the '85 SI as well. In 1986 crash standards were upped so slightly heavier duty crash bars were added versus the '85 and older folded sheet metal parts. One thing that is universally surprising to many is that the CRX has composite plastic body panels much like what made Saturn brand automobiles so indestructible. Unfortunately the CRX panels are prone to cracking and breaking, especially after 32 years. The passenger fender, driver fender, and passenger rocker panel are cracked on this car. Although the seller is including a door cap, driver fender, and header panel in the sale. Enthusiasts have been successfully repairing cracked parts with the use of plastic welders, so not all hope is lost for these body panels. Rust is the biggest killer of these cars as the rockers, floors, and pan hard rod mount usually bring a huge amount of fun to a tragic end. Thankfully this car looks to have escaped developing any rust, making for a great car to preserve and most importantly to enjoy. Have you ever had the pleasure of owning or driving a first generation Honda CRX?