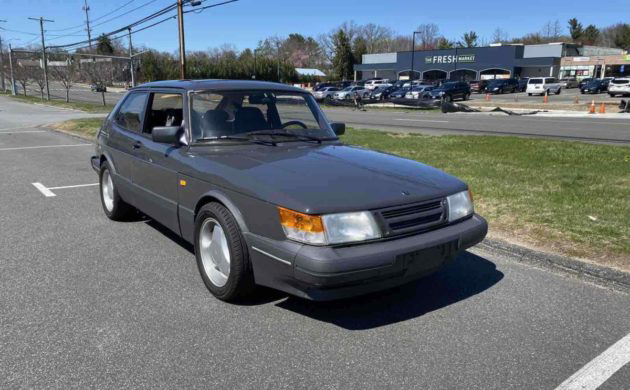 When it comes to rare Saabs, genuine Saab 900 SPGs are one of the best choices for putting a limited-production hot hatch in your garage. Equipped from the factory with a number of performance-minded upgrades, they were produced in limited quantities and can be challenging to find today in any grade of condition. This 1990 model is enthusiast-owned that benefits from loads of recent maintenance – and while it wears fresh paint, the respray came at the loss of one of the rarer colors ever offered on an SPG known as Talladega Red. Bidding is cheap at the moment, and the SPG is listed here on eBay with no reserve and bids to just over $2K.
The respray is seemingly a sore topic with the seller, as he says "Don't ask why" in terms of his decision to paint the Saab a factory Porsche color instead of preserving or re-doing the rare Talladega Red. Regardless, today the SPG is a demure shade of gray that is certainly inoffensive but not nearly as eye-catching as red. The SPGs received factory body kits, firmer suspension, and obviously loads of exclusivity from the factory, with production numbers quite limited and even smaller for rare colors like Talladega Red. The seller rates the respray an 8.5 out of 10, and adds that the trim around the glass was repainted at the same time.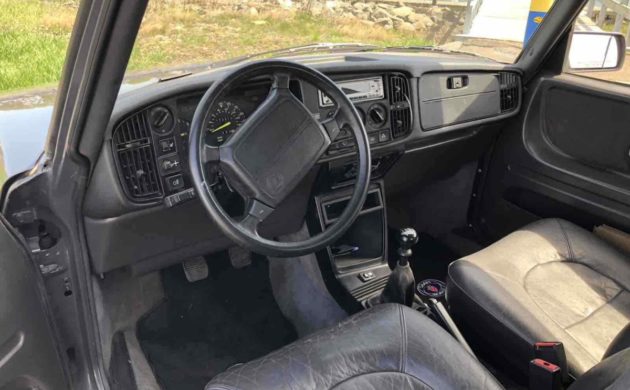 The interior is just OK, with signs of wear and tear readily apparent. The seller also notes that there is a split in the backseat and that the shift boot should be replaced. The condition of the dash pad is obscured by an aftermarket cover, usually a strong indication that there are cracks being covered up. Despite the aforementioned tear, the backseat looks to be in nice shape, but it's also likely used far less than the front buckets. Still, with mileage approaching 174,000, the interior is holding up and would likely look completely different if the front seats were redone or dyed back to new-look condition.
The seller notes that maintenance under his care has been robust, and the highlights include new Bilstein shocks, springs, brakes, steering column, tasty "Aero" wheels, and a complete engine tune-up. The car is said to run and drive quite well for its age, and the turbo still spools like God intended. This 900 SPG is undoubtedly a limited-production performance car of the 80s, and one that we hardly see anymore. Finding an example like this one that is largely original except for the respray makes it a car worth exploring if you're on the hunt for a genuine SPG.