When the Charger was released in 1966, it successfully combined muscle car performance with a touch of luxury and style. This combination of qualities allowed it to be readily accepted by the buying public, and good examples can command some reasonable prices today. This 1966 Charger is anything but average, but it promises its next owner some exhilarating levels of performance. All of the hard work is now complete. That means that all it needs is a new owner to add the finishing touches. The Charger is located in Colorado Springs, Colorado, and has been listed for sale here on craigslist. You can take this classic away today for a mere $12,000. As you will see, you will be getting quite a car for that money. I have to say thank you to Barn Finder local_sheriff for referring the Dodge to us.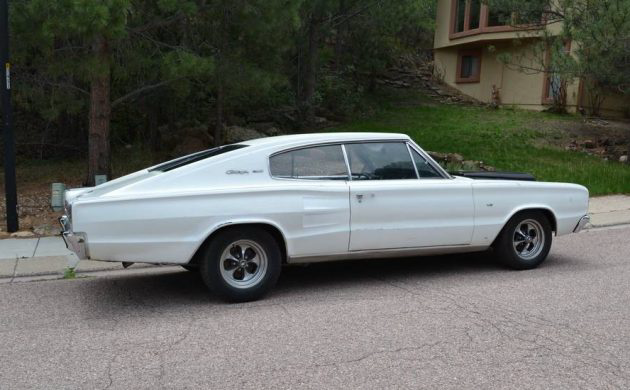 The external presentation of the White Charger is generally pretty reasonable. There is no doubt that it would benefit from a repaint at some point, but it would be acceptable to drive it as-is. There appears that there are a couple of small spots of rust in the panels. The worst of these seems to be on the leading edge of the rear wheel arch on the driver's side. The rockers and lower body extremities appear to be free from significant problems. The owner supplies a couple of photos of the Charger's underside. These aren't particularly clear, but they do show floors and a frame that looks encouragingly clean. The external trim and chrome seem to be quite good, while I can't spot any issues with the glass. That huge hood scoop is fully functional and feeds cold air to the monster that hides beneath.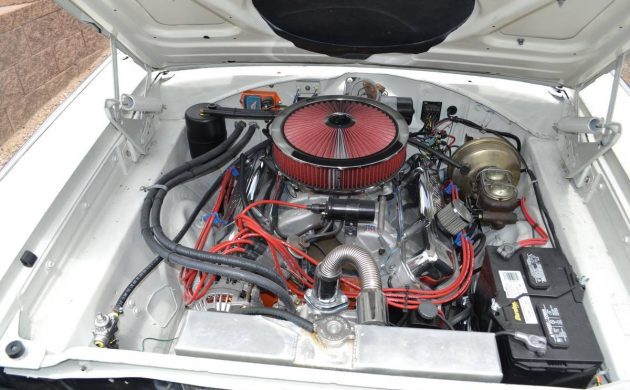 The Charger isn't a numbers-matching classic, but it does hold the promise of some entertaining motoring. Occupying the engine bay is a freshly built 440ci V8. Backing the 440 is a 3-speed A727 transmission, which sends the power to an 8¾" Sure Grip rear end. The vehicle also comes equipped with power steering, along with power front disc brakes. There is a lot to unpack with this car, but the engine could rightly be considered to be new. It has been bored 0.030″ over and is fitted with new pistons and bearings. A fresh set of 440 Source Stealth aluminum heads and a Comp Cams "Mutha Thumpr" cam should help the 440 to breathe better. The transmission features a manual valve body, a TCI 3400 torque converter, and a hardened tailshaft. The Charger does run and drive, but it isn't currently roadworthy. The brakes and drivetrain will require some fine-tuning, but given the fact that the engine has already set the owner back more than $8,000, these seem to be minor details. The wiring harness from the console forward has been replaced, while upgraded sway bars and other suspension components have also been fitted. What I will say is that this is a car that should grab your attention when you bury the right boot.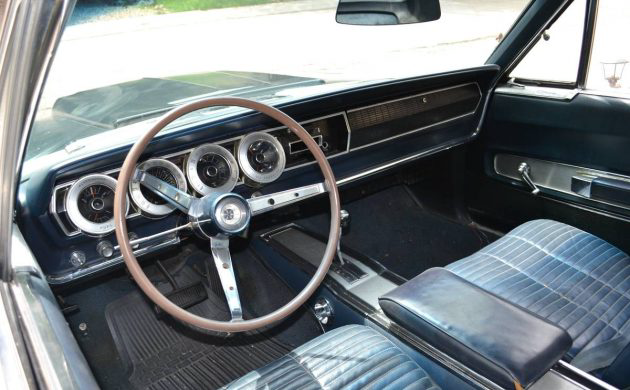 The interior of the Charger is tidy and serviceable, but it needs someone to bring it back to its best. Some of the upholstery, especially the seat covers, is looking tired. The dash and pad seem to be okay, as is the headliner. The carpet is faded and worn, and there is a split on the console lid. This interior doesn't really need a full trim kit, and a competent person should be able to whip it into shape in a home workshop. What the interior does feature is the electroluminescent gauge cluster. This appears to be functioning correctly, and I still rate it as one of the best-looking clusters to ever find its way into a production car.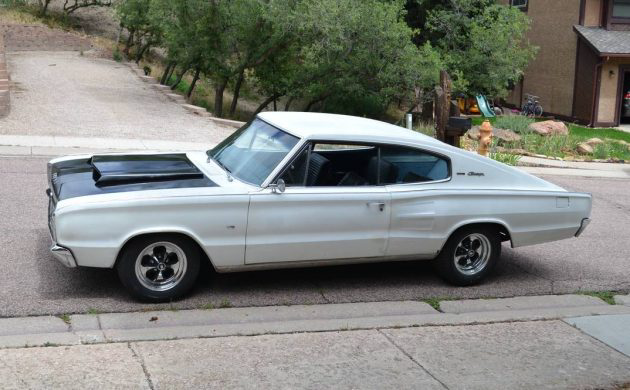 If someone is looking for an original and unmolested 1966 Dodge Charger, this vehicle doesn't fit that description. However, if someone is seeking a cool classic that offers the potential for some exciting levels of performance, this is a car that could be perfect. It appears that the heavy lifting has been done, and all that it needs is someone with some time, patience, and an eye for detail, to finish it off. Given the mechanical upgrades that it has received, it does seem to represent a lot of car for the price. I suspect that it might sell pretty quickly, so if you are interested, you might have to act fast.