Feast your eyes on a treasure trove of air-cooled goodness, looming in the darkness of an unknown garage. There's other goodness here, too, if you're a German car fan, with an E24 chassis BMW 6-Series just visible over the 911 Targa's windshield frame. The seller is one of the few who actually offers up in his listing to contact him about other vehicles you may have an interest in, but if you're looking for a cheap air-cooled project, this Targa model seems to be bidding quite low at the moment. It's a roller with not much attached to it beyond what you can see here, and it's offered up with no reserve. Bidding is at $6,000 on the nose and it's listed here on eBay in Sheridan, Wyoming.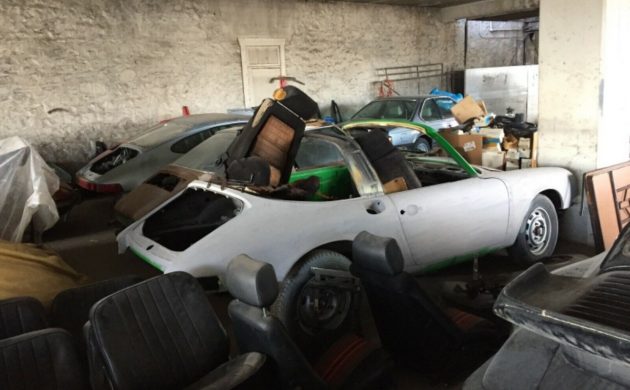 The seller claims the remnants of paint on the windshield frame and inside the doors is original Olive Green paint. However, it strikes me as being closer to Emerald Green, but seeing as he clearly has a passion for old air-cooled Porsches, I'll leave the paint guesswork to him. The body has clearly been stripped down for paint, but I do hope in leaving the inside untouched, the plan is to revive the factory colors on the exterior. The body is said to be solid with no rust, and the seller mentions that the glass is included. This is an ideal stage to pick up a project in, as the next owner can simply focus on preparing the body for paint and reassembly rather than starting in on years' worth of rust repair.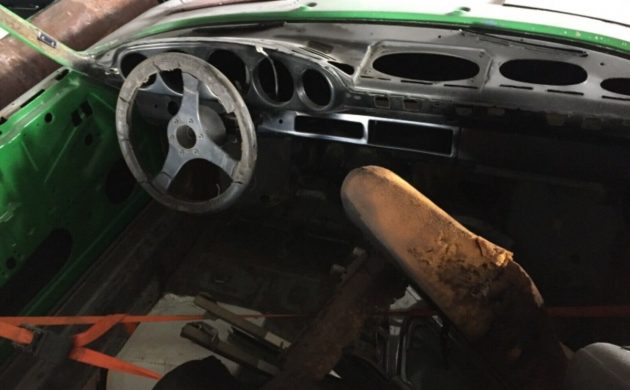 The seller doesn't confirm whether the car had rust and was repaired, or if it's been a rust-free example since new. Either way, reassembly and paint will be on the menu for the next owner, along with sourcing an engine and transmission – neither are included. The interior has a very desirable set of Recaro seats chucked inside, but I doubt highly that those are included with the sale (but you should ask if a deal can be arranged if you're considering this Targa as a project.) The three-spoke steering wheel is an old-school aftermarket design and will need some love from an upholsterer if you with to keep it with the 911. The photos don't appear to show the Targa roof panel, but hopefully one is included.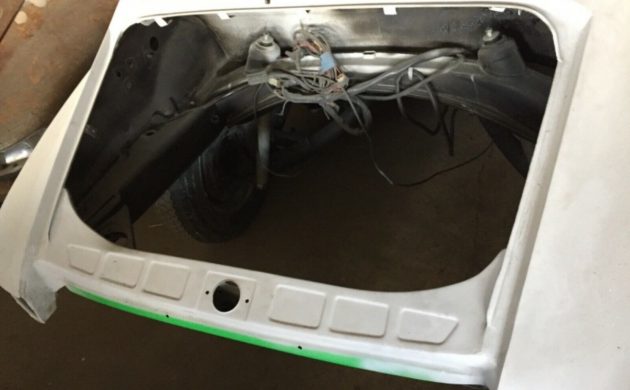 Just the other day, I saw a Targa in a near-identical state of repair on the interstate, being towed by flatbed. This 911 looks like a project that was started and abandoned, and if the seller is a specialist in 911s, it seems logical he'd get the phone call when a car like this came up for grabs. This isn't a lot of money for an air-cooled 911, and if you can source a cheap engine (or even something from a 912, if you're not attached on keeping it as factory correct as possible), there's a good chance this disassembled 911 stands to be a bargain for the capable DIYer. Bring it back to its original colors, throw on some staggered Fuchs wheels, and you'll have a 911 other P-Car fanatics will covet.