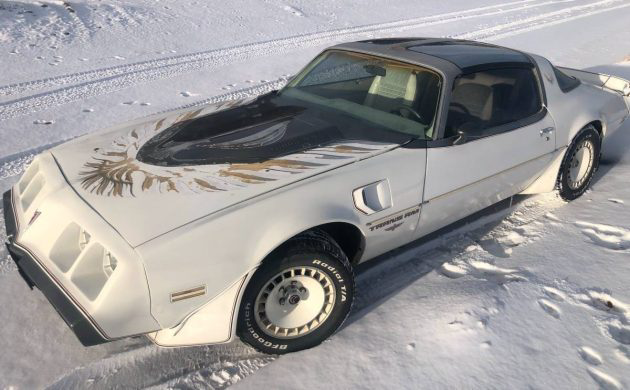 This Pontiac Trans Am may be based on the Firebird but it looks more like a snowbird in this opening shot. This version of Pontiac's F-body Trans Am was getting long in the tooth, and quite a bit slower, by 1980 but it was still a sales hit and received the honor of being selected as the pace car for that year's Indianapolis 500 race. And now for your review, is this Salina Arizona based, 1980 Turbo Trans Am commemorative Indianapolis 500 pace car edition. It is available, here on craigslist for $6,000. Thanks to Pat L. for this tip!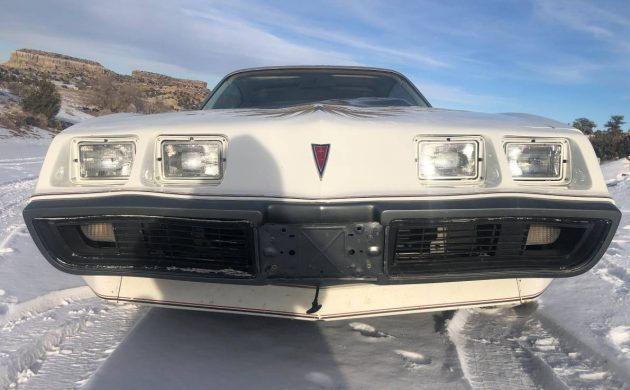 In 1980, Pontiac continued with the controversial soft nose that it introduced on the '79 model. I refer to it as controversial because it summons up emotions, some love it and some hate it. Wherever your allegiance lies, it is very recognizable. Also notable for 1980, was the introduction of a turbocharged engine, an arrangement designed to coax a bit more power from Pontiac's diminutive, second year 301 CI V8 engine. Total Firebird production for 1980 reached about 107K copies with 5,700 wearing the Indy 500 livery.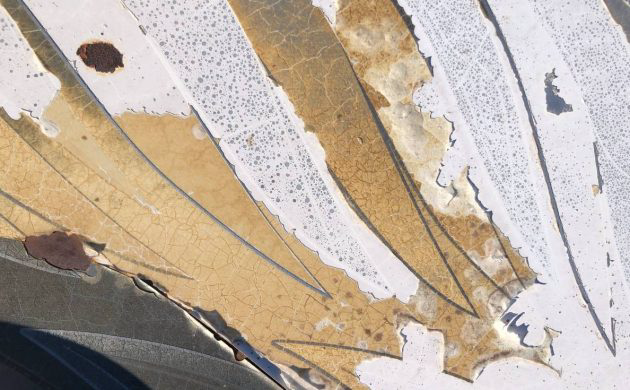 The seller's story on this car is lengthy, he states, "I planned to finish restoring it but I have a couple of other projects and the upper AZ winters are taking a toll on her". So this sounds like an outside car and it is starting to look like it. It actually presents itself OK but the repainted finish is peeling in places, surface rust has started, and the famous "screaming eagle" hood decal is minus many of its feathers. What isn't peeling has gone a bit flat but is still presentable. The fairings and spoilers, a Trans Am stand-by, are remarkably uninjured appearing though the seller has a replacement right side rear spoiler end piece. There is no evidence of crash damage and the body panels and add-ons align up pretty well, something that F-bodies of this era are not necessarily known for.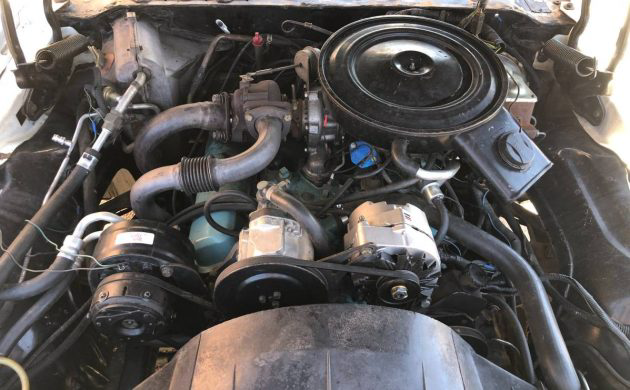 Under the hood is a 210 net HP, 301 CI, turbocharged V8 Pontiac engine. I defined it as a "Pontiac" engine because there were Chevrolet V8's of similar size offered too. The seller describes this 82K mile engine as one that "pulls strong" through its Turbo-Hydramatic 350, three-speed manual automatic transmission.  He has performed some improvements including a rebuilt carburetor and new plugs and wires but the EGR system and the coolant vacuum lines for the turbo plenum have been removed, an item that affects cold-weather starting and warmup. Regarding this Trans Am's operating prowess, the seller states, "I took it for a 50-mile drive a week ago and it ran very well". Of note, the engine is not original to this car, it is a dealer replacement.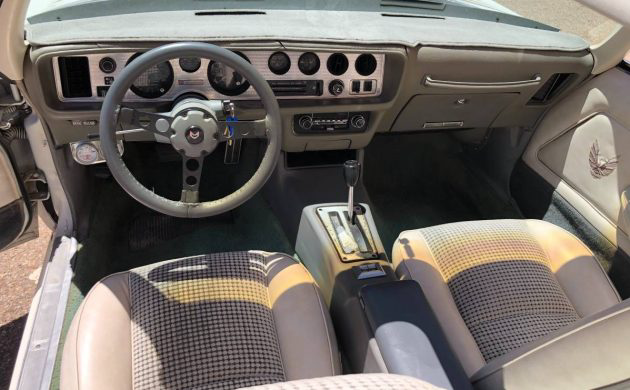 The interior shows itself to be in pretty good nick. The driver's seat side bolster upholstery is starting to fail and the dash pad is split in at least two different places but the rest of it, including the instrument panel and carpet, check out as OK. There are auxiliary gauges mounted below the driver's side dash to supplant two non-working originals,  and there is an add-on electric switch that has been attached to the console storage slot – not sure what that does. Apparently, some of the instrument panel lights, and the A/C, are no longer working but there is a partially working, original Delco radio still in place.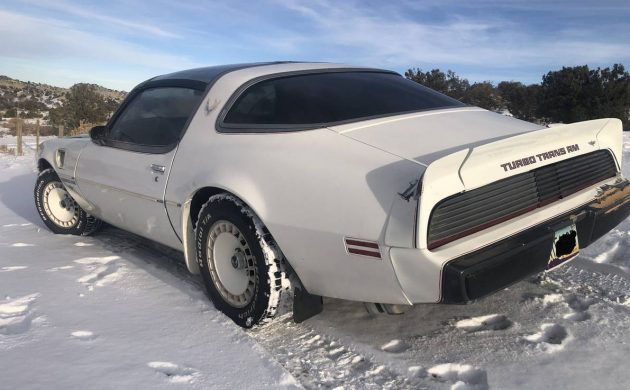 The listing for this car is pretty thorough as the seller goes to lengths to explain its strengths and weaknesses. He's also firm on his $6,000 price. Is this Trans Am worth its modest price? Hard to say specifically as some may feel that additional value is warranted due to the Indy 500 tie-in where others could care less. The decision is probably based more on one's desire for a late second-gen, turbocharged Trans Am. This Pontiac pony-car is pretty cheap in the scheme of things but is it cheap enough?