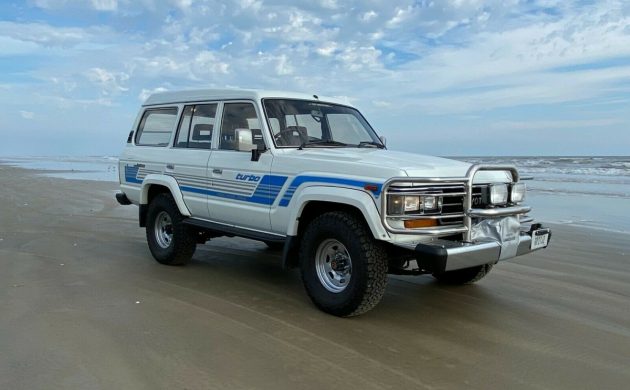 In general, Toyota Land Cruisers that came stateside are plenty appealing, what with their impressive durability and off-road prowess. But like so many other imports, the forbidden fruit of overseas-only models still leaves Land Cruisers enthusiasts yearning for what Japanese customers could buy. With the years of legally importable models growing every year, it's of little surprise to see this 1988 Toyota Land Cruiser HJ61VX, the so-called "ultimate 60-series Land Cruiser," show up stateside. Turbo diesel, five-speed manual, lockers, winches – the list goes on. Find it here on eBay with no reserve and bidding to just under $22,000.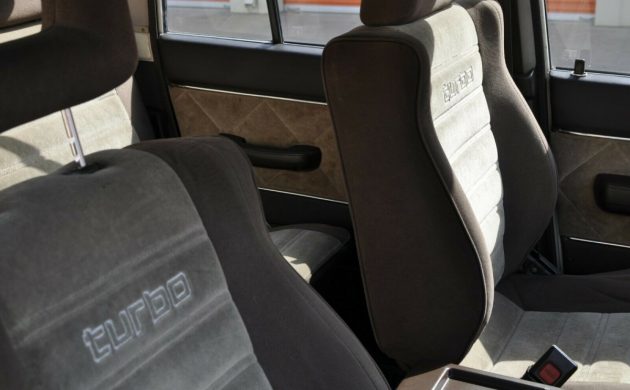 Oh, and you get these sweet bucket seats emblazoned with "Turbo" lettering, like practically any Japanese vehicle from the 1980s with a turbocharger. The HJ61VX trim seems to be the top banana among the JDM Land Cruiser line, as there's listings for multiple trucks imported through the years. They all seem to be the same basic mixture of mechanical features, along with the requisite brush guard, big fog lamps, PTO winch, and more. There's strong evidence that this particular truck appeared for sale a few years ago at a Land Cruiser importer in Utah, and was the personal vehicle of one of the company owners.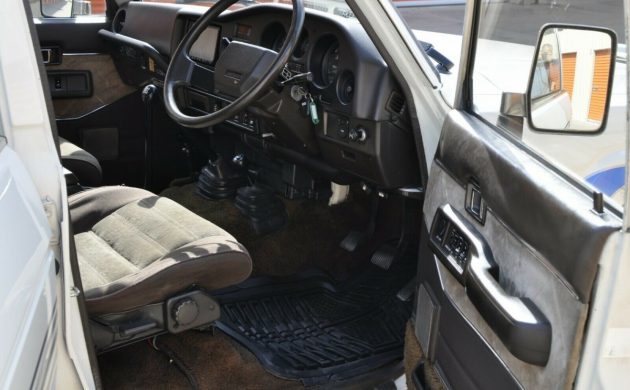 It's easy to see why. If you had access to some of the most tempting forbidden fruit from overseas, and could get a jump on which models were coming up for sale before the general public knew about it, you'd swing for the fences, too. The listing from a few years ago shows that this Land Cruiser looked a bit different before ending up in the hands of the current seller, who has made some alterations. You can see the truck as it looked previously here on LandCruisersDirect.com, where it basic white paint, a sweet roof rack, and the super rare IPF fog lamps covers that have since gone missing in the most recent photos.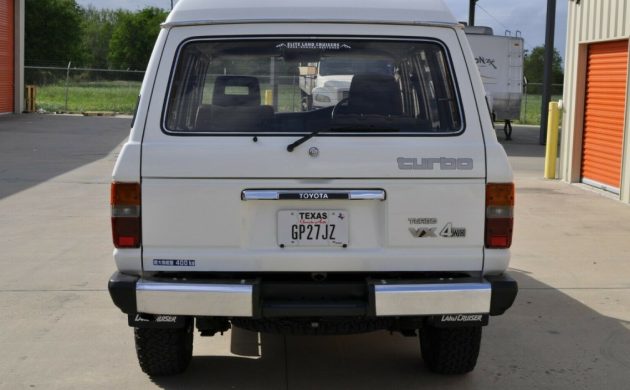 The current owner mentions that he's made some improvements, namely in the cosmetics department with fresh paint and those sweet custom graphics you see that are totally period-correct. Otherwise, it seems like the same truck sold a few years earlier, but considering the work the previous owner performed, not much needed to be done. The listing at the time noted "…Extensive maintenance including all new hoses and belts, thermostat, radiator service, injector service, brakes rebuilt, tie rod ends replaced, rear axle rebuilt, knuckles rebuilt and more." With that in mind, this rare Land Cruiser was listed as sold with a price of $21,000 with the previous owner, and it's already past that number now on eBay with no reserve.