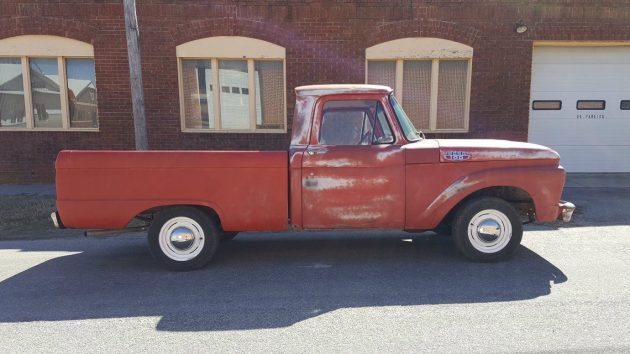 If I were to classify the various finds we come across here at Barn Finds, aside from the excitement at unearthing a complete surprise for the first time in years (which is everyone's favorite), my second favorite type of find is to see a vehicle that's been in steady use seemingly forever, getting the maintenance it needs (or at least most of it) and just waiting for the right enthusiast to come along to cherish the vehicle. This 1964 Ford F-100 seems to be the second type of find! It's located in Benton, Kansas and is listed for sale here on eBay. Right now, bidding is only up to $2,000 but there's a reserve that hasn't been met.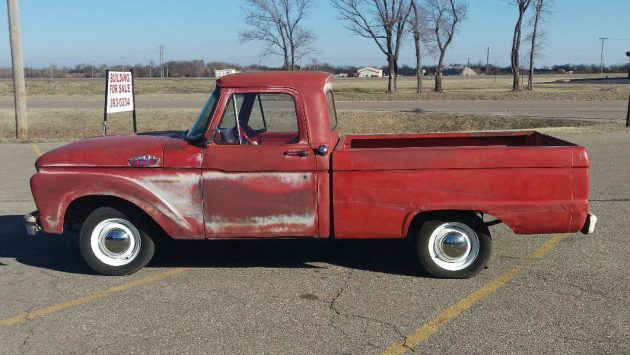 Sure, there's some wear in the paint, and I'm guessing that rear bed has been repainted at some point in the past. It could also be rattle-can primer we're seeing. The point here, however, is that this farm truck has been used (55,300 miles so far) but not abused, is almost rust free (more about that later) and runs like a top. Features like the original floor mat that isn't trashed bear out the mileage. The seller has put in a new windshield and some other maintenance, but the majority of the truck is as it's worked for the past 53 years.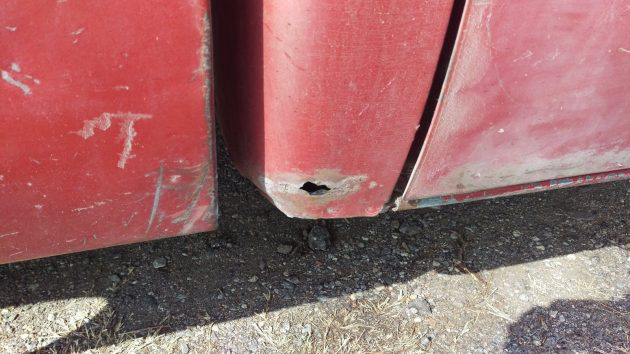 Here's that rust spot, fairly typical for this type of truck. Repair panels are available, or you can make your own like my friend has for his 1965.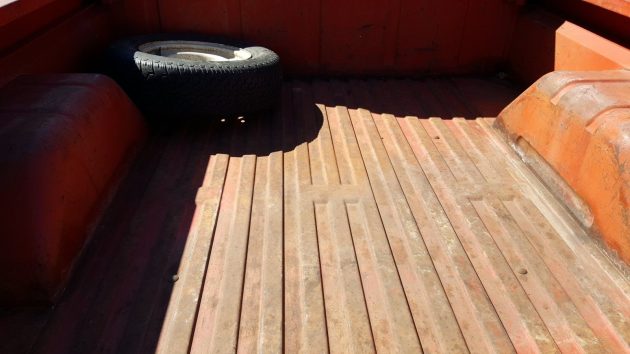 The bed certainly looks solid, albeit used, as well. The truck spent the majority of its life on a farm in Peabody, Kansas. Anyone from that area? As best as I could tell, there are horse, cattle and crop farms in the area so the truck could have been used several different ways.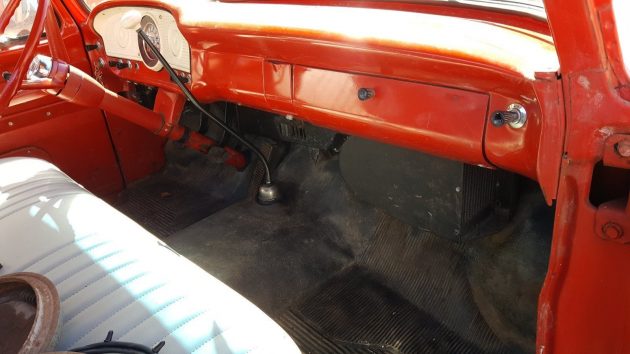 I'm quite sure the seat has been reupholstered, but the interior looks cheerful regardless given the red and white paint. That LONG shift lever (have you ever seen a longer one on a stock vehicle?) is connected to a four speed manual transmission. I'm guessing first is a "granny gear" used for pulling, and you generally start in second. Behind the seat is what looks like a reconditioned or new fuel tank, although the seller doesn't mention it.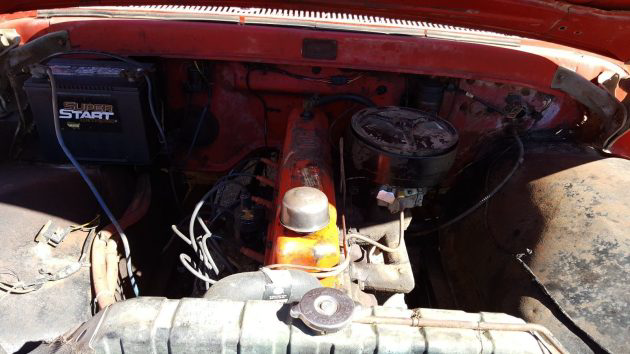 The do mention that the inline six runs like a top, and I can easily believe it. The seller has also rebuilt the front suspension prior to sale. This truck would be absolutely perfect for me at my new location, but I'm halfway across the country and would have to sell some more projects first. So let us know which one of you readers ends up with the truck (yes, I'm that confident, as long as the reserve is reasonable) in the comments below.