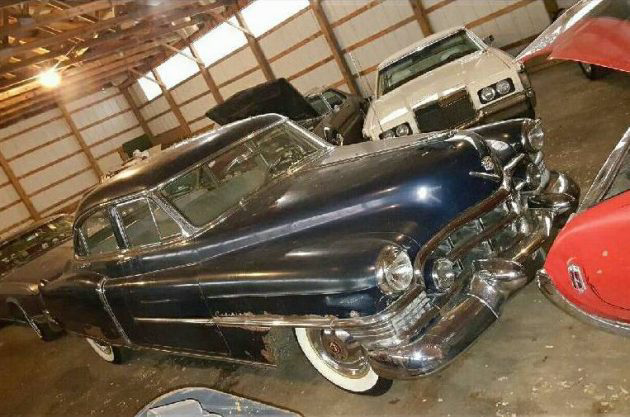 For many of us, a low-mile, original '51 Cadillac is tantalizing enough. This Series 62 sedan fits the bill, with just 63,000 miles and only two owners, and a reasonable $8,500 asking price. What might really get the blood pumping, though, is the company this Caddy's keeping; it's surrounded by other classics, and the seller says little about them other than that they are also up for grabs! Check out this Chicago-area craigslist post, sent in by reader Rocco B, and try not to let your imagination run away with you.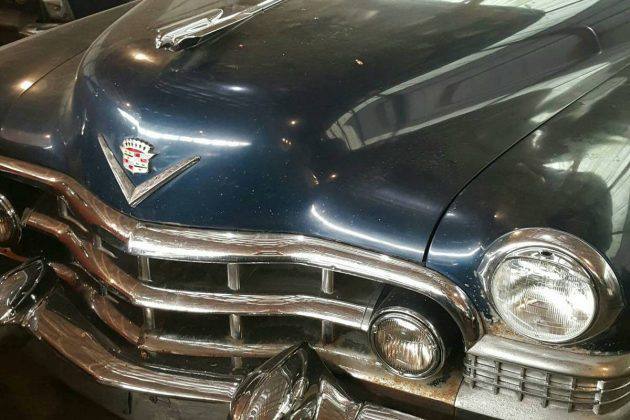 The hierarchy of Cadillac's '40s and '50s numbered series models is probably somewhat obscure to many readers today; by 1951, the Series 62 was the mid-level standard-size Cadillac (as opposed to the limo-grade Fleetwood 75), somewhat confusingly nestled between the less expensive, smaller Series 61 and the more expensive Sixty Special. Among better known names in Cadillac history, it might be useful to note that both the Coupe de Ville and Eldorado started out as sub-models of the Series 62. We can tell that this is a 62 and not a 61 by its six-window greenhouse, and we can tell that it's not a Sixty Special because it lacks that model's series of chrome hash marks just ahead of the rear wheel opening.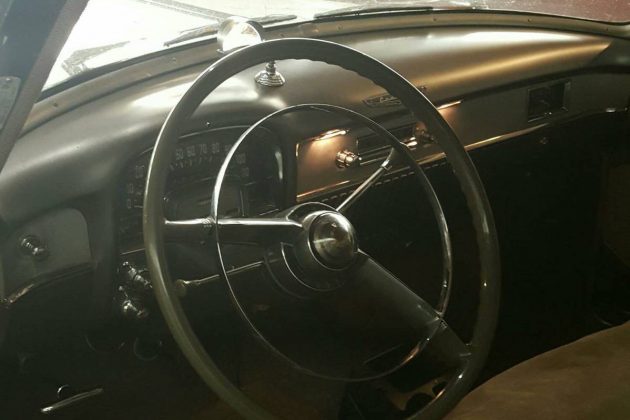 Judging by the tightly cropped, poorly lit photos, the Cadillac was not extracted from the confines of its warehouse home for the photo shoot, but we're told it runs, drives, and stops, with a recent tune up, fluid change, and inspection of the carburetors, fuel lines, brakes and brake lines, and other vital systems. The interior and glass look very good, while the exterior shows a fair bit of wear to the (possibly original) paint and some pitting and surface corrosion on some of the grille brightwork, although what we can see looks very straight overall.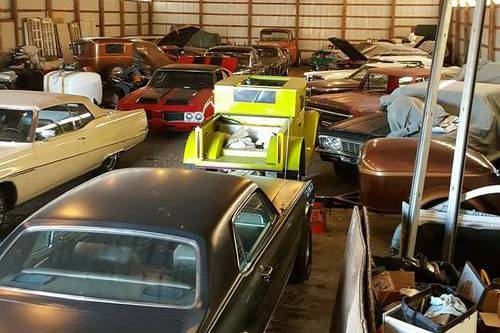 But back to the tantalizing prospect that this Cadillac is just one of many jewels waiting to be unearthed in this collection. In the photos I can see a Cougar, a '66 Chevy, a '69 Olds with some pretty aggressive hood scoops, a '66 or '67 Riviera, a Toronado, a Continental Mark III, an Electra 225 convertible, a couple of pickups….A quick tour of Chicagoland craigslist shows that many of the other cars are being advertised as well. Which one would get you to try to get in the door of this collection?