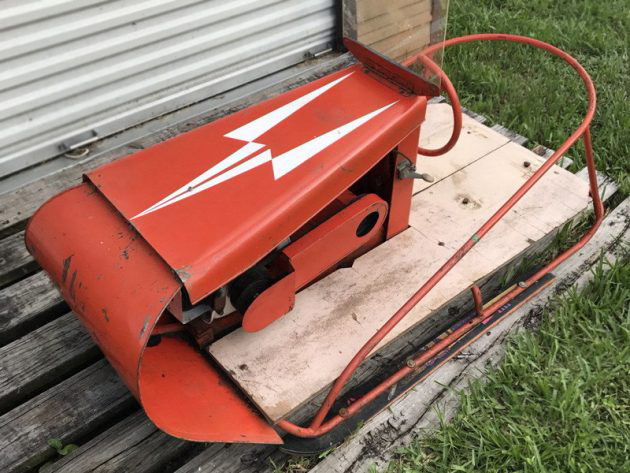 Who's ready for snow?! Guys?  Ok, bear with me on this one. Any of you who are into powersports: motorcycles, minibikes, ATVs, snowmobiles, etc., you know that it's usually the thing to do to work on your projects for the upcoming season and ride what you have previously restored for the current season. Are you with me?! Guys? For those of you who are on board with that theory, and it's alive and well here in the upper-Midwest for sure, don't cha know, this is one rare and unusual piece. This is a Late-50s/Early-60s David Bradley Ice Scooter. This cool and odd little thing is listed on eBay in Boynton Beach, Florida of all places! The seller has an unmet opening bid of $850 on it. Let's ride this one out and see how it goes.
This thing is small, maybe too small for some of you, but for those of us who love oddball, unique machinery of any kind, this one is super cool. I love anything and everything old that has a motor on it. These were made, from what I've dug up, from 1958 to around 1962. They were sold in Sears stores and catalogs, among other places. In fact, Sears owned the David Bradley Manufacturing Company. It's amazing just how big and powerful Sears Roebuck & Co. was a hundred years ago.
David Bradley only lived to the year 1899, but by that time he had built a powerhouse of a company on a full city block in Chicago. From a farmer to a major manufacturer, a few years after he passed away his family sold the huge company to Sears, in 1910. It's no surprise that Sears, both in the US and Canada, sold the David Bradley Ice Scooter. You can see the unique drive system here, it's basically a tire poking through the floor with a chain on it for traction on the ice, and a single ski on the front for steering. Someone has put two cut-off downhill skis on this one, and apparently there was a ski kit option as well as a snow plow option, both of which would be useful for snow instead of ice. A similar sled called the Ice Skeeter was made by Northern Manufacturing Co. out of Ohio.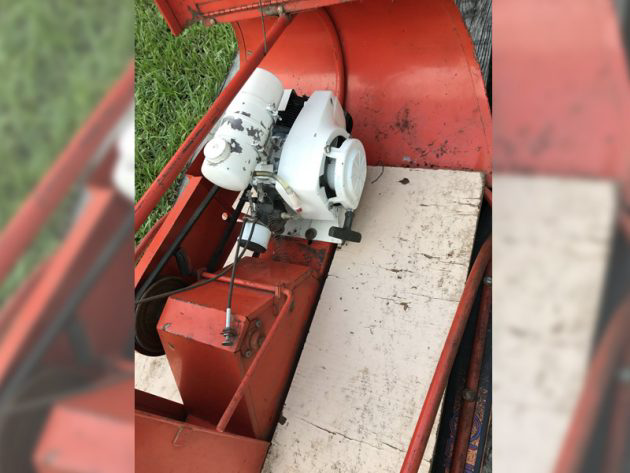 They were made mainly for cruising up to 35 mph across frozen lakes. Doesn't that sound good right about now with hot and humid summer temps?! Hey, guys? Where'd everyone go?.. There are a ton of people in the upper-Midwest and Northeast US who collect things like this, restore them better than new, and then show them at gatherings with fellow enthusiasts. It's really no different than restoring a car or motorcycle and showing them off at car or motorcycle shows. I believe the original engine would have been a 2.5 hp Clinton or Power Products two-cycle. I'm not sure if this is the original engine or not and it should match the body color of the sled, not be white. Do any of you tinker with and/or restore your toys for the upcoming seasons, or do you live where you don't have to worry about trying to have fun in the snow and ice? Have you seen a David Bradley Ice Scooter before?