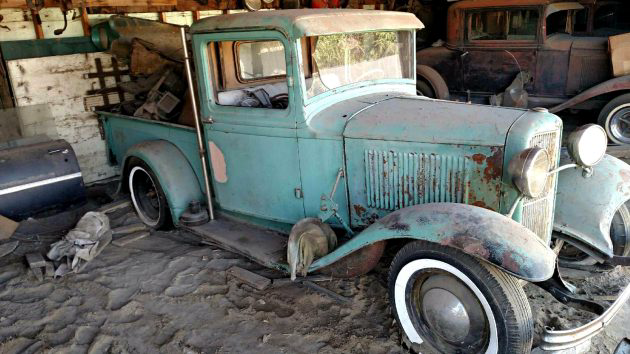 It is never surprising to see what someone may have stored somewhere. This 1932 Ford Pickup has apparently spent a great deal of time in this exact spot, as the son who is selling it says it has been under the lean-to for as long as he can remember. Unfortunately the father has passed on, but the son is hoping to sell to someone who can see the dream that it holds. Bidding has risen to $6,800 with 5 days remaining. Find it here on ebay out of Scottsbluff, Nebraska.
There isn't much detail offered on this truck, but the seller has stated that there is a transmission installed in this truck. It is unclear if there is an engine, or if all of the stuff stacked in the bed comes with the truck. There could be the possibility that the engine is in the bed, but there looks to be some more modern parts in the bed as well.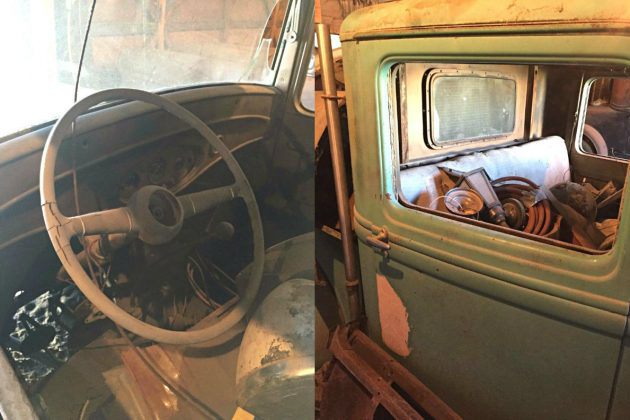 Taking a look inside the cab reveals a bare bones feel as there are portions of the floors missing. Inside the cabin there are some car parts, but there are also some exterior house lights, as well as garden hose. It would appear that this Ford became a "catch all" in its lifetime.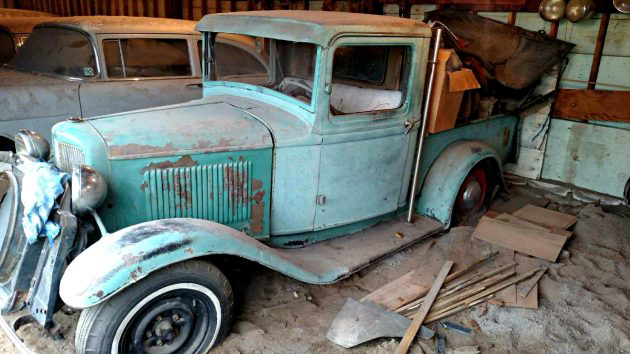 Although there may be some missing components, this truck looks fairly solid from what can be seen. Having rested on a dirt floor for many years, we can expect the worst, but hope for the best. There looks to be no major body damage, or rust, but there does appear to be some body filler on the passenger door. Otherwise this truck looks to have some promise. Part of me wants to paint this truck up like the album cover truck on the Beach Boys "Surfin Safari" album. What would you do with this cool '32 Ford pickup?