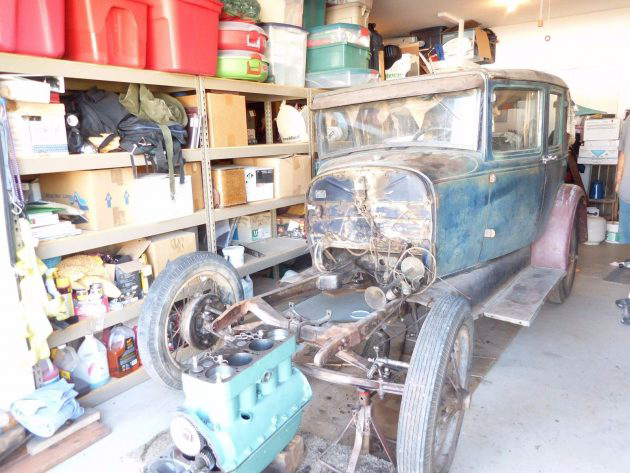 To people of the World War II generation, the Model A Ford was as much a part of life as breathing.  Ford produced almost five million of the cars over a four year model run,and the cars lived on for decades after as good reliable used cars.  It is hard to find someone of that era that didn't either own a Model A at one time or didn't have one in the family.  This was one of the reasons the Model A is probably the most restored type of automobile in history.  Sadly, a lot of these great Americans are leaving us and the desire to own and restore an A is waning.  While there are collectors that have discovered the simple charms of the Model A, they do not have the numbers to keep the monetary value of these cars from declining.  The bright side to all of this is that, for those of us who feel the Model A is a great car to have parked in the garage, there are opportunities galore.  Out in Twin Falls, Idaho, sits one of these.  It's a 1929  "Leatherback" sedan and it's being auctioned off here on eBay with a starting bid of just $2,450!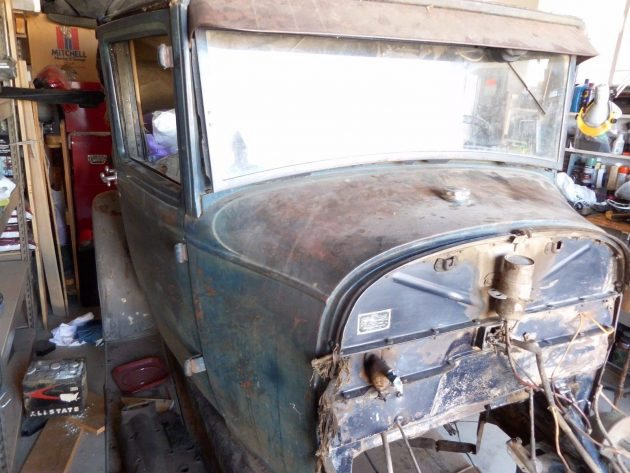 Like all opportunities, this one comes with a story.  To make the seller's story a little shorter, this Model A basically sat in a garage, unmolested, for twenty years.  It was then purchased by a guy who drove it home after he added fuel to the tank, water in the radiator, air in the tires, and charged the battery.  I am not sure that it was really that simple, especially the battery part, but that's the story.  This fellow wanted to restore the car, but he sadly died in a car accident shortly after the purchase.  It sat for another thirty years before another enthusiast purchased the car and set out to restore it.  Despite having collected numerous parts for the car, having machine work performed on the engine, and deciding to disassemble the front end, he has abandoned the restoration and is moving to Arizona to retire.  Basically, this is one of the few Model A Fords running around that is still all original, albeit it is disassembled and in fairly run down condition.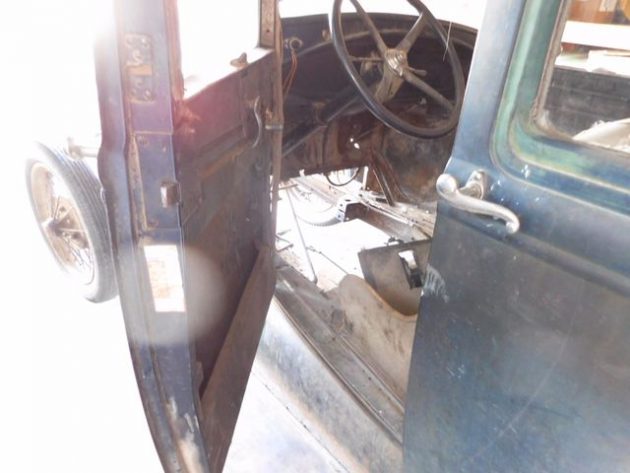 From a survivability standpoint, this is not a good position for a Model A to be in.  The elephant in the room is that you will never make money restoring a Model A.  There is just not enough money in this market, except for maybe an open car or a Victoria.  What will likely happen is that someone will buy this car and the parts collection the former owner amassed, and split the whole package up to sell as parts.  The carcass would likely be disposed of, and the scalper will leave a little richer and a lot happier.  Even if it sold to an inexperienced collector as a way to get into the hobby cheaply, disassembled cars are not easy to reassemble by someone other than the original disassembler.  Ask me how I know these things.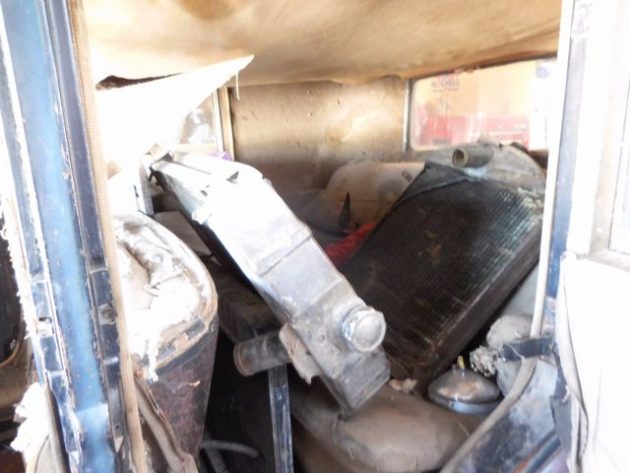 Take heart faithful readers.  All is not lost.  What we do have is a very solid car.  Under the worn out paint, tattered interior, and torn apart front end hides a car with true value.  The metal is all there, and it looks to be in very good condition.  There are a lot of other parts that look to be very restorable, eliminating the need for a laundry list of expensive reproduction items.  It appears that all the necessary parts are present.  The only question I have concerns the wood in the body.  The bodies of these cars were basically wood framed with steel panels attached around them.  If the wood is in poor condition, it will take a fair amount of money, time, and skill to bring it back to good condition.  If the story is true that the car has spent the last fifty years in a garage, then there is hope.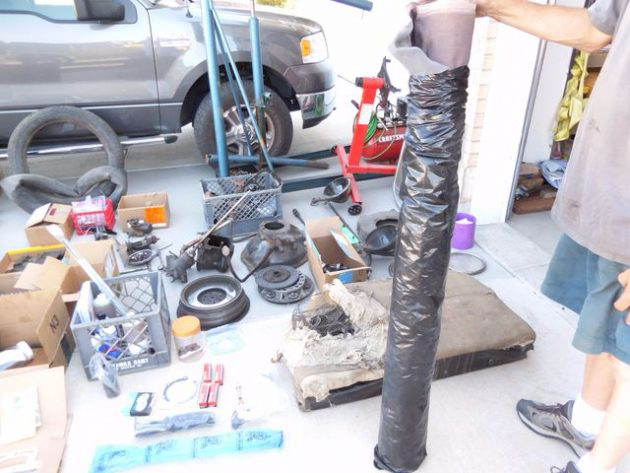 The deal is made sweeter by the number of parts in excess to the ones already with the car.  Many of these look to be new replacements purchased by the last owner in preparation for a full restoration.  The ad has numerous other pictures showing the amount and types of parts that assumedly go with the car.  This would make your cost of restoration much lower, helping to make saving this car more feasible.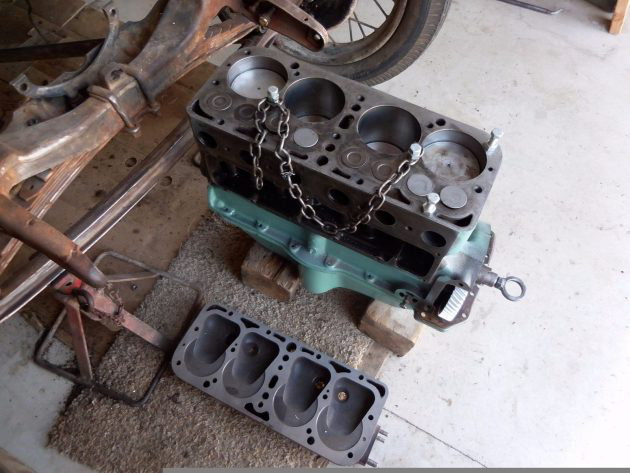 Another sweet extra thrown in is that the machine work has been completed on this engine.  These engines have Babbitt type bearing surfaces.  While most bearings have a roller or ball type friction reduction, Babbitt bearings basically use a low temperature alloy that is poured in and serves as a bearing surface between the block and the crankshaft.  This process was common on automobile engines of this era, but is rather unheard of today.  While some early Ford owners have machinists install conventional bearings in place of the Babbitt bearings, they work well in engines that aren't abused.  The machinist also installed an aluminum timing gear, which replaces the original Ford part that was made of, can you believe, layers of fabric!  This is a very popular upgrade for obvious reasons!  The valves and the crankshaft were also ground.
The machinist has shaved the head for a bit higher compression.  Model A Fords were built at a time when gasoline wasn't as well refined, and the fuel often had octane numbers in the 70s or less.  The higher the compression in the combustion chamber the higher the octane had to be to prevent detonation.  Shaving the head will increase the compression ratio to better match todays fuels and provide more power.  Perhaps because I am overly cautious, I would want to know who did the machine work on this engine.  The list of machinists that routinely do all of the above work is rather small, and is known to the Model A community.  I'd just like to verify that they knew what they were doing before putting this engine back together.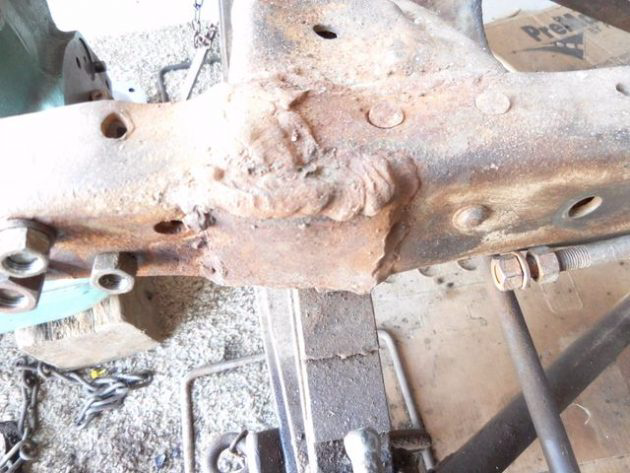 While the engine leaves me with a few questions, this frame repair scares me a bit.  The car must have been in a fairly hard collision in its past, and it looks like a previous owner welded on some front frame rails in the repair.  By the looks of it, he must have borrowed a welder from a shipyard.  This can be ground out and re-welded, and a good welder can make the repair almost invisible compared to what it looks like now.  It does make you take pause, however.  Perhaps some measurements between the wheel centers and at different points on the frame would be a good idea.  There is a lot of documentation available on these cars, and the correct measurements wouldn't be hard to find.
This particular type of Model A is known as a Fordor "Leatherback," because the top is covered with an artificial leather that came in either brown or black.  These cars also are considered "two windows" due to their omission of the quarter window usually found behind the rear door.  Leatherbacks are not overly rare, but the design made the car seem more modern and expensive.  For an economy car, these Model As were very well styled and had interiors that would not be out of place on cars that cost much more.  They are nice cars for collectors with a family.
Probably the luckiest thing that could happen to this car is a sale to a collector with a shop full of tools and restoration equipment already.  While the car looks rough, all the parts are there, some new parts are in the pile, it has a freshly machined engine, and it seems to be a solid car other than the botched frame rails.  The costs would mainly be tied up in painting and reupholstering the car.  I hope this one finds a home before a butcher comes along to scatter it to the wind for a little profit.  It would be a good car to build up as a driver that you and your family could enjoy for years to come.  If it were mine, I'd focus on building it up for a cross country adventure.
What would you do with this diamond in the rough?