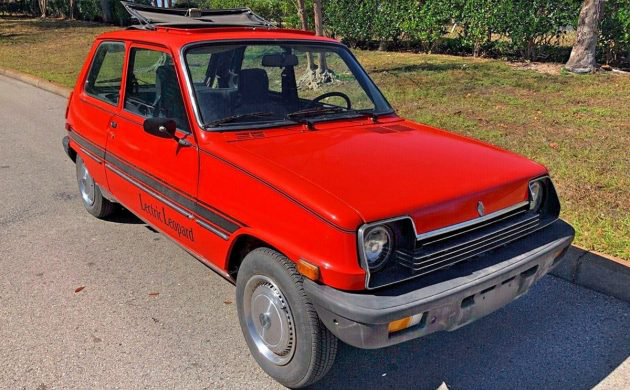 When a regular Renault LeCar isn't unusual enough for you, we bring you this battery-powered 1980 Lectric Leopard. This is a Renault R5/LeCar that was purchased without an engine and related fuel system components and converted to run on batteries by US Electricar Corporation. The seller has it listed here on eBay in Groveland, Florida and the current (cough) bid price is $2,225, but the reserve isn't met yet. Let's check it out.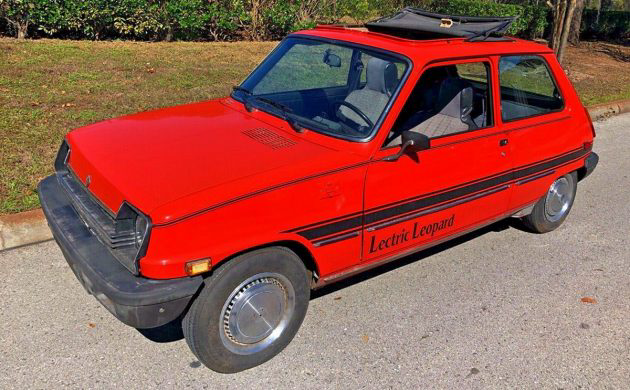 US Electricar Corporation out of Athol, Massachusetts made the Lectric Leopard for three short years, 1979 through 1981. It wasn't the golden era of the early-1970s when the gas crisis in the US brought out many companies who converted gas-powered vehicles to battery power, but this company made more than just LeCar EV conversions. They also made other Renault cars into EVs.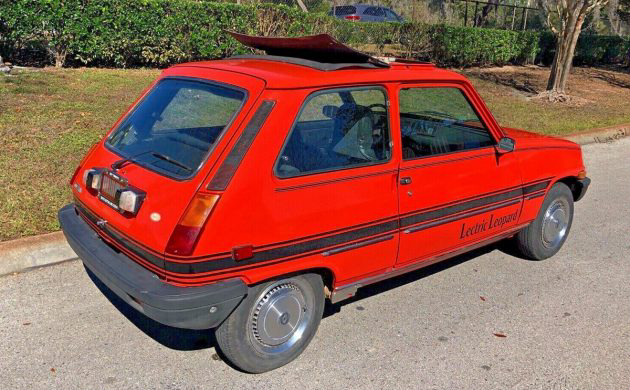 Similar to what Jet Industries in Austin, Texas was doing with Subaru Sambar vans and other vehicles, US Electricar Corp got the vehicles without drivetrains and then worked their EV magic, at least as far as 40-year-old technology went. We do things quite differently in 2021 as you all know but battery technology wasn't as advanced in 1980 as it is today. The seller says that the car is actually orange but shows up at red in the photos. That's even better, who doesn't like an orange car?!
The interior looks great and you can see that these cars, like a lot of early EVs, retained their manual transmissions, a 4-speed in this case. I bought a 1988 Subaru GL sedan a few years ago that had been converted to battery power and our own Jamie Palmer, a saint if there ever was one, has stored it for me and it still has its original 5-speed manual transmission. This LeCar, or Lectric Leopard, has a fabric sunroof which is great to see for summer driving. The extra gauges are unusual, I have seen them mounted in different places around the dash on similar cars.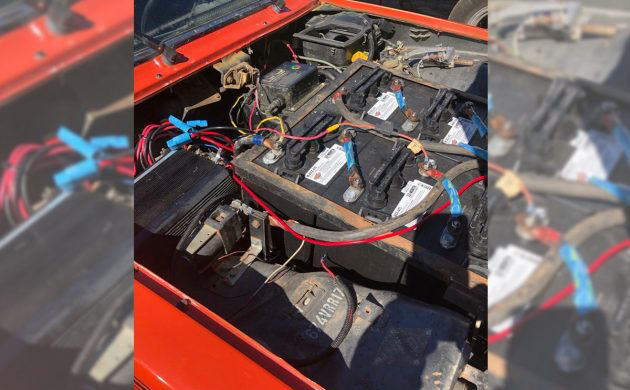 These cars were never intended for cross-country trips as some of us here in the US seem to forget or seem to not want to admit. Not every vehicle has to be able to go 600 miles on a tankful of fuel, or on a single charge. For 90% of our daily errands, a car like this would be more than adequate. The seller says that this one has 16 new 6-volt batteries, a new charger, and a new Curtis 96-volt controller. It charges completely in 6-8 hours. Have any of you driven a car that was converted to battery power? Or any battery-powered vehicle?