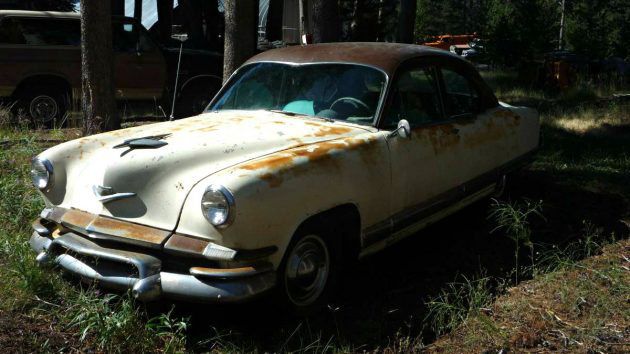 Although appearing like a derelict field find, this Kaiser Manhattan is a solid condition driver with a lot of recent maintenance. Complete and a great start to an affordable project, this classic two door could easily be polished up and enjoyed as is for years to come.  You can jump into this classic for just $3,200! Check it out here on craigslist out of South Lake Tahoe, California.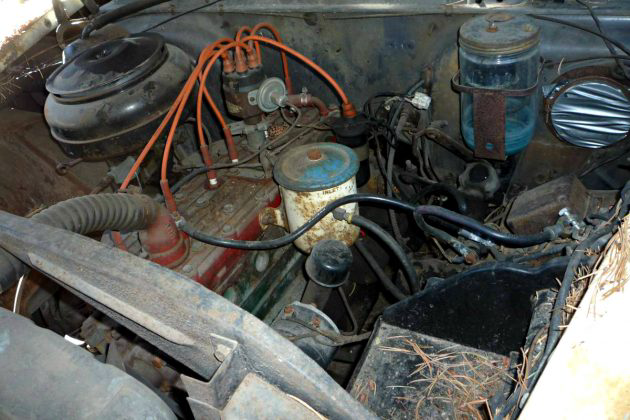 Trimmed with pine needles, and some minor dirt, a good cleaning and detailing is in order. If you look closely there is still a great deal of paint present on the engine and air cleaner. Sturdy enough to be a driver, the current owner has performed a great deal of maintenance on this Kaiser. New tires have been fitted as well as new ignition components, shocks, belts and hoses. Also the radiator was recently flushed, and fresh coolant has been added as well as an oil change. It would seem this Kaiser could be driven just about "anywhere."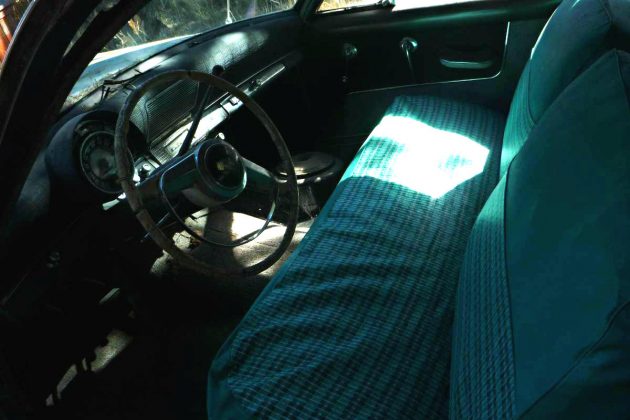 Considering the entire package, it would seem that the interior is the worst, but is still manageable. The dash and steering wheel are a bit rough, but they could be worse. The steering suffers from micro cracking, as well as a few large cracks. There are a few peeling areas in the center of the dash and there also appears to be some other various cracking present. New seat covers have been partially installed, but they are quite loose, and the seats likely need some extra padding, and a light steaming to get them fitted properly. With the headliner currently removed, the seller is including a worthwhile headliner that needs to be installed. Carpeting is also a concern being added to the "needed" interior parts list. It would take some doing, but the interior could be spruced up nice enough to "match" the looks and age of the car.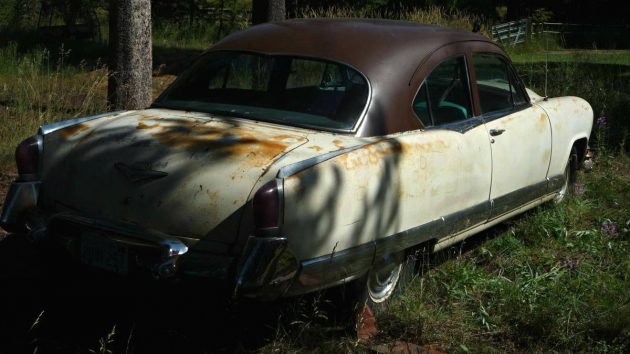 Looking quite appealing with nice colors, this Kaiser looks like it would clean up beautifully. There is some surface rust and oxidation on the paint, but a lot of the rust could be buffed out, or buffed down where there would be little "orange" remaining. The chrome trim could also be polished and looks like most if not all would have a mirror finish. The only questionable trim in on the hood, as it has some rust peppering, but again it would clean up so much nicer than its current state with some buffing. The seller claims this Manhattan to be a rust free car, and there is nothing indicating that it isn't true. After polishing the exterior and cleaning up the interior, this Kaiser would be a fabulous affordable original that would have a great appearance and a cheap buy in price. Would polish up this Manhattan jewel?