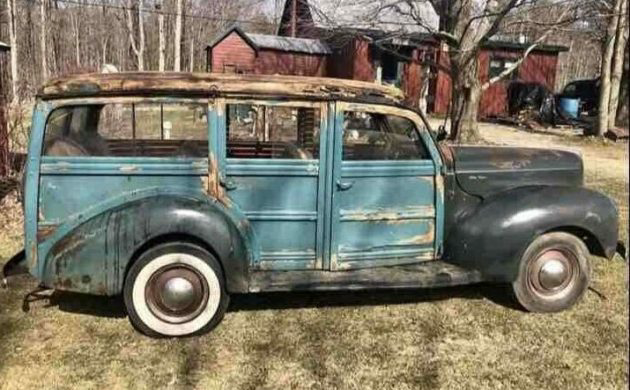 I have had the opportunity to review some really nice woodie wagons over the last several months. All were either in nice, original condition or had been completely restored. This 1940 Ford, unfortunately, is neither. Nevertheless, it still warrants a review. Located in South China, Maine is this 1940 Ford De Luxe "woodie" wagon and it is available here on eBay for a current bid of $14,300, twenty-one bids tendered so far.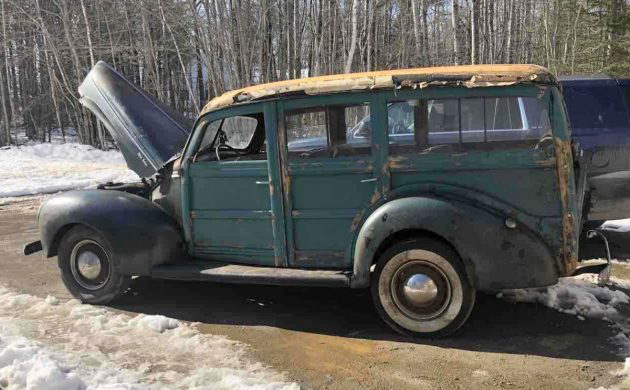 Right off the bat, the fabric roof covering is flayed to the point of mostly non-existence. It creates an interesting perspective as one can see the longitudinal "stringers" (rafters?) that comprise the roof structure. Imagine that being allowed with today's safety standards! Ford informational details from the day indicate that the construction is comprised mostly of Maple with some Birch used as well. The side paneling has been painted, at some point in the past, probably with a brush, and in places where the paint has worn away, some notable deterioration is present. You're going to need a good carpenter to help with this car. The steel body components, fenders, hood, cowl, etc. appear sound, however. There is a light coating of surface rust in places but no signs of rust through or crash damage. The running boards may be an exception, they look a bit shakey.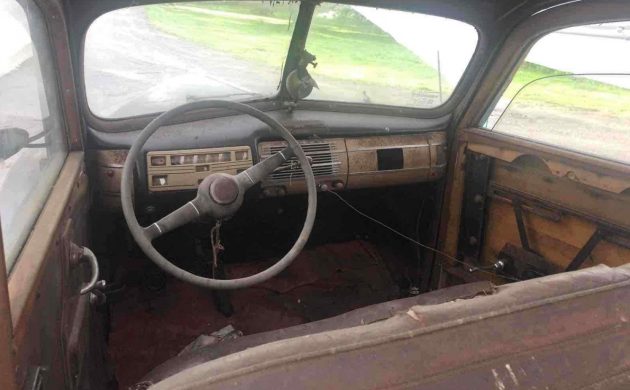 The interior is pretty rough. It's dirty and worn and has an obvious headliner issue. Some of the door cards are missing and while all three seats are present, they will need new threads. It's hard to get a good look at the floor, the covering looks decrepit but the real concern is the condition of the steel pans – no way to know for sure if there is any rust-through present. The instrument panel is intact however; unfortunately, it looks as if the clock is missing. No word regarding the operability of the instrument panel gauges.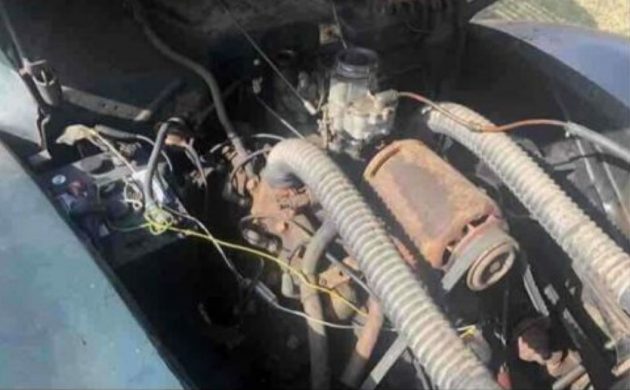 Under the hood is an 85 HP,  221 CI, flathead, V8 that does not appear to have turned a revolution on its own in a very long time though the seller claims that this Ford is driveable – that seems questionable but I'll have to take his word for it. The seller makes no mention of the engine's condition or its status but it is safe to assume that it will need some work if not a complete tear-down and rebuild. As is usually the case, there is a three-speed manual gearbox backing up the flathead.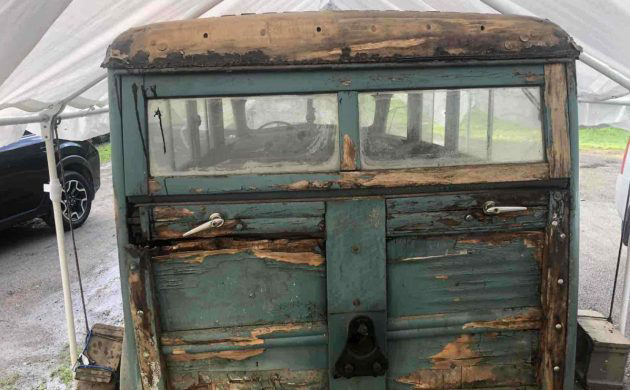 This De Luxe woodie wagon is one of about 4,400 wagons produced by Ford in '40 though I was not able to find a breakdown between the De Luxe and the standard woodie wagon. So, this Ford is not exactly rare but it's not commonplace either. These are, nevertheless, very popular cars but there is a lot here to consider as far as undertaking a restoration is concerned as there is metalwork, interior, mechanical, and woodworking to be facilitated and the woodworking piece is probably the biggest challenge. It would be interesting to know if any of our readers have ever owned a woodie and if so, how did you handle the carpentry needs?