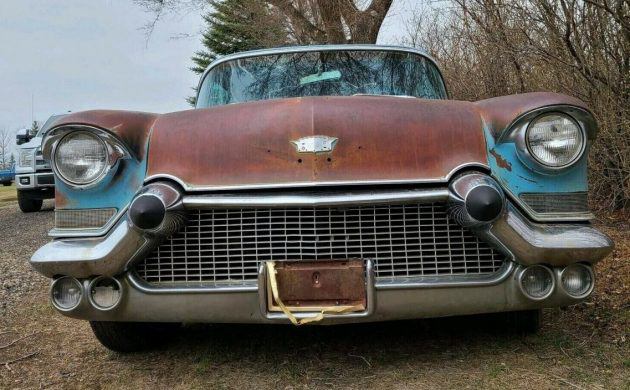 Sometimes an enthusiast will buy a project car, and they'll wonder if they've bitten off more than they can chew. Some people will wave the white flag, while others will decide to chew harder in a bid to return their classic to its former glory. The person who buys this 1967 Cadillac Coupe DeVille will need to chew like mad because this is a car that will represent a significant undertaking. However, it is surprisingly solid, and that might tip the scales for some potential buyers. It is located in Bismarck, North Dakota, and has been listed for sale here on eBay. Bidding currently sits at $1,525, but the reserve hasn't been met. The owner has also set a BIN of $3,500 for those who want to avoid the auction scene. Interestingly, sixty-seven people are currently watching the listing.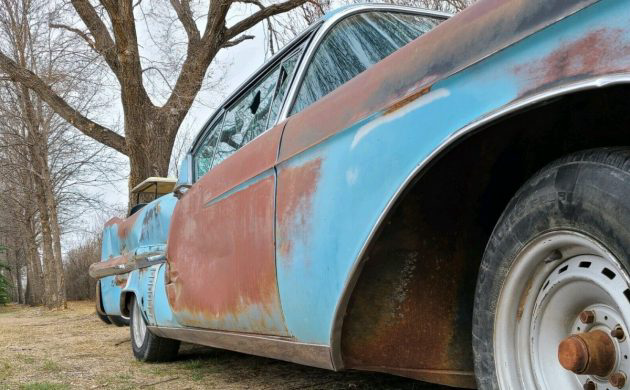 In its prime, this Turquoise Coupe DeVille must have been quite an eye-catching car. Those days are a long way behind it, and the buyer is facing a virtual mountain if it is to be returned to that state. The passenger side rear quarter panel has a significant dent, and it is debatable whether this is repairable by itself. When you consider that the panel also has rust, I think that replacement will be on the cards. Any other external rust is relatively minor, and it could be repaired with simple patches. That brings us to the question of the floors and frame, and this is where the Cadillac springs a surprise. Both areas have a pretty heavy coating of surface corrosion, but there is virtually no penetrating rust. The exception here is the spare wheel well, which has rotted badly. You have to wonder whether it has had moisture accumulated there for the rust to be concentrated in this one spot. The trim generally looks restorable, but most of the tinted glass is badly cracked. However, the owner does offer an intriguing option for potential buyers to consider. He does also own another '57 Coupe DeVille. It is essentially a bare shell, but all of the steel is said to be sound. He suggests that he might be open to a package deal for our feature car and the other shell if the successful bidder is interested. It is an option that would be well worth consideration.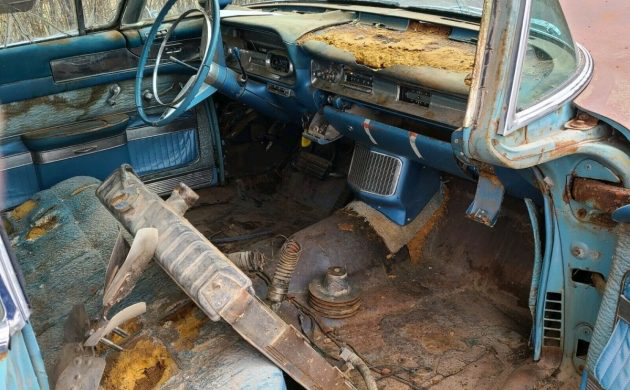 A 1957 Coupe DeVille was the height of automotive luxury, and that would have been the case with this one when it was new. The original owner ordered the car with air conditioning, power windows, an AM radio, and an Autronic Eye. All of these features remain intact, but the interior is looking sad. I suspect that the cracked windows have allowed moisture in over the years, and most of the upholstery has paid the price for this. The buyer will face no choice but to replace almost all of the trim, and that's going to be an expensive proposition. An example is the seat covers. It is possible to find them in the correct materials and patterns, but a set will leave no change from $1,000. That's just the starting point because the buyer will then have to consider the price of door trims, a headliner, a carpet set, and the dash pad. Then there will be all of the little chrome and other trim pieces to factor into the equation. As I said, it ain't going to be cheap! If I were looking at this car, I would probably consider hunting for a parts car with a good interior. It may prove to be a more cost-effective option in this case.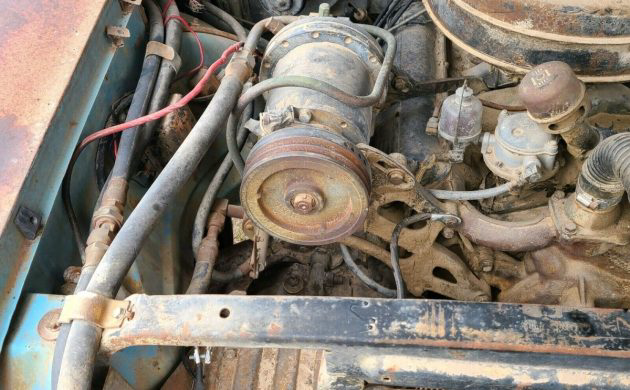 The owner only provides two shots of this Caddy's engine, and both leave a bit to be desired. The vehicle features a 365ci V8 that would have produced 300hp in its prime. The Coupe also comes equipped with a 4-speed Hydramatic transmission and power steering. The Cadillac was never designed to be a high-performance car, and when you consider that it was also on the hefty side, the 18.3-second ¼-mile ET was quite respectable. The presentation of this V8 isn't great, but the news seems to be pretty positive. The owner claims that the car runs and drives, and he is willing to supply a video that confirms this. It achieves this using an external fuel supply, so the Caddy is a long way from being roadworthy. Even if potential buyers are looking at this as a donor rather than a project, there is something worth saving in the drivetrain.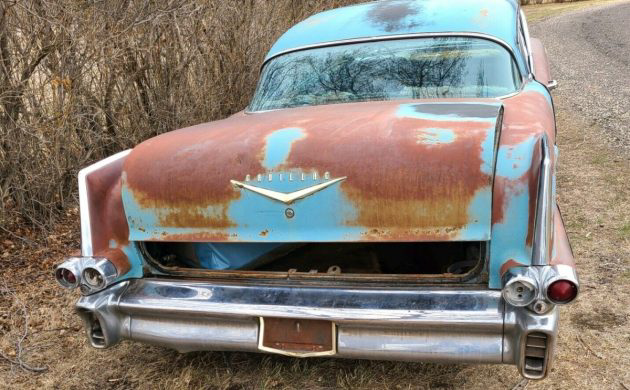 Owning a Cadillac Coupe DeVille was a way of telling the world that you had made it and that you were a success. In the 1957 model year, 23,813 buyers made this bold statement by parking one in their driveway. I tend to remain cautiously optimistic when it comes to project cars, but even I have to wonder whether this one is financially viable. The '57 Coupe DeVille has ridden a rollercoaster over the past year or so, with values rising and plunging dramatically. Where a pristine example might have nudged $60,000 in mid-2020, the same car will now struggle to reach $45,000. This trend shows no signs of reversing, but that might suit an enthusiast willing to gamble. Even at the BIN price, you will struggle to find one of these on the market that runs and drives. If the buyer can negotiate a decent deal on the parts car, that could set up this restoration project to commence on the right foot. If the buyer can stick to a strict budget and the current value trends reverse, there is the possibility of this car actually turning a profit once restored. It is a gamble, and it is probably a high-risk strategy that won't suit most people. Would it suit you, or are the stakes too high?