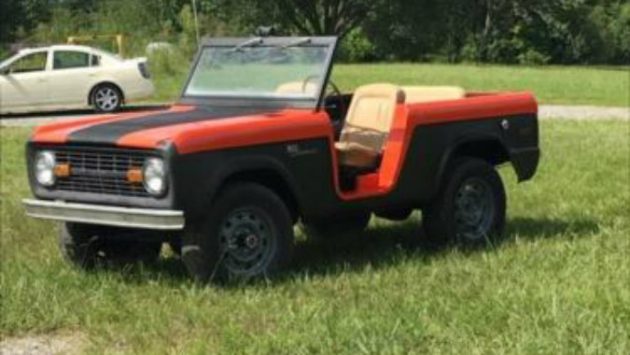 It seems to me that about 98% of first generation Ford Broncos come in one of three categories: 1) ones that are very original and command a high price, 2) highly modified but generally nice vehicles that have cut wheel wells and are lifted sky high, and 3) rusty, ratty, moldy vehicles that really should have been hauled off years ago. This one fits in that other 2% — it's not original, but it doesn't appear to be rusty either, and is said to be in good running condition. It's being sold here on eBay with bidding that started at 99 cents, but is now up to over $3,600. At least there isn't a reserve! The Bronco currently resides in Scottsboro, Alabama.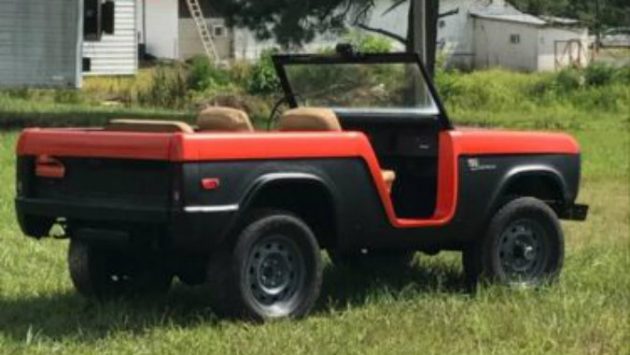 Although the pictures are pretty fuzzy, we can see the 2″ lift that the seller specifies in the ad and that there's apparently no doors or top included. I can't say I'm a fan of the color scheme, but hey, if the paint kept it from rusting, I'm all for it! And since Ford is bringing the Bronco back, perhaps you could choose a color to repaint it from the modern palette once it's introduced? The seller has fitted 17″ wheels, probably from a later Ford vehicle, but I'm sure you could back that down to 15″ without too much trouble. I found them here for a little over $250 for five of them.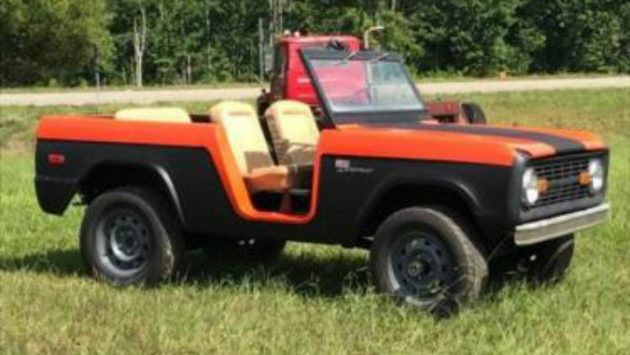 I had a red Nylint steel Bronco toy when I was a kid, and if I squint and apply a color filter in my head this is just about it! The open access without doors sure wouldn't fly now, would it? Of course, I'm sure the interior would need some type of covering if you were to keep the vehicle outside. The 170 cubic inch inline six won't let you set any speed records, but it should be pretty reliable, and I don't think you are going to be traveling on the highway that much anyway. The ad also states that the four wheel drive works great and that the transmission shifts very smoothly.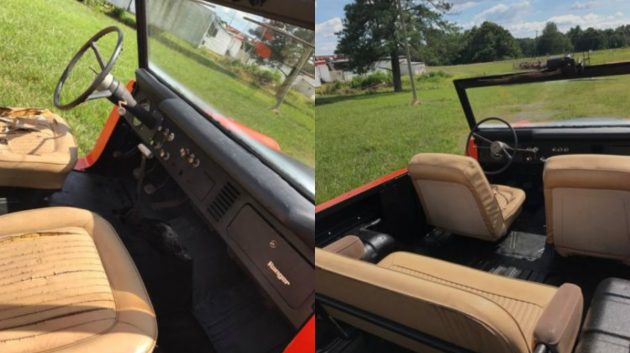 And as you might expect, the seats do look the worse for wear and certainly at least need to be recovered for comfort's sake. I don't know about you, but this doesn't seem like a lot of money for the vehicle–but I'd want to get a better feeling for any corrosion present before bidding. What do you think?