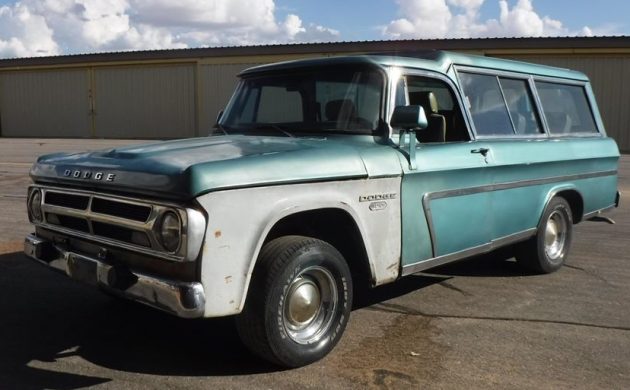 UPDATE 1/12/2021 – We featured this rare Dodge last April when it was listed on Facebook. The seller has since listed it here on eBay, but with a much lower asking price. The seller was originally asking close to $20k, but are now asking $9,950 with the option to make a lower offer! So, if you've been looking for a truly unique SUV, you will want to take a closer look at this one.
FROM 4/2/2020 – We've occasionally seen one-off creations emerge from South America, reflecting a curious habit of major manufacturer's operations south of the border. This 1972 Dodge D100 Carryall is one such creation, with the seller claiming it is the only one made. I'll throw some cold water on that theory in a minute, but it is likely an accurate statement that only a handful of such conversions exist. The listing goes on to state that rumor has it the Carryall was created as a "…wedding gift in Mexico." Find it here on Facebook Marketplace with an asking price of $19,750 and located in New Mexico.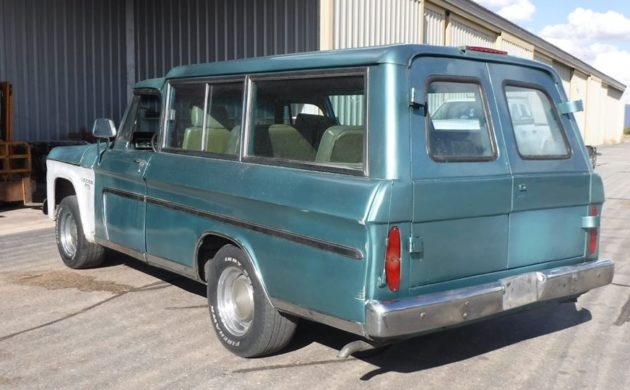 First of all, whether they made one or 100, I love the looks of this Carryall. I'm sure the dog-dish wheels and white-letter radials are helping matters, but the ample glass and rear barn doors – along with the subtle roof height change as it meets the driver's compartment – well, it looks good enough to believe the factory built them by the dozen. I'm sure up close there are plenty of details that are marginal at best, but if they only made a handful, it looks impressively complete all things considered. Three full rows of seats are nothing to sneeze at, and I'd love to know more about the story behind why this was once someone's wedding present.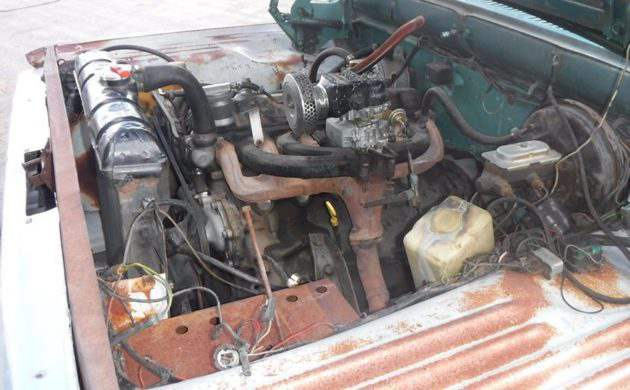 While the Slant 6 isn't particularly interesting, the seller notes it has an on-board propane system, with the gigantic tank still hidden behind the rear seats. As I referenced earlier, there is evidence one of these appeared for sale on eBay in 2019, also with the huge propane tank out back, so there's definitely more than one as the seller claims. The listing does mention an invoice, which makes it seem like this truck was delivered through official channels, such as a dealer network, and that the third-row seat was one of the items specified on the paperwork. The truck does still run and is able to perform lot drives, and it's equipped with a manual transmission.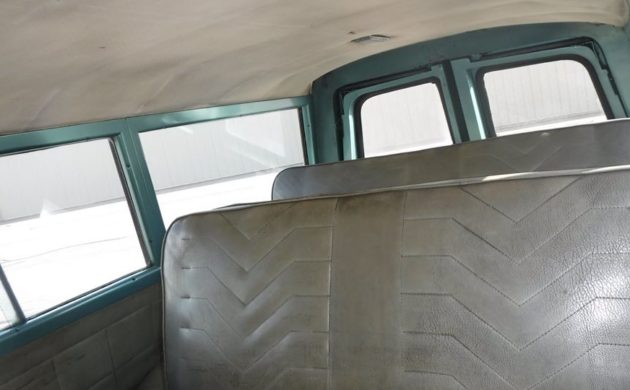 The interior appears reasonably complete, and in good condition. The seat materials are in surprisingly good shape, and the headliner is also clean and untorn. The seller notes that the front seat (presumably a bench) was removed years ago, replaced with two buckets. As you can see from the top photo, the two front fenders are simply bolted on, not fully attached, and no reason is offered – perhaps the original fenders had rust at the bottoms, a common hot spot for any vintage vehicle. Overall, I love the design and the obscurity factor on display here, along with what is likely a potentially intriguing story about how this one-off was conceived.