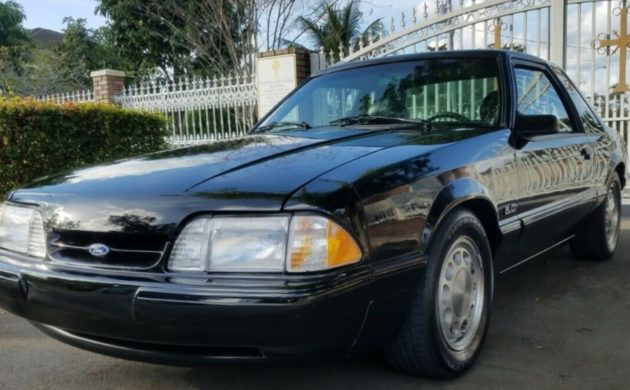 This 1988 Ford Mustang LX is a largely stock driver with the preferred 5.0L V8 under the hood. The LX cars were far more subdued than their GT brethren, and could be confused for a six-cylinder model if you didn't notice the dual exhaust. This example is an original paint example with 143,000 miles and some minor modifications that the seller doesn't mention but are visible in the listing photos, including an aftermarket exhaust and what looks like a lowered suspension. Find it here on eBay with bidding to over $7K and the reserve unmet.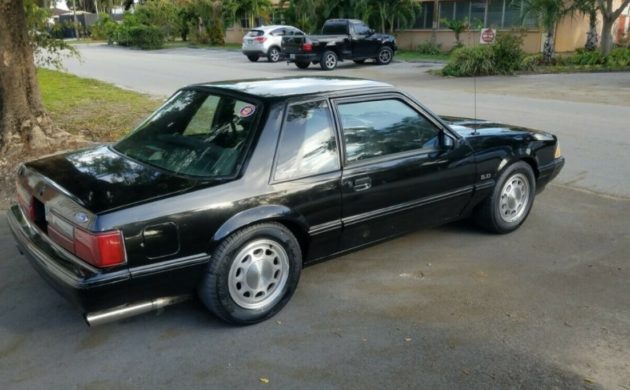 I'm not sure why the seller doesn't detail what clearly looks like a lowered suspension, but surely that's not stock ride height. I love it, personally, as it's one of the few modifications I consider a must-do for any project car. Generally speaking, handling is improved and the looks are enhanced dramatically. I like that it retains the stock wheels with the thick sidewall, and I'd even be willing to bet someone added wheel spaces considering how well the tires line up with the body lines. The exhaust definitely aftermarket, in my opinion, as the factory exhaust is much more subdued.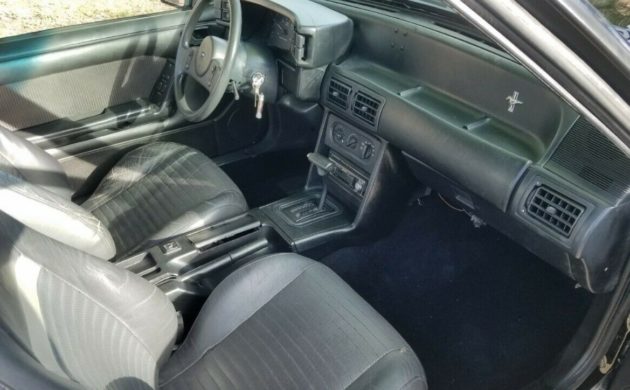 The interior is in great condition for the mileage, which is listed as being 143,000. The driver's seat does show some wear and tear to the bolsters, but the color combo is sharp. The passenger seat exhibits fewer cosmetic flaws, and the dash looks largely sound aside from what looks like old mounting hardware at the top of the center stack, to the right of the instrument binnacle. Overall, no major complaints inside, and the seller notes that the automatic transmission was professionally rebuilt by the previous owner and works well. The Mustang has cold A/C, but the power locks, heater, and radio do not work at present.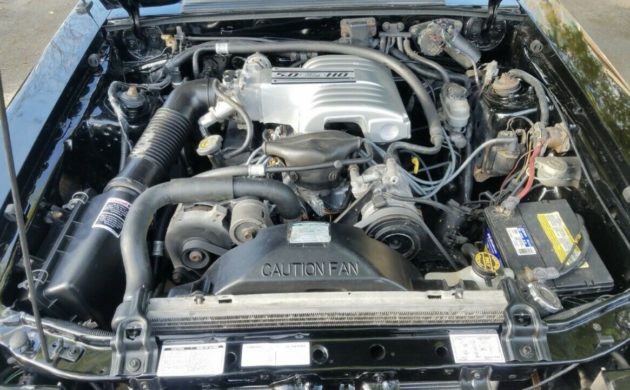 Under hood is nicely detailed for a driver, with a clean valve cover and black plastic surfaces not looking too dingy. The Mustang is said to run well and have no obvious leaks or odd noises coming from the drivetrain. The seller says that the paint is shiny but not perfect, and it is gleaming nicely at the top of the fenders. Some body work is evident on the trunk lid, per the seller, but the CarFax is clean. Overall, this looks like a decent turnkey driver that could be improved with some very basic fixes – if nothing else, while heat may not be needed in South Florida, buyers elsewhere in the country will appreciate it.
Have something to sell? List it here on Barn Finds!