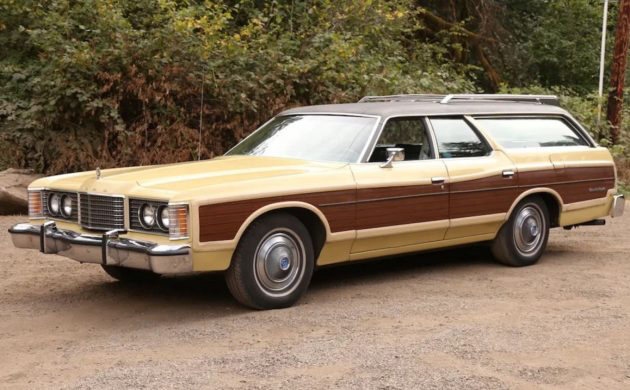 When you choose to embark upon the journey of buying a classic car, there are two paths that you might choose to follow. The first is to find a vehicle that needs some work, and then be prepared to get the car to the standard you desire. The second is to find the best example available on the market and to buy that vehicle with the knowledge that you can enjoy it immediately. This 1974 Ford Country Squire would seem to represent that second option because it is an amazingly clean and original survivor. It is loaded with optional extras and is ready for you and your tribe to tackle your next cross-country adventure. The Ford is located in Sherwood, Oregon, and has been listed for sale here on eBay. With bidding now sitting at $15,600, the reserve hasn't been met.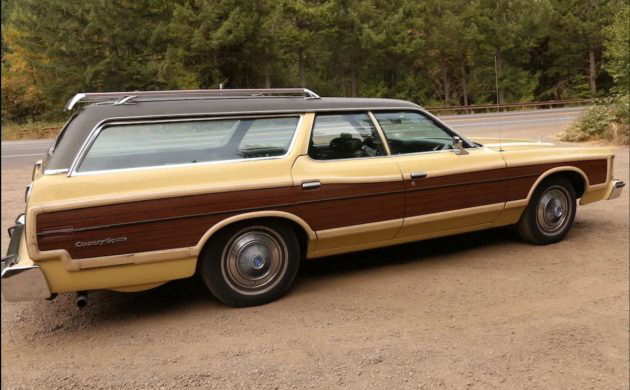 At nearly 19-feet in total length, there is no arguing that this is a classic wagon with a ton of presence. The owner provides an enormous selection of photos, and every aspect of the car is either faultless or so close that it doesn't matter. The wagon is finished in Medium Ivy Yellow, and the paint presents beautifully. There are no significant marks or dings, while the panels are arrow-straight. One of the potential issues with vehicles like the Country Squire is the deterioration of the woodgrain finish. If this fades or is damaged, getting a perfect match can be a challenging assignment. I have seen more than one of these where this has happened. Often, the owner has been forced to replace the whole lot to maintain excellent presentation, or to delete it entirely. That isn't an issue here, because the woodgrain appears to be in good order. One interesting feature of this wagon is the fact that it was ordered with a Green vinyl top. Seeing vinyl on a station wagon is not that common, but in concert with woodgrain is a rarity. The vinyl is like the rest of the exterior, which means that it has no issues. The vehicle is fitted with a chrome roof-rack, and it is as shiny as the rest of the trim. The LTD was ordered with tinted glass all around, and this shows no signs of damage.
When I started to dig deeper into this Ford and realized how many optional extras it was ordered with, I was quite surprised to find that it features the standard 400ci V8 under the hood. That's not to say that it's not up to the job, because it does pump out 170hp. The Country Squire needs every one of those horsies because, at 4,883lbs, it is a reasonably heavy beast. It also comes equipped with a C6 automatic transmission, along with power steering and power brakes. The listing indicates an odometer reading of 13,600 miles. It isn't clear whether this original, or whether it has rolled over. Given the overall condition, I wouldn't be surprised if those miles are genuine. When it comes to the question of mechanical health, a picture is worth a thousand words, but a video is even better. The owner supplies this YouTube video. It is a bit long, but it demonstrates the vehicle running and driving. There isn't a rattle or squeak to be heard anywhere. The engine sounds crisp and clean, and the transmission shifts smoothly.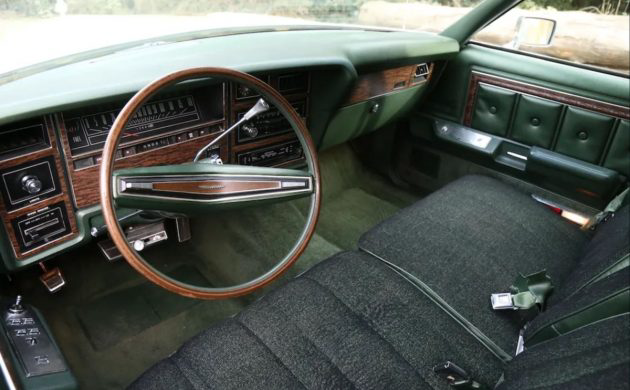 The original owner went to town when they ordered this car because it is loaded with some excellent equipment. This includes air conditioning, power windows, power locks, cruise, a rim-blow wheel, a quadraphonic AM/FM radio and 8-track player, intermittent wipers, trailer towing package including a trailer brake controller, rear defrost, and the Brougham interior trim package. When it comes to the question of presentation, there is nothing to be critical of. The term "time capsule" gets overused in the classic scene, but that is what this interior seems to represent. There is no fading, no wear, no rips, and no cracks. This rates as one of the cleanest interiors that you are likely to see in a wagon of this age. Its condition also makes that odometer reading seem plausible. Also included is the original Order Sheet and Warranty Card.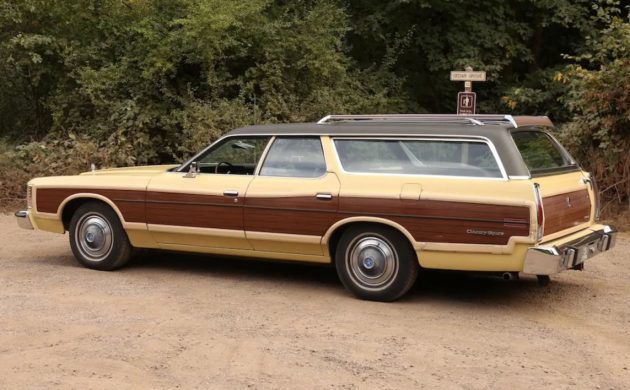 This 1974 LTD Country Squire is quite a vehicle. If you are looking for a classic station wagon, this has to be worth serious consideration. The Order Sheet tells a fascinating story because the base price for this wagon when it was new was $4,898. By the time the owner had finished ticking the boxes, he had added an eye-watering $2,024 worth of optional extras to the vehicle. That makes this a classic that is fully loaded. If you are searching for a wagon, the decision is up to you. Would you buy one that needs some restoration work, or would you slip behind the wheel of this one and drive off into the sunset?