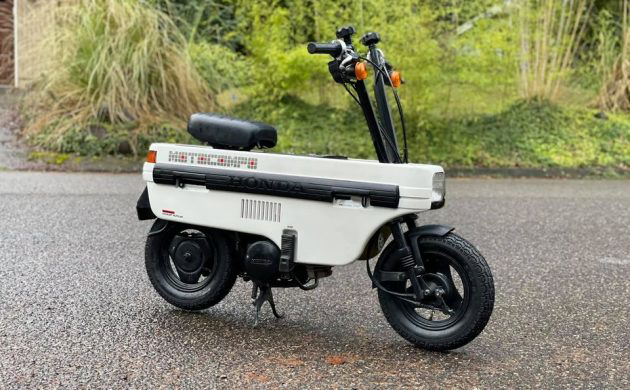 Back in the 1980s, Honda came up with the novel idea of making a small scooter that you could fold up and put in the trunk of your Honda car. It was seen as a way to promote their new Today and City brand of cars. Unfortunately, neither the cars nor the bike ever officially made it to the U.S., having been developed for the home market in Japan. This one was purchased by the seller and imported last year, given some updates in the process. Located now in Bellevue, Washington, it can be yours for $6,000 here on Facebook Marketplace.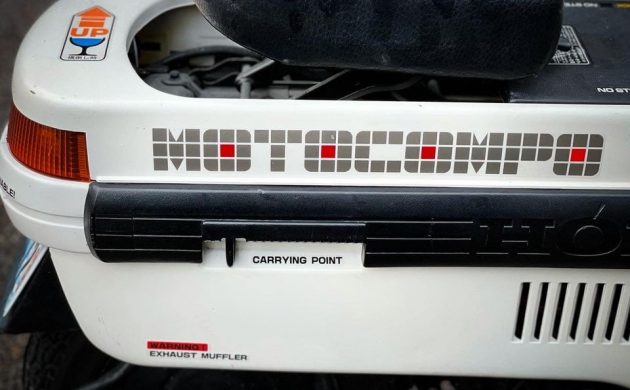 The Motocompo was the smallest scooter that Honda ever built. Just 47 inches long, nine inches wide and 21 inches tall, it could be easily broken down for traveling in the trunk of a car. You could get one in any color you wanted, as long as it was red, yellow or white. This bike was originally yellow, we're told, then repainted white. It's something of a predecessor to the "monkey bike" which is what Honda literally calls the 125cc you can buy new today. Except they now come in 125cc configurations rather than the Motocompo's under 50cc.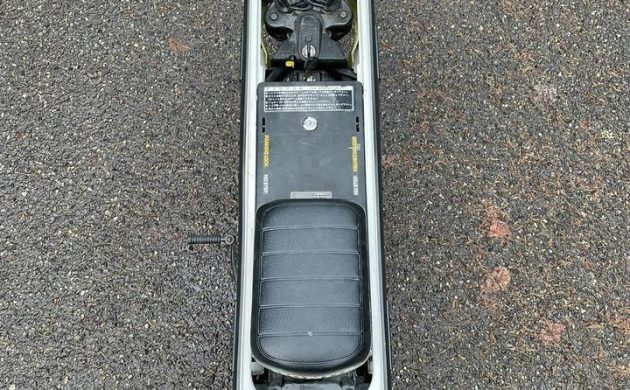 To pack it away, all you did was fold the handlebars, seat and foot-pegs down into the scooter's rectangular plastic body which created a small, clean, rectangular-shaped package. They were apparently quite popular as Honda made just under 54,000 of them between 1981-83 and something of a cult has since developed among compact bike enthusiasts. They even have annual meetups for current and future fans to enjoy the little machines.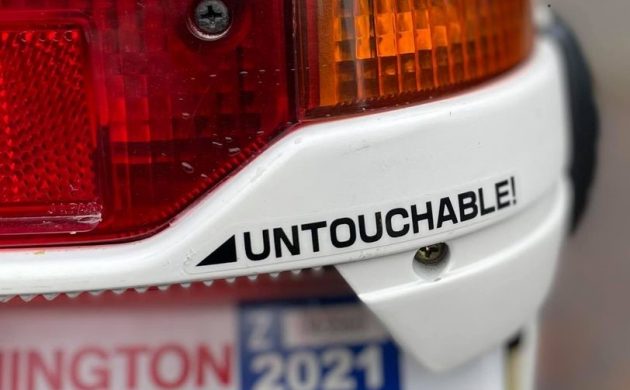 The seller's street legal scoot has received some TLC since becoming domesticated in the U.S. It has a more modern QR50 carburetor, two new tires, and new graphics. We're told that it runs and drives but is going to need some tinkering with the carb to be totally smooth. Should you want it, the original carb is included in the sale along with its mirrors which are not shown in the photos.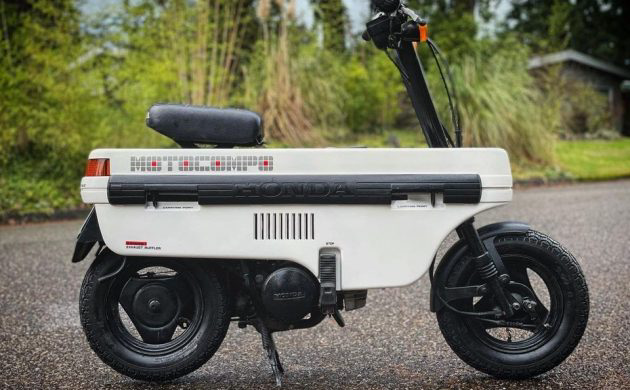 Mechanically, the scooter is powered by a 49cc air-cooled, single-cylinder, 2-stroke motor that only produces 2.5 horsepower. So top speed is likely somewhere between 25 and 35 mph (downhill with the wind to your back). It's mated to a single speed transmission with an automatic clutch. This looks to be a cool bike to run around the neighborhood with, but don't venture out any further. You'd be a sitting duck with it out on a 4-lane highway.