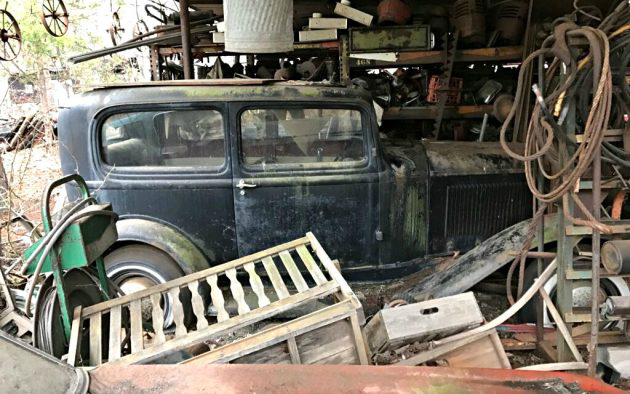 How many times have you Ford fans wished you could find an original '32 Ford like this Model 18 sedan? Wearing original paint, and in very solid condition, this may very well be the '32 of your dreams. Found by the seller in North Carolina under a car port, the seller is asking that the car remain "absolutely original" and that it shouldn't be chopped up for any reason whatsoever. Only 24 hours into the auction and the price has risen to $15,000 with the reserve not met. Find it here on eBay out of Houston, Texas.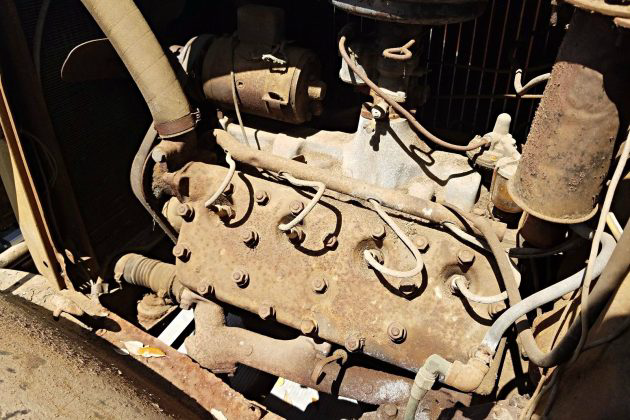 The flathead V8 appears to be well weathered, but it is complete. The seller has not tried to turn this engine over, but claims he is treating the engine with Marvel Mystery oil. Going into further detail the seller says there is no coolant mixed with the oil. Otherwise your guess is as good as mine as to the condition of this engine. The transmission will shift gears, but the steering box is "locked up" preventing this classic from steering. Also a set of 49-50 Mercury wheel are currently fitted to this Ford but a set of wire wheels are included with the car.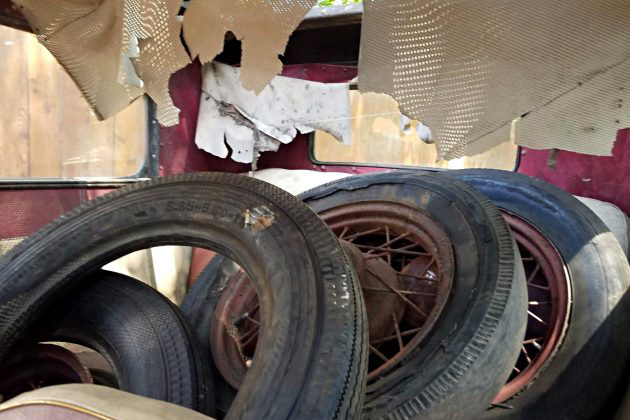 Although the wire wheels are included, I would have chosen not to store them inside the car. The interior is difficult to make out, but the seats are interesting in their multiple layers of covers. The red and white covers are the most recent, beneath those are green covers, and beneath that appears to be original upholstery. It would be interesting to see the condition of the original upholstery. The door panels are upholstered in the most recent red and white, and feature Mercury door handles and window cranks. The dash and gauge cluster look pleasantly original and clean, although is appears an aftermarket speedometer has been added. Overall the floors appear solid, but there are a few holes around the pedal area. The headliner is sagging, but there is no roof panel currently installed, although the bows are present.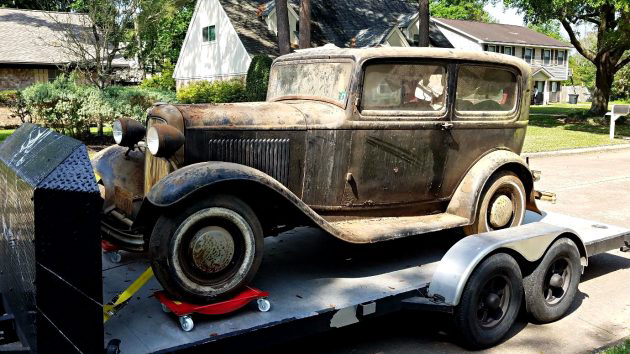 What is so exciting about this Ford is the body's condition. There is surface rust present all over this vehicle, but there is almost no rot to speak of. The seller claims there to be no rot, but the bottom of the driver door is a bit questionable. Although for an 85 year old car, this Ford is very solid with minimal rust concerns and some original paint present. Beyond the surface rust the seller mentions there is one dent in the passenger fender the size of a quarter. This may certainly be one of the nicest surviving unrestored '32 Fords out there. Would you honor the seller's wishes and keep this '32 Ford all original?