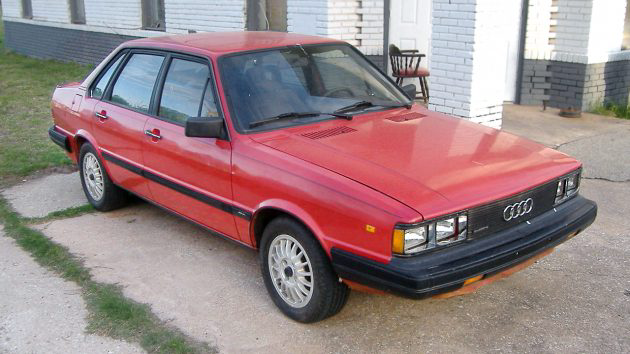 There are a lot of 4s in this one: it's a 1984 Audi 4000 S Quattro, with all 4 wheels being powered, it has 4 doors, 4 headlights, 4 rings on the grille, and it's 4 states away from me… ok, I'm pushing things with that last one. This Audi is listed on eBay with a Buy It Now price of just under 4-grand, at $3,666. I'm not sure what the significance of that number is but I may have changed at least one number at the end to a non-6. It's located in Lexington, Oklahoma and it sounds and looks like it could be a fly-in-drive-home type of car.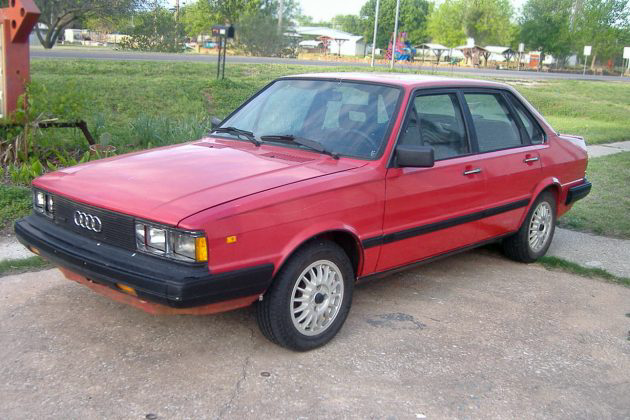 This car wasn't found in a barn, but it's over thirty years old, it's interesting, at least in its configuration of being all-wheel drive with a 5-speed, and it's cheap. The Audi 4000 was a replacement for the aging Audi Fox, and by 1984, it was the first time that US buyers could get the famous Audi Quattro system on a four-door, Audi. I'm not a red car guy, but as a huge Audi fan and long time Audi owner, I would love to have this car for winters. It's just gritty enough to not worry about driving it in the snow and salt. The next owner will want to sock a little bit away every month for repairs as there will be some for sure, there always is on older cars, especially ones with a complicated drive system such as this car has.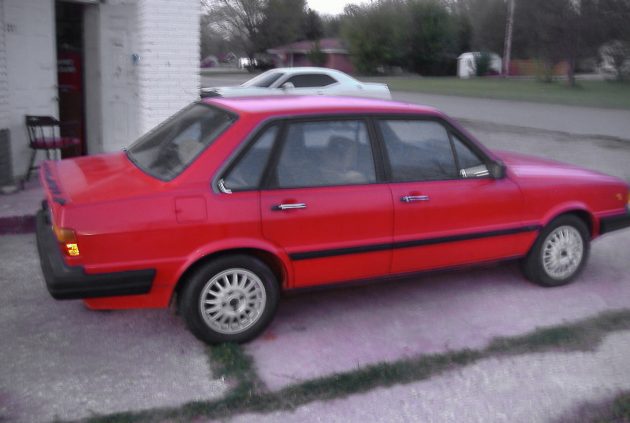 This blurry photo shows a great looking car, at least condition-wise. The seller says that there are "no MAJOR rust issues anywhere on this car, some surface rust here and there." I don't really see anything wrong other than some faded paint, especially on the rear spoiler. And, lots of surface rust on and under the front spoiler. And, an oddly scary, exposed belt situation; imagine getting a tumbleweed jammed in there driving across Oklahoma on the way home.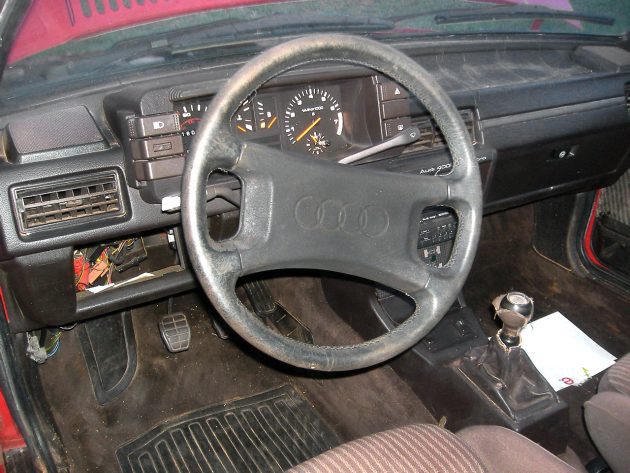 The interior is well-worn and dirty, and you can see the missing chunk-o-dash there on the left, and the worn shifter. The cracks on the dash really define "cracked dash" more than most that I've seen. The back seat looks great, it just needs a heavy-duty cleaning like the rest of the interior does to make it shine again. As does the uber-dirty trunk compartment, there's a lot of Oklahoma dust in there! The spare should be mounted to the left of the "trunk tray". This car has power mirrors and power windows in front but doesn't appear to have power windows in the rear, strange by today's standards. Being a Quattro, it has two vacuum-operated differential controls on the center console, but they aren't really shown in the photos. The interior could, theoretically, look like this again with some cleaning and detailing, and adding a missing part or two.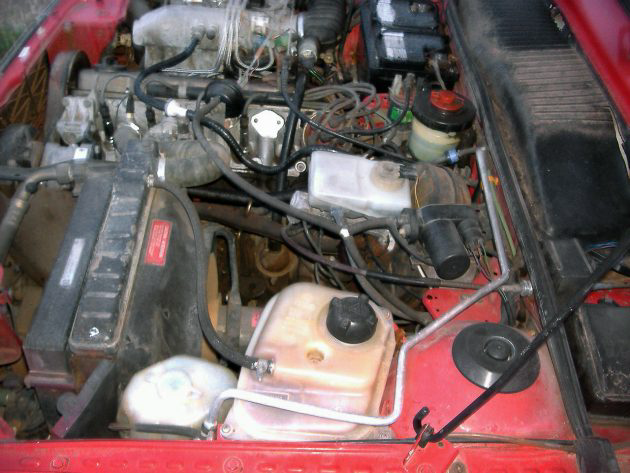 Other than some new lines and hoses, the engine could use a good cleaning, too. The seller says that this 2.2L inline-five cylinder with 115 hp and the driveline are in "good shape". There isn't a lot of information given, but with a little luck, some diligent routine maintenance, and a good friend who is an Audi mechanic, the next owner should have a winner here. This car was $16,775 in 1984 which equates to around $39,330 today. Most SUVs will cost you more than that and you will not have as much fun driving them as you will this car. Have any of you owned an Audi Quattro?