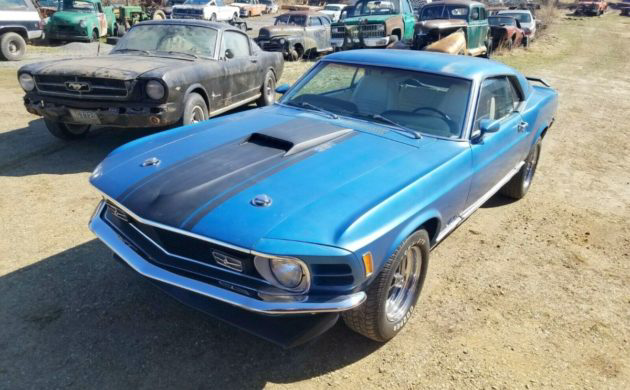 One thing that has not changed in the time that I have been writing for Barn Finds is just how amazed that I am by some of the really nice classic cars that continue to emerge from hibernation in barns, sheds, and garages. That car owners could hide some of these machines away for years, and in some cases, decades really does boggle the mind. That is the case with this 1970 Mustang Mach 1. This is a true classic that has spent years hidden away in a garage. Why? There is a story behind each of these cars, and while sometimes an owner is forthcoming about just why the car was parked, some keep that secret to themselves. The latter is the case with this Mustang because while we know that it had been parked for years, it isn't clear why it was parked. It has been dragged out into the light of day and returned to a running and driving state. It now needs someone to finish the process, and to then get out on the open roads to enjoy a true classic. You will find the Mach 1 located in Woodstock, Connecticut, and listed for sale here on eBay. Bidding has reached, $21,550, and what makes this an even more attractive prospect is the fact that it is being offered for sale with No Reserve.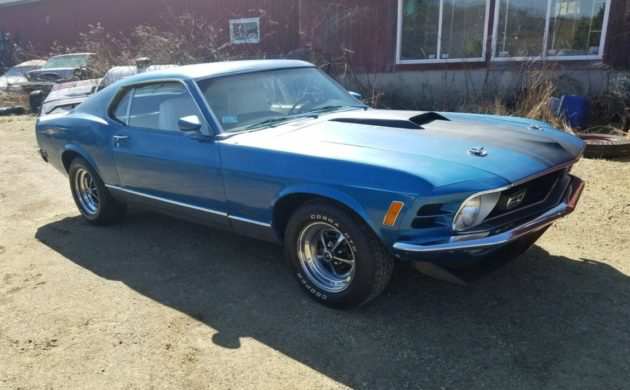 The Mustang is finished in Acapulco Blue with a Black hood stripe. With no Marti Report or access to the trim tag, it isn't clear whether this is the original combination. What also isn't clear is what state the underside of the vehicle is in. We don't get any photos of the vehicle's frame or the floors, and the owner doesn't mention any issues with rust. Looking around the outside of the vehicle, there is nothing readily visible. One really positive aspect of the listing is that the owner would appear to be quite approachable, so it might be possible to contact him and clarify a few points. The Mustang's panels look nice and straight, and while the paint has a number of scratches and is a bit thin in places, it still remains quite presentable. The trim and chrome seem to be in nice condition, with no obvious problems or issues. The majority of the glass looks good, but the windshield is cracked. The Mach 1 wears a set of Magnum 500 wheels and judging by the condition of both the wheels and the tires, I suspect that they have been a fairly recent addition to the car.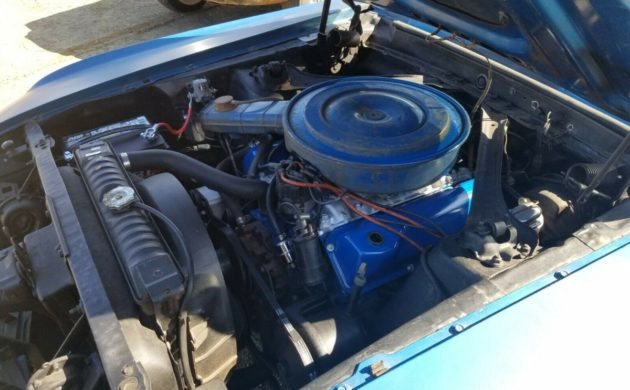 The engine in the Mustang is a numbers-matching unit, and it looks like it is the 351-4V, which produces 300hp. Backing this is a 4-speed manual transmission, but that isn't original. The vehicle also features power steering and power front disc brakes. The owner states that since it was removed from storage, the Mustang has had plenty of time, effort, and money spent on it to return it to a running and driving state. The general appearance of the engine suggests that it may have been pulled to at least undergo some detailing, although it is possible that the work goes a bit deeper than that. The engine is fitted with a new alternator, a new Edelbrock carburetor, and at least a new starter solenoid. It may also wear a new starter, but the owner doesn't mention this. The fuel hoses and filter look like they are new, and with all of these fuel system components now replaced, the fact that he also chose to replace the fuel tank was a pretty wise move. The master cylinder looks like it is new, but there are no indications as to whether any other brake components have been replaced. For all of this work, there are a few things that I find a bit odd. The engine itself presents nicely, but the air cleaner has a really rough appearance to it. Similarly, the distributor cap is quite dirty, and some of the plug wires have been replaced, while some haven't. The wires also look like they might have been "cobbled together" from somewhere because many of them are miles too long for this purpose. The owner says that there are still some tasks to be tackled, and it is possible that these are some of the things that he is thinking of. The Mustang now runs and drives, which will at least give the next owner a point from which to work.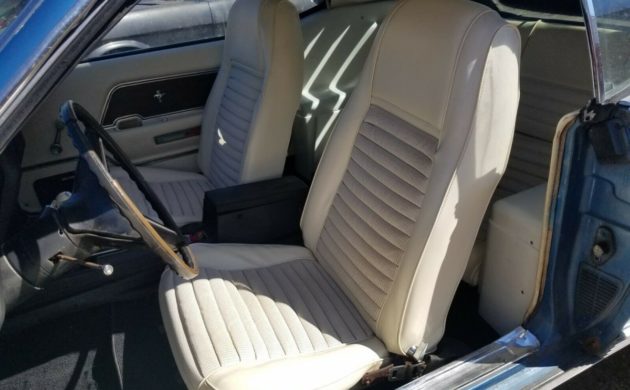 One of the cheapest parts of a 1st Generation Mustang to restore is the interior because parts are so plentiful and usually quite affordable. The interior of this car isn't really going to need a lot of work, because it is in respectable condition. What we can see of the dash and pad looks quite good, while the white upholstery on the seats and door trims also looks nice. The original radio has been replaced with a radio/cassette player, but I don't think that the dash has been cut to fit this. There are three items that will need replacement if the interior is to be returned to its best. The first of these is the carpet, because in some locations, particularly under the driver's feet, it is showing some significant wear. The headliner is also stained and has some obvious tears, so a new one will be required. Those parts are cheap, but the other item comes under the heading of fairly expensive. The rim-blow wheel is badly cracked and split, and I believe that it is beyond restoration. New replacements are available, but at more than $700, they aren't cheap. It isn't something that would need to be replaced immediately, but sooner rather than later would be a good approach. Before I forked out $700, I would be perusing eBay and Craigslist for a while, because you might just strike gold on one of those sites without spending anywhere near that sort of money.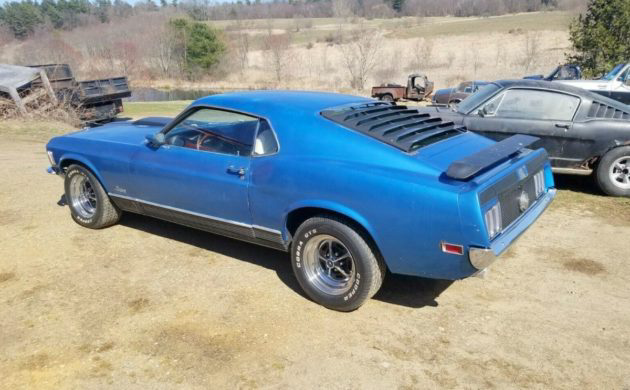 It will be interesting to see just how high bidding finally goes on this 1970 Mustang Mach 1 because on the surface, it doesn't look like a bad buy. There are a few aspects of the car that would need to be clarified, including the state of the vehicle's underside, along with what further work would be required to return the vehicle to a roadworthy state. With the owner appearing to be quite approachable, it is possible that he will be willing to provide honest answers to any queries. Anyway, it costs nothing to ask, ad it could be well worth the effort.